The Number One Movie in America: While You Were Sleeping
By Sean Collier
December 20, 2019
BoxOfficeProphets.com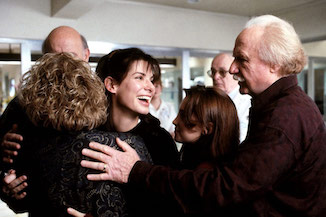 ---
The annual controversy that emerges when someone tries to define a proper Christmas movie, a taxonomical phenomenon rivaled only by the hot dog/sandwich puzzle, always struck me as a little misguided. A movie need not be about Christmas to be a Christmas movie; "Love Actually," indisputably a Christmas movie, isn't about Christmas, it's about love. If it's set at Christmas and covered in tinsel, it's a Christmas movie.

Here's a curious fact, though: Most of the universally accepted holiday movies came out during the holiday season, while most of the debated films did not. "A Christmas Story," "The Santa Clause" and "Scrooged" all came out on Nov. 27; "Home Alone" came out on Nov. 18. On the other hand: "Die Hard" debuted on July 15, "Lethal Weapon" premiered on March 6 and Marvel's only possible Christmas movie, "Iron Man 3," appeared on May 3.

The pattern holds for "While You Were Sleeping," a decidedly Christmas-focused movie — there's a lot of business about a tree, gifts, Christmas dinner, you name it — that somehow isn't often mentioned as a seasonal favorite. It premiered on April 21, 1995. If audiences were reluctant to engage with yuletide themes during springtime, however, they got over it: "While You Were Sleeping" was a two-week chart-topper, earning more in its second weekend than it did in its first en route to a 10-week stay in the Top 10.

It eventually earned a solid $81 million, placing as the 15th top-grossing film of the year, outearning tentpoles including "Congo," "Outbreak" and "Bad Boys."

Its success is a testament to exactly those qualities that make "While You Were Sleeping" a Christmas movie: warm feelings, a family focus and likable stars. A then-ascendant Sandra Bullock plays a lonely Chicagoite toiling in a subway booth; when a frequent customer and unrequited love is mugged, she rushes to his aid. In the ensuing weeks, she'll bond with his lovable family over the holidays.

Before we continue, a diversion: The dude is in a coma and this is all very, very bizarre. To this viewer, it reads as an act of frustrating duplicity; "While You Were Sleeping" relies on one of those paper-thin excuses for a comedy protagonist not coming clean for weeks on end. (The family grandmother is ailing, and a plot twist could kill her!) I don't buy it, and it's the kind of plot that genuinely leaves me cold. Reportedly, it was pitched as a "Sleeping Beauty" riff with a male pining over an unconscious female, but that was vetoed for reasons of propriety; I cna't say that the altered version is any less uncomfortable.

Plenty of viewers don't share my reluctance on the matter, however — and any way you slice it, Bullock's charm is pervasive. "While You Were Sleeping" served as an ideal follow-up to "Speed" for one of America's sweethearts; she had done action, now she proved her romantic chops, essential for survival in the romcom-heavy '90s. (She'd obviously continue with the genre well into the following decade.)

If anything, "While You Were Sleeping" is more Christmas-y than much of the holiday canon. Scenes are stolen by an extended family, led by Peter Boyle as the father, that's only one step removed from the Griswolds. And the slipping-on-ice flirtation (you'll know it when you see it) is as wintry a scene as you're likely to get between two young lovers.

It's a Christmas movie. No matter when it debuted.

"While You Were Sleeping" is the subject of the latest episode of The Number One Movie in America, a look back at past box-office champions. Each episode's film is drawn at random from a list of every number-one movie since 1982. Please listen and subscribe!

Next time: JCVD!