Weekend Forecast for December 13-15, 2019
By Reagen Sulewski
December 12, 2019
BoxOfficeProphets.com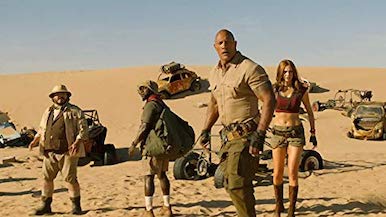 ---
And now we start to get down to brass tacks. Some of the movies that are going to matter come the Christmas break bonanza are appearing now, building their cred for the two week feast. As an opening act, we get one of the sequel to one of the films that found the magic secret to the season two years ago.

In 2017, I don't think many considered the Jumanji sequel Welcome to the Jungle as a potential billion dollar film, considering the 1995 Robin Williams film was just a modest hit, and the sci-fi spin-off Zathura barely registered. Technically, they were right, as it finished with $964 million, in what had to be a crushing disappointment. Apparently the solution for any franchise that's flagging or a little stale is to put The Rock in it (just, don't ask him to open original I.P. Or ask anyone else, for that matter. But that's a different article). The update brought the magical game that trapped its players in it to the video game world, upped the action quotient, and started playing around with the crazy logic of video game worlds. It opened solidly, then ran through the Christmas week like a buzzsaw, eventually finishing with $400 million domestic.

This year's version, The Next Level, sticks mostly to the same formula, gathering its Breakfast Club group of kids (no one of consequence - never agree to be the actor in the first five minutes of the film, guys!) together to suck them back into the world of the game, which might trap you forever if you don't win - or possibly even kill you, if you don't heed the rules. They're replaced by their avatars, played by The Rock, Kevin Hart, Karen Gillan and Jack Black. However this time, in a decision that seems to have been outsourced to the Internet, The Rock and Kevin Hart are the avatars of Danny DeVito and Danny Glover, themselves involuntarily pulled into the game, and not even aware of how video games in general work.

The gag is pretty much the same thing as the last time, except now with The Rock and Kevin Hart acting like cranky septuagenarians that are convinced they've actually died. Other new additions to the game world are characters played by Nick Jonas and Awkwafina but we're really in "if you like this sort of thing, this is the sort of thing you'll like" territory. The reviews are less enthusiastic this time around, largely due to the sameness factor, but there's less surprise about what we're expecting this time and there might be a little more early adoption. The Night at the Museum series seems like the obvious parallel, even though the second edition moved from winter to the summer. That series saw a solid jump on opening weekend the second time around, though I don't think it'll be as large an effect here because of the generally depressed opening weekends in December. A start of $42 million seems reasonable here.

Blumhouse's domination of the horror genre has been a slow and steady progression, as they've perfected the low-cost, quick-shoot, quirky-premise model, keeping just enough quality in the mix to build an empire. They go to the remake well for this weekend's Black Christmas, a slasher remake of the 1974 cult classic (previously remade in 2006, and inspiring a bit of moral panic about defiling the holidays, that's somehow lacking this time around). A group of four young co-eds are stalked during their Christmas break at college, with several fatalities surrounding them. This proves to be the work of a secret society at the college, that's perhaps linked to what they believe is the college's founding.

Imogen Poots is probably the best known of the bunch, though Brittany O'Grady might be familiar to viewers of the music soap Star. Cary Elwes is also in the cast as a professor that seems entirely too involved in their lives, and is also the "way too famous actor for this role for it to be nothing". While horror and Christmas don't seem like they should mix, it might be forgotten that mumblety-mumble years ago, Scream re-started slasher films almost single-handedly over the Christmas break. I don't anticipate this same effect - we mostly know what we're getting with Blumhouse now. Ready or Not seems like a solid comparison, for a film that was also putting its winking genre tropes front and centre amidst a bunch of blood and gore. I'd expect a $9 million opening weekend.

Speaking of a long time ago, Richard Jewell is Clint Eastwood's latest film, purporting to tell the story of the 1996 Atlanta bombing at Olympic Park, which killed two people. The bomb was discovered prior to exploding by the titular security guard, who waved people away and undoubtedly saved lives. In the aftermath though, suspicion swerved towards him and he was turned into a villain by the FBI and the media, with the thinking that he had planted the bomb himself so that he could play the hero. Hounded to his home and nearly destroyed by the press, he was eventually exonerated, but was a national punchline for a time, and was one of the first visions of how the press could be used to destroy someone in the modern age.

Paul Walter Hauser, nest known from I, Tonya and Mindhunters, plays Jewell, with Sam Rockwell, Jon Hamm, Kathy Bates and Olivia Wilde playing major roles. As a cautionary story, it's one worthy of telling buuuuuut.... Eastwood appears to have made exactly the same mistakes in his film, and finding himself unable to resist the twisting of events to grind a particular political axe as with several of his recent films like American Sniper and Sully. Wilde's reporter character, standing in for a real person, is implied to be trading sex for tips, which seems to be the worst thing you could invent in a film about not inventing things.

Eastwood's directoral filmography has bounced all over the place with its box office, with a couple of mega-hits and then a whole lot of barely-there earners. Last year's The Mule was buoyed by Eastwood appearing in it himself in a wish-fulfillment fantasy, but Jewell seems a hybrid of Sully and The 15:17 to Paris. This has the possibility of a slow burn across the holiday, but I'd expect around $7 million to start with no particular stars to anchor the film.

Comparing calendar slate to calendar slate, Frozen II is still ahead of Frozen I in the actual weekend takes, even with this film having opened a week early in the schedule. That's crucial heading into Christmas, as that's bonus time for family films. The original earned $265 million more after this equivalent weekend in 2014, which if you added that straight on, would give it an amazing $600 million domestic total. It's hard to say that that's impossible, although it is ambitious considering it had a huge 59 per cent drop off in the post-Thanksgiving doldrums. While a strong Christmas week take is assured, thanks to this being the identical and nearly ideal configuration of the calendar, this weekend will also tell the tale for what the film is going to start off the holiday with. A weekend of $23 million would bode well for the holidays.

Knives Out took a chop in half over last weekend, which isn't bad, all things considered. The murder mystery should find about $9 million this frame, and it should still be a factor in a week or two. Everything else out there will be fighting for scraps, with another five wide releases coming before Christmas.