Weekend Forecast for November 15-17, 2019
By Reagen Sulewski
November 15, 2019
BoxOfficeProphets.com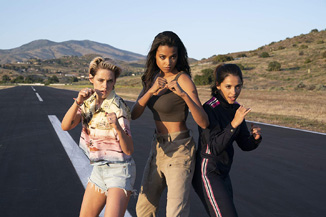 ---
A new trio of films tests the November market after last weekend's were found... wanting. OK, OK, original content isn't your thing. But what about star power?!

First up is a film being bandied about for end of year awards attention, Ford v Ferrari. Directed by James Mangold and starring Matt Damon and Christian Bale, it covers an attempt by legendary auto designer Carroll Shelby (Damon), he of the Shelby Mustang, to design a race car that could win the 24 Hours of Le Mans in 1966, then dominated by Italian car makers Ferrari, with all their sneering and tight pants and hotter women. Wait, what did I say with that last thing?

Working with fiery race car driver Ken Miles (Bale), the two battled each other as well as internal Ford politics (real life figures Henry Ford II, Leo Bebee and Lee Iacocca come in for various levels of praise and derision) to produce a supercar to rival the best in the world. It's a corporate version of Snobs vs Slobs, except the Slobs are the biggest car company in the world. Well, maybe it's not all that different from now after all.

A relatively long, meandering film about obsession, it's also about really fast cars and violent, combative friendship, it's getting recognition for Bale's performance which could bring him his fifth Oscar nomination. Box office wise, it could be a tough sell, as racing films have struggled historically. There aren't that many analogs to go after for it, but the closest looking film is Rush, which grossed just $26 million with an A-list director and an up and coming Chris Hemsworth in the lead role. Damon and Bale make a good pairing though, and reviews are strong, which is the kind of thing that Rush was lacking. Then again, absolutely nothing is hitting these days, so maybe this is just a secret bomb in the making that Disney can blame on the old guard at Fox. I'd look towards a more middle position, with an opening weekend of $22 million.

Every generation gets the female empowerment film it deserves, and apparently that film is always Charlie's Angels. A reboot of the film based on the 70s TV series, it comes 19 years after the release of the Diaz/Barrymore/Liu version, which in Today You Are Old news, was the same length of time between the end of the original series and the first movie. Kristen Stewart, taking time off from critically acclaimed indie films (no, really!), Naomi Scott (fresh off Aladdin) and Ella Balinska (who was three years old when the first movie came out what the hell why do my knees hurt all of a sudden) play the three members of the Charles Townsend detective agency. Well, three of the. It's the 2010s, everything is franchised now, even franchises, meaning multiple Bosleys (Elizabeth Banks, Djimon Hounsou, Patrick Stewart). They jetset, investigating the toughest jobs around the world with fists, brains and feminine wiles.

Banks directs this version as a pet project (trading off her success with the Pitch Perfect movies, though there's not as much inspired wackiness as with the McG directed films (Crispin Glover smelling locks of hair. Try to forget *that* happened). That said, the trailer is in face a mad dose of Ritalin-soaked action and fashion showcases and pitches the film more towards the female gaze than the male one. That's probably good for the culture, but maybe bad for the box office, as it's less friendly towards half of the demographics that could be interested in this. Reviews are solidly middle of the road, but reboots in general have been crashing, hard, unless you're Disney and its hard to see anything in this that will crack that. I'd expect a $13 million opening weekend.

Bill Condon reunites with Ian McKellen for the fourth time for The Good Liar, a Hitchcockian thriller about an aging conman. McKellen plays a grifter who specializes in removing fortunes from the grieving, and has set his sights on millionaire and recent widow Helen Mirren. There's more to her than it appears, however, and she could be the most dangerous mark he's ever pursued. Secrets that they both hold could haunt them, and each other.

A twisty, turny suspense film, it's also a very slow burner as befitting its cast. No car chases in the works here. The biggest draw here is seeing two master craftsmen actors at the top of their games. The film itself ... well that appears to be a bit regrettable and silly from many accounts. When not in superhero or wizard garb, McKellen often isn't a big box office draw, respected thespian as he is. Mirren holds a similar status and can elevate a genre film, but doesn't really open many on her own these days herself. With the age of the cast, it's likely to be one of the older skewing demographics of the year, and cutting out the 18-44 market almost all together. Stronger reviews would maybe push this into an awards-season burner, but it's likely to languish in the lower ranks of the box office from the start, with a $6 million opening.

Last weekend saw four new releases, none of which impressed. Midway did the best relative to expectations with an $18 million start, but that's a cold comfort against a $100 million budget and little international appeal. This will drop to around $10 million this weekend.

Doctor Sleep was expected to be the big impact movie of the weekend, following on the heels of It, and playing off its status as a sequel to The Shining - but perhaps the familiarity with that film was much much less than anticipated as it started with just $14 million. The King Renaissance seems to have stopped as quickly as it started, unless he has something else resembling Stranger Things he can pull out of the vault for an adaptation. Expect a fall to $8 million this frame.

John Cena's attempt at stealing Dwayne Johnson's '00 family film acting career with Playing With Fire started with just $12 million. Basically a live action, less(?) evil Despicable Me, it has a small chance at legs thanks to its kiddie audience, but I'd still look for a standard drop to $8 million.

Holiday themed rom-com Last Christmas may not make it to Thanksgiving after an $11 million start, and audiences may just stay home and watch the Hallmark Channel. Not a great omen for Henry Golding's future non-crazy, non-rich movie prospects. I'd expect $6 million.

Terminator: Dark Fate is just about done after two weekends, and that probably marks the end of a storied franchise. Losing almost two-thirds of its business after week one, it's headed for just around $75 million domestic. International money is a bit better, but not amazing. It should see $5 million this frame.