Weekend Forecast for November 1-3, 2019
By Reagen Sulewski
October 31, 2019
BoxOfficeProphets.com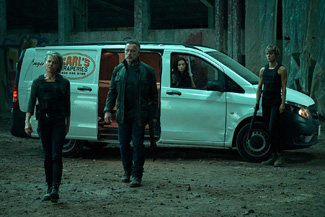 ---
November once marked the time of the year when studios started rolling out all their A-material and really began to try. With the fact that prime season has now stretched out to basically 10 months of the year, and that Disney owns all of the A-material now, this November 1 seems a bit... underwhelming in comparison to past years. Hey, there's a franchise out there, at least.

Terminator: Dark Fate marks James Cameron's first return to the time-travelling killer-robot sci-fi series since 1991, albeit as a producer and not a director. It also marks the fourth time that someone's tried to follow up the magnum opus that was T2, a task that's proven very difficult with how neatly the series had been tied up in a bow with that outing (My verdict on the attempts in order: surprising good, kind of crap, super crap).

As directed by Tim Miller of Deadpool fame, it brings the action back to the present, although we're well past the original Judgment Day. Weaving away from the complicated plots of the two most recent Terminator films, it's more of a straight chase film, with Mackenzie Davis' augmented human fighting alongside Linda Hamilton to protect another person crucial to the survival of humanity against a future AI, this time represented by a organic-looking robot called Rev-9 (played by Gabriel Luna). There's also another T-101 unit along for the ride that's apparently been hanging around all this time in sentry mode.

The person to be protected at all costs is a young Hispanic woman (played by Natalia Reyes), lending a wonderful little but of social relevance to the proceedings, although what we're all really here for is some pedal-to-the-metal action, which this film sure seems to deliver. The appetite for that also seems much diminished if it's not involving comic books or insane uses for sports cars, but what's probably most damaging is the three other films since T2, which did a lot to wreck the reputation of the franchise. These have all decreased in earning since then, with the most recent Genisys opening to just $27 million and finishing under $100 million domestic. Attempting to erase those from canon and making this film the "real" Terminator 3 has a chance of working to remedy that. Reviews are decent, and I think people want to give this series a chance, but there's likely to be a wait and see attitude here. An opening weekend of around $38 million seems right here.

Historical biopic Harriet is the second biggest contender of the week. Taking on the life of Harriet Tubman, pioneer of the Underground Railroad which smuggled slaves to freedom in the 1800s. Cynthia Erivo plays the titualar role, covering her own escape from slavery, and her militaristic efforts to rid the US of bondage, while being hunted by effectively the entire Confederacy.

Also starring Leslie Odom Jr and Janelle Monae in supporting roles and directed by Kasi Lemmons (most notably of Eve's Bayou), it's a film that's clearly angling for some awards season attention, though big prizes seem out of reach. It has a bit of a "Produced by the History Channel" feel to it, though reviews are solid, and it has the benefit of being a story that's rarely been told on screen. Opening in a modest 2,000 venues, it should start with $10 million.

Also shooting for awards contention is Motherless Brooklyn, Ed Norton's second film as a director and first in almost 20 years (since the milquetoast Keeping the Faith). A 1950s neo-noir, it sees Norton direct himself as a gumshoe with Tourette's (quirky!) trying to make up for the murder of his former boss (Bruce Willis) and stumbling across a conspiracy that involves the highest structures of power across New York City.

Willem Dafoe, Gugu Mbatha-Raw, Bobby Cannavale and Alec Baldwin (as a barely disguised Robert Moses) also feature in important roles, for a film that's opening aiming at being a new L.A. Confidential or Chinatown. As a prestige film, it's checking a lot of the boxes, but its clearly got an uphill battle headed for it at the box office. These kind of morally complex films are a tough sell these days (and has anything really changed? L.A. Confidential needed two extra pushes to really be seen), and it's a film that doesn't really try to be escapist. Warner Bros. is clearly hesitant to put a big push behind this, opening it in around 1,300 venues, and this should have a small start with $7 million.

First place was decided by around $100 thousand last weekend, with Maleficent 2 holding off Joker, both finishing at $19 million and change. The latter should leapfrog over the former this weekend, though that means a second place spot in this frame. It won't cross $300 million this weekend, but that's a good midweek goal, and the dystopic, lo-fi take on superhero villainy is one of the biggest surprises of the year. Its second place total should be around $13 million. Maleficent 2, fully in the disappointment category for domestic totals, will be close behind at $12 million, though its international totals cushion that blow somewhat. It's a rare miss in Disney's live-action arsenal this year.

The Addams Family continued its low drop off weekends in its third outing, dropping by just a quarter to $12 million. It's probably looking towards a $120 million finish, which is somewhat impressive. This could even be higher if it manages to stick around for Thanksgiving, but it's likely out of contention by then. Give it around $9 million here.

Two very different takes on horror are next, with Zombieland: Double Tap and Countdown looking at sixth and seventh place. While the Zombieland sequel is quickly losing steam, it at least has the comedy aspect in its favor, while Countdown's PG-13 horror is simply full of jump cuts and bad takes on tech. I'd expect $6 million from the zombies, and $5 million from the horrib... I mean, app horror film.