Friday Box Office Analysis
By Kim Hollis
October 26, 2019
BoxOfficeProphets.com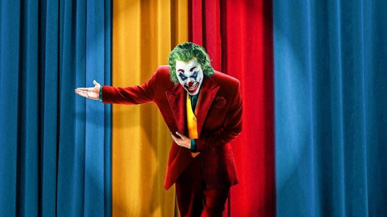 ---
It's a pretty big weekend for the Joker, as he clowns his way back to the top of the box office AND claims the title of highest grossing R-rated movie of all-time (worldwide).

You might be wondering whether there were even any new releases this weekend. Since this weekend's new movies sit down at #4 and #5 for Friday, they're barely worth talking about, but we'll get there eventually. Let's instead start with Joker, as it earned another $5.5 million yesterday, down just 37 percent from last weekend. Its holds have been exceptional considering the subject matter. It's going to add another $20 million to the books this weekend.

With $788.1 million plus worldwide, Joker has now passed Deadpool's $782 million and Deadpool 2's $785 million. It still has a way to go to catch some of its contemporaries with regard to domestic box office, as it hasn't quite passed Hangover, The Matrix Reloaded, Deadpool/Deadpool 2, IT, American Sniper, and The Passion of the Christ. Hangover and The Matrix Reloaded are foregone conclusions, but we'll have to wait and see on the rest. We're about to move into November, and we've got some interesting competition about to hit. I don't think it impacts Joker's future much, though.

Second place goes to Disney's Maleficent: Mistress of Evil, now in weekend two. It's definitely one of those films that people didn't much want, as it declined 62 percent from last Friday's take. Since that number was already well below expectations, Disney's got to be a little disappointed. Yes, it'll make plenty of money including international box office and ancillary income, but $4.8 million yesterday will lead to about $16 million this weekend. It will be FAR behind the $128.2 million that the original film had after two weekends.

Our other holdover from last weekend is Zombieland: Double Tap, a seasonally appropriate title that earned $3.4 million yesterday. That's a drop of 68 percent, which tells us that the first film had a lot of fanboys who rushed out to see this one in its debut weekend. It should earn about $10.7 million and be profitable before too terribly long.

It's barely worth talking about the weekend's new releases. The horror film Countdown earned $3.1 million and is looking at a pre-Halloween weekend of $8.1 million. Black and Blue earned $3.1 million as well and is likely to bring in $8 million or so.

A couple of interesting entries made it to the top ten. Parasite, directed by Bong Joon-ho (Snowpiercer), placed at #7 with $1.3 million from 586 venues. Jesus Is King features Kanye West and a choir performing in Arizona's Painted Desert. It earned $570,000 yesterday from its 372 IMAX locations and finished in tenth.