September 2019 Box Office Recap
By Steven Slater
October 18, 2019
BoxOfficeProphets.com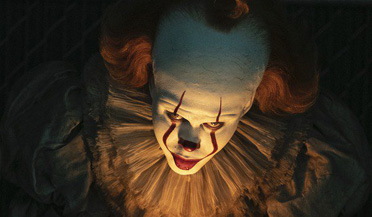 ---
Impeachment, what impeachment? You want movie information, box office statistics, and a nicely compartmentalized area of life where worries melt away and you can bask in the warm glow of fellow film buffs. Speaking of pumpkin spice, September of this year fits the dull, dreary pattern of just about every September. You could chart the box office of the ninth month every year since the birth of the flying spaghetti monster and it would track nicely on a shallow upward arc with no deviations. Even the biggest Septembers are not too much of an outlier, with 2017's being in first place when It debuted, and this year in second place, when the sequel debuted. In general, no one really expects much from September, and it always delivers. That being said, It has shown that any single movie can open huge even in the most benign box office month, although it still does not affect the final monthly total to any large degree.

1) It: Chapter Two

Opening Weekend: $91.1 M
Monthly Box Office: $194.6 M

I believe the Stephen King book had twenty three chapters, so get ready for more sequels than a Marvel convention at hall H. Actually, this is the conclusion of what has become the biggest Stephen King adaptation of all time, at least by some metrics. The original blew out the doors on box office trappings for horror films, rated-R films, and a film debuting in September, with an insane $123 million bow, and a domestic finish at $327 million. Numero dos followed quickly, and yet the thrill of seeing Pennywise seems to have diminished, with a 25% drop in opening weekend, and likely an even bigger drop for the domestic finish. Given the budget was likely twice as large (still sub-$100 million), this may ultimately mean little. It: Chapter Two still has the sixth largest opening weekend for a rated-R film, and will be the fourth or fifth highest grossing horror film of all time, depending on what you classify as horror.

It: Chapter Two gives Warner Bros. a much needed boost, as it becomes their biggest film of the year, and given the aforementioned budget, should provide plenty of profit with around half a billion worldwide. In fact, It: Chapter Two will be WB's biggest film since the original It two years ago, which shows how fortunes have changed for the studio that used to have Batman and Harry Potter at the top of its rankings. WB is now the studio playing second banana to eternal king Disney, with about a 14% market share compared to Disney's 33%.

2) Hustlers

Opening Weekend: $33.2 M
Monthly Box Office: $81.6 M

Although It has most likely made a sizable profit, the biggest success of the month is probably Hustlers, which has turned a modest $20 million production into a one weekend profit maker. With eyes on $100 million, Jennifer Lopez has the biggest live action film of her career, a pretty major achievement after twenty five years of middle tier films. Hustlers probably will run out of gas just before becoming STX's biggest film, which should remain Bad Moms with $113 million. With weekend drops averaging about 40%, it's not a totally foregone conclusion, though. With great reviews, this is a lesser version of last years Crazy Rich Asians, where a late summer film with better than expected reviews blows past expectations. Whereas CRA made over two thirds of its money stateside, its possible Lopez could bring in international audiences, although that remains to be seen, as it is just getting started overseas.

3) Downton Abbey

Opening Weekend: $31 M
Monthly Box Office: $60 M

So now that Downton Abbey is really, truly over, is that why the mansion estate they filmed at is for sale? They should just start giving Downton Tours considering how well the movie version has performed. Blowing past expectations opening weekend, Downton has amassed a small fortune for a TV show that's been off the air for a few years. Focus Features also gets their largest debut of all time, and after a few more weeks their largest film of all time, beating Insidious Chapter 3 and Brokeback Mountain respectively. Although the second weekend drop was a bit high at 54%, things should even out going forward, so it should just make it to $90 million domestic.

4) Ad Astra

Opening Weekend: $19 M
Monthly Box Office: $36.3 M

Last year, First Man. This year, Ad Astra. High wattage movie stars only bring character driven space films so far, as even Brad Pitt could only muster an opening a few million above the Ryan Gosling film. With fairly steep drops coming off a lower opening, Ad Astra is never going to break out, and if it was looking for a few Oscar nominations, the title will be quickly forgotten by the end of the year. That said, I love the idea of doing character driven stories in space, but my wallet just ain't fat enough for a studio bankroll. Interstellar and Gravity, also great, are where the money is; spectacle and big screen entertainment. Give Astra an even $50 million domestic, and a decent $150 million worldwide.

5) Rambo: Last Blood

Opening Weekend: $18.9 M
Monthly Box Office: $33.9 M

No, really, this time, it's personal. Maybe after Sylvester Stallone is dead will they finally stop hauling his hoary old characters back out of the wood shed, but then again the new Creed films show every once in a while you find a diamond in the rough. You know Rambo Last Blood: Part II is coming, perhaps written by none other than James Cameron. Regardless of whether the film should exist, with a $50 million budget, this will likely fall just short and not earn much coin for Lionsgate. Some franchises die hard, but why don't you go ahead and terminate this one.

6) Angel has Fallen

Monthly Box Office: $34 M
Running Total: $67.3 M

After a decent crop of openers, Angel is our first holdover of the month. After opening right in line with the second film, Angel has managed to out-earn that one, perhaps due to the relocation back to the U.S. of A. The original's $99 million was never achievable, but it's a good sign that after six years, the whole idea managed to retain two thirds of the audience. Somehow this is the bigger action franchise compared to Rambo. With relatively modest weekend drops, as low as 25% in its fourth weekend, Angel will earn back its $40 million budget and then some. Also Morgan Freeman has his biggest hit since Ted 2, which is nice.

7) Good Boys

Monthly Box Office: $27.8 M
Running Total: $80.6 M

Speaking of films that opened in August with better than expected weekend drops, this R-rated comedy has done stellar for a $20 million directorial debut. Another one weekend profit maker, Good Boys has been averaging drops around 35%, and has just about ended its run after six weeks. This makes it the sixth highest movie for Universal of the year, although I find the fact it made nearly half of Us' or Hobbs and Shaw's gross to be the more shocking stat, considering those films' buzz.

8) Abominable

Opening Weekend: $20.6 M
Monthly Box Office: $22.2 M

The top animated film of September, by a frosty nose, is WB's Abominable. While just getting started as a lesser animated property, it still feels like an opening weekend of $20 million has left money on the table. Also, if you are having deja vu, you're not alone. Exactly one year ago, Smallfoot debuted with $23 million and finished with $83 domestic. This copy cat will mimic that title from start to finish, it appears, although I foresee a slightly smaller finish around $70 million. They also have eerily similar reviews, and for goodness sake Abominable is rated PG for mild rude humor and Smallfoot is rated PG for rude humor. Can no one create an original property any longer in Hollywood!?

9) The Lion King

Monthly Box Office: $21.8 M
Running Total: $540.2 M

The king keeps roaring, and stakes out a position on the charts for the third month. Still earning a cool million on day 65, Lion King is the second biggest hit of the summer and the year, but that's only because the largest worldwide release of all time happened to occur this year. Officially, the 2019 version of The Lion King is the eleventh largest domestic film and the seventh largest worldwide, making it bigger than the original Avengers. It is also the largest of Disney's recent reimagining, beating Beauty and the Beast's $504 million, and is likely the largest total any of their remakes will ever achieve. The largest films coming up within this Disney sub-genre are Mulan and the Little Mermaid, although Favreau himself is returning with Tarzan.

10) Overcomer

Monthly Box Office: $18.2 M
Running Total: $33.2 M

Our final film in the top ten, and another holdover, Overcomer has used its faith-based message to keep audiences coming. With weekend drops averaging around 35%, this film has turned a single digit opening to a tidy profit compared to its $5 million budget. Alex Kendrick has been making these kinds of films for a while, and their box office is surprisingly comparable over the past ten years or so; single digit openings, followed by around $35 million in total grosses, with outliers like War Room.

Just outside the top ten we have Hobbs and Shaw with $17.6 million, Dora with $11.6 million, The Peanut Butter Falcon (wutt) with $11.4 million, Scary Stories with $11.1 million and Once Upon a Time in Hollywood with $11 million. All of these, and the next few films are holdovers, which is part of the reason September did not earn a ton a money, even with It: Chapter Two contributing over a quarter of the $686.7 million monthly total. That being said, the record September in 2017 had It accruing 41% of its monthly total, so all things considered this year it was not quite as top heavy. Now...I hear some eerie cackling. Who's joking around out there?