Weekend Wrap-Up
By Kim Hollis
October 6, 2019
BoxOfficeProphets.com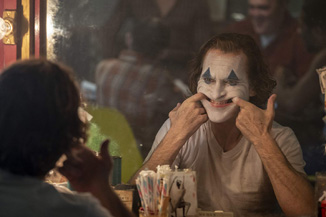 ---
Everybody loves a clown, so why don't you?
Everybody laughs at the things I say and do
They all laugh when they see me comin'
But you don't laugh, you just go home runnin'
Everybody loves a clown, so why can't you?
A clown has feelings, too

This Gary Lewis and the Playboys song is eternal, as the Joker seems to return for a time in the spotlight again and again and again. Perhaps he's like Pennywise, who returns every 27 years, but we haven't quite figured out the Joker's pattern yet. Anyway, the character has been portrayed over time by the likes of Cesar Romero, Jack Nicholson, Mark Hamill (animated version), Zach Galifianakis (LEGO animated version), Jared Leto, and perhaps most famously, Heath Ledger, who won a posthumous Academy Award for his work.

With the Batman franchise in flux and very few of their other projects finding much success (Aquaman and Shazam! being exceptions), Warner Bros. decided to go back to the Joker well yet again, though as I mentioned in yesterday's box office update, at least they cancelled a weirdly competing one featuring Leto. Instead, all of their focus went into this weekend's wide release, featuring Joaquin Phoenix in the title role, one he clearly embraced and threw himself into.

Directed by Todd Phillips (Old School, the Hangover franchise and Due Date), this even darker take on an already dark character had received criticism in the days heading into the film's release. A lot of people are a bit tired of movies that seem to glorify the violence of Joker and his ilk, though I've seen a lot of arguments that this film does the opposite.

Anyway, despite some negative headlines, middling reviews, and a B+ Cinemascore, Joker earned a mighty $93.5 million for the weekend. That's the biggest domestic debut ever for the month of October, besting last year's Venom, which earned $80.3 million. Unsurprisingly, the audience skewed heavily male (64 percent) and under 35 (66 percent).

Joker was also huge internationally, earning $140.5 million from 73 markets. Warner Bros. will obviously be thrilled with a $234 million worldwide debut, particularly as the project was only budgeted somewhere between $50 million and $75 million. It may not have much staying power, but that doesn't really matter.

The remainder of the top ten at the box office is almost an afterthought, with only one movie earning double digits. That film was Abominable, the animated holdover from DreamWorks that debuted last week. It earned $12 million, down 48 percent, and now has a running total of $37.8 million. It didn't have a super big budget at just $75 million, but that cumulative earnings amount is a bit troubling. It has earned almost $40 million overseas, and Abominable will need good results from China if it wants to make any kind of profit.

Downton Abbey takes third place, as the continuation of the television series adds another $8 million to its coffers. Its domestic tally is $73.6 million, which is pushing it along a path to be the biggest movie ever in the Focus Features library.

Fourth place goes to Hustlers, the Jennifer Lopez thriller. It's actually on its way to $100 million, as this weekend's $6.3 million take puts its domestic tally at $91.3 million.

I'm going to go ahead and start our Speed Round right here at #5, as our films between this spot and #10 earned less than $6 million and combined for only $20 million altogether. IT: Chapter Two continues to hang around because nothing else of interest has really hit theaters in the last month. It earned $5.4 million for the weekend and has a current domestic total of $202.2 million.

Sixth and seventh go to Ad Astra and Judy, films that are separated by only about $100,000 or so. Ad Astra earned $4.6 million and now has a total of $43.7 million. Judy, the Renee Zellweger showpiece, earned $4.4 million and has a running total of $8.9 million.

Rambo: Last Blood is hanging around in eighth place as it took in $3.6 million for the weekend. Overall, it has reached the $40 million mark. Indian-Hindi language film War finishes in ninth place with $1.6 million, which brings it to $2.1 million domestically. And finally, the terrific August comedy Good Boys earned $900,000 and will pretty much close out its box office run with $82 million.

This weekend, the top 12 box office total of $141.7 million just can't compete with last year's $170.5, which can partly be credited to Venom , but also featured the opening of A Star Is Born, which debuted with $42.9 million on its way to an eventual $215 million.