Friday Box Office Analysis
By Kim Hollis
October 5, 2019
BoxOfficeProphets.com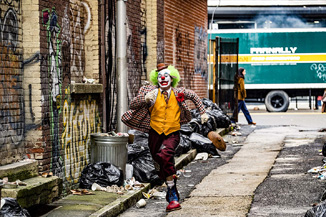 ---
If you thought Joaquin Phoenix wouldn't be able to open a film, the Joke's on you. The Signs were there, Gladiator.

After winning the Golden Lion for Best Film at the Venice Film Festival, Joker built some buzz even as it started garnering negative headlines and some disgruntled reviews. Obviously, the character is the most iconic villain in comics, though it's arguable that the bar has already been set with Heath Ledger's portrayal of the character in The Dark Knight. At least the competing(?) project that was planned to feature Jared Leto was scrapped.

Anyway, with threats of violence at theaters showing Joker plus some bad press around reactions to negativity from Phoenix and director Todd Phillips, the movie basically had a weird cachet for the weekend. "It's too dangerous to see this movie!" was the secret message, and audiences responded by saying, "Nuh-uh!"

The $13.3 million Joker earned from preview screenings on Thursday night set the October record, beating Venom's $10 million last year. The total yesterday (which does include those screenings) was $39.9 million, obviously a terrific number and one that Warner Bros. will be super pleased with, especially considering that the budget is reported somewhere between $55 million and $70 million.

Over the course of the weekend, Joker should open with about $93.1 million. It may not hang on long, as the Cinemascore of B+ is a bit concerning for a film that should have built-in fanboy inflation (see: the current IMDb rating of 9.1/10, which is going to drop massively in the coming days and weeks).

Literally nothing else opened in wide release, which means that the only other box office story of any note is the fact that Peoples Republic of China propaganda film finished in tenth place with $270,000 from 70 screens. Of course, it has made about 800 times that amount in China, so I don't suppose its North American box office matters a whole heck of a lot.