August 2019 Box Office Recap
By Steven Slater
September 14, 2019
BoxOfficeProphets.com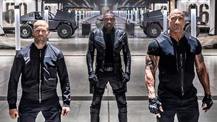 ---
Box office for the month of August. It happened. Believe. True to form, August does not grace us with any mammoth properties, and in 2019 the closest we came was a spin-off from Fast and Furious featuring everyone's favorite duo, Calvin and Hobbes! A bunch of smaller titles were thrown at the silver screen, picking at the box office scraps, and while nothing blew up the multiplex, at least it is harder for a small movie to bomb outright. Disney did not win the month, as expected, marking the first time that happened since February, and all domestic theaters earned an average August sum of $838 million.

1) Fast & Furious Presents: Hobbs & Shaw

Opening Weekend: $60 M
Monthly Box Office: $154.7 M

The number one film in August - the biggest opener - and I still think there was money left on the table. You don't put Dwayne The Rock Johnson front and center in a nearly two decade old franchise that is still running on high octane fuel and expect these kind of returns. The first film opened to over $40 million when Vin Diesel still sounded like a porn name, and that was eighteen years ago! These movies punched above $70 million starting with the return of the original crew in 2009's Fast and Furious (4), and have seen opening weekends higher than the domestic grosses of prior entries! Adjusted for inflation, this movie is only going to beat Tokyo Drift on the domestic front. The good news is Johnson and Statham had the multiplex to themselves for the most part, giving them some decent weekend drops usually hovering around 43%, and the international totals are expectedly huge. It does have a massive $200 million budget, but with over $700 million worldwide Universal will probably do okay. The real number 9 burns rubber next May, so watch out!

2) The Lion King

Monthly Box Office: $133.3 M
Running Total: $518.4 M

Sitting pretty at number two after being the pride of the pack in July is The Lion King, which has easily become the second biggest film of the year, the biggest of Disney's re-imagined properties so far, and the thirteenth biggest domestic release of all time (it will probably make it to spot 11 with just $6 million more). In case you were wondering, on the domestic charts, Disney owns seven of the top ten, twelve of the top twenty, eighteen of the top thirty, twenty-one of the top forty, and twenty-four of the top fifty spots. I mean, since they own Fox now, I suppose they actually have a few more, go on, give it to them. With a ludicrous $260 million budget, they are still going to reap massive benefits, with $1.6 billion worldwide and counting. Lion King is the seventh biggest worldwide release of all time, with a decent chance of getting one more rung up the ladder. Lion King is also one of the more rare releases to earn over a billion at only international theaters, becoming just the ninth film to do so. See Toy Story below for more on Disney's global chart dominance.

3) Once Upon a Time in Hollywood

Monthly Box Office: $72.8 M
Running Total: $128.1 M

I was wondering what Leo and Brad were up to after one spent a frigid winter freezing to death and the other cozied up to Marion Cotillard (I know whose agent I would be firing! Except, of course, he got the Oscar). Turns out they were just bumming around Hollywood and Quentin Tarantino had a movie camera, filming them all cinéma vérité style! Budget's $90 million for that, which is $45 million per actor, plus a few bucks for Red Apple cigarettes. Feature number 9 for Q has actually had weekend holds more similar to his Christmas released films, allowing Once to slightly outpace Inglourious Basterds. That makes it his second biggest film behind Django. Not a bad run of films for this late in a director's career. The drops started a bit high, at near 50%, but then leveled off around 34%. A few million more should be squeezed out of theaters, giving it a domestic finish close to $140 million.

4) Scary Stories to Tell in the Dark

Opening Weekend: $20.9 M
Monthly Box Office: $55.7 M

Bring on the 1990's! Since Goosebumps did so well in its first outing, it stands to reason that school childrens' other first encounter with horror fiction should see the light of day. With the pedigree of Guillermo del Toro behind it, this adaptation has decent reviews and will do reasonably well in the end, probably ending around $65 million off a $25 million budget. This level of earnings actually slots it just ahead of del Toro's The Shape of Water. Interestingly, as a producer, del Toro is often more lucrative than as a director, although this is mostly due to his odd role as producer on two animated hits, Puss in Boots and Rise of the Guardians (I think that was when Dreamworks was trying to be cool, hiring cinematographers like Roger Deakins to "light" their films).

5) Good Boys

Opening Weekend: $21.4 M
Monthly Box Office: $52.8 M

Speaking of being lucrative as a producer, Seth Rogen has probably extended his career in Hollywood by a decade by producing a bunch of films, like this title, which he neither wrote, directed nor starred in. Number five for August is Good Boys, a directorial debut for one Gene Stupnitsky, and one of a ton of movies I have noticed in recent years aiming a spotlight on young adolescents, resulting in decent if not great reviews. See last year's Eighth Grade. Unlike that movie, which earned $13 million, Good Boys scored the second highest debut of the month, and will almost quadruple its $20 million budget. Pretty sweet for a directorial debut, especially with an original story.

6) Dora and the Lost City of Gold

Opening Weekend: $17.4 M
Monthly Box Office: $47.9 M

Speaking of bringing the 1990's to the big screen...okay, yes, you're right, Dora actually debuted in 2000, but at this point close enough. Dora ain't no Spongebob, but it will do just fine as far as Nickelodeon shows do, especially after being on the air for so long. This is also her live-action debut, with Isabela Moner stepping into Dora's shoes, err, boots. Made for about $50 million, it will earn the budget back but not much more, nestling into a nice spot in the middle tier of August. Now that we know old Nick Jr. titles can become hit movies, a 3D animated Blue Clues better be coming out next!

7) Angel has Fallen

Opening Weekend: $21.4 M
Monthly Box Office: $36.4 M

Has Angel really fallen, or is it you Gerard, have you fallen? Why is a Scottish actor chosen to portray that most jingoistic of action heroes? One whose most famous role is as a Greek, nay, Spartan soldier. Lionsgate seems to understand this is a thinly spread franchise, and reduced the budget on this to $40 from the first two films' $70 and $60 million. The domestic gross, however, looks able to match the second film, which finished with just over $62 million. Oddly, the second film did much better internationally due to its London-based setting, but with number three Butler jaunts back stateside. Domestic before international grosses, am I right? With the third highest opening of the month, a hair behind Good Boys, and weekend drops in the mid-40th percentiles, this franchise still has some life left in it.

8) The Angry Birds Movie 2

Opening Weekend: $10.4
Monthly Box Office: $ 32.4 M

If there were a bomb this month, here it is, and boy am I happy it was this title. Reeking of desperation, Sony cashed in on a franchise way after its prime. With an opening less than a third of the original, and a domestic total that will barely out-earn the first film's opening weekend, it is safe to say that culture has moved beyond these forever furious fowls. What sickens me is that some Sony executive is rubbing his hands with malicious glee while pondering the sequel potential of Emojis. Sony knows how to destroy franchises (sorry Spider-man, been nice knowing you), as they have beat Smurfs, Angry Birds, and soon others I am sure into extremely dead horses. Somehow Hotel Transylvania has so far escaped this fate (box office wise), and then they totally redeemed themselves with Into the Spider-verse.

9) Spider-Man: Far from Home

Monthly Box Office: $32.1 M
Running Total: $383.2 M

Speaking of the webslinger, who is suffering the side effects of divorce pains right now, you knew a Marvel title had to appear somewhere around here. Number nine for August after being runner up in July, Spidey hit a home run and out-earned his predecessor, something that has not happened "within-franchise" as I'll call it, in his three franchises so far. While still unable to beat the domestic total of the 2002 original, this is the first Spider-man film to break a billion dollars at the worldwide box office, so I doubt he's crying too hard. That also makes it Son'y biggest film of all time worldwide, beating Skyfall, their only other billion dollar earner. With it finally running out of steam, give it an even $390 million.

10) Toy Story 4

Monthly Box Office: $27.3 M
Running Total: $428.7 M

Our final film in the top ten, and the only holdover from way over in June, thanks for visiting, is our second Disney property. Just look at those ridiculous running totals for the Disney and Marvel properties, my God! Here, the live action toys that invented the third dimensional animated film continue their shenanigans, while basically equalling the box office glory of Toy Story 3. In fact, adjusted for inflation, each Toy Story film has earned similar amounts of cash, with the first film being the lowest earner by a bit. Regardless, chalk another billion dollars up for Disney on the global board, giving them 23 out of 43 films to achieve 10 digits. Fox, which they of course own, has done it once (twice if you count Phantom Menace's re-release, thrice if you include Titanic). Toy Story 4 has a franchise best domestic total, but it remains to be seen if it can get just $15 million more worldwide to beat number 3's worldwide haul of $1.067 billion. Can they come up with better sequel titles now? The next one should be Toy Story to Infinity. After that they write themselves.

Just outside the top ten, banging on the window, getting wet, really wanting to get in out of the rain, are The Art of Racing in the Rain with $23.4 million, 47 Meters Down: Uncaged with $18.3 million, Ready or Not with $18.2 million, Overcomer with $15 million, and The Kitchen with $11.8 million. That also completes the list of largest ten opening films for the month. The studio story is basically unchanged from last month, as Disney has a massive 35% share of the domestic market, followed by Universal with just under 14%, WB with about 13%, and Sony with 11.5%. After that it gets ugly. Now that It has floated its red balloon, we shall see just how well normally sleepy September gets going.