Weekend Forecast for September 13-15, 2019
By Reagen Sulewski
September 12, 2019
BoxOfficeProphets.com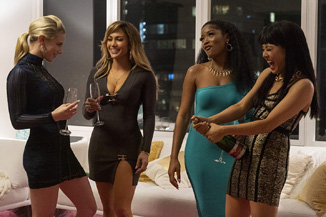 ---
Box office appeal makes way for critical acclaim this weekend, though if you were looking for a repeat of last weekend's gigantic opening weekend, maybe you're expecting a little too much out of October.

Caper and crime films have a decent natural home in the fall, as we move away from the glitzy and noisy action films of summer and towards the grittier and more heralded films of the awards and holiday seasons. The hits in this genre have been fewer and farther between in recent years, but here comes our friends SEX! and stunt casting to help us out.

In The Big Short, several scenes show the leads of that film talking with strippers and realizing the extent of the looming financial crisis. Hustlers picks up the ball and runs with it from just after the events of that film, with the real life story of a group of New York strippers who enacted their form of revenge on Wall Street following the Great Recession. Jennifer Lopez plays the mother hen of a group of exotic dancers who decide that they've had enough of being taken advantage of by douchebag stock brokers and hatch a plan to lure them in, drug them up, show them kind of a good time, then rob them blind, correctly surmising that a lot of them would be too embarrassed to report being robbed by a group of strippers. They might not even notice!

Also starring Constance Wu (after her break out role in Crazy Rich Asians last year), Keke Palmer, Julia Stiles, Lili Reinhart, Lizzo and Cardi B, it's a who's who of who's important to the Instagram generation, with a blue-collar, "stick to the man" plot that's easy to rally behind. It's also not afraid to show off the fact that Jennifer Lopez has hit 50 and has a workout program that's clearly working for her. That it's a multi-ethnic and minority-led cast is also significant, an angle that's worked well for other female starring and/or targeted films of late, such as Girls Night and the aforementioned Asians, of whom some are Crazy and Rich.

Reviews are top notch, with some going as far as calling it a female sex worker version of Goodfellas. That's a tough status to live up to, especially for a director whose most known work up until now is Looking For a Friend For the End of The World (and with another writing credit on Nick & Norah's Infinite Playlist). But with a hip feel and a buzz-worthy cast, a solid opening weekend should be in store. I'd look for something as strong as $31 million to start.

The Goldfinch is positioned as one of the fall's first prestige dramas, based as it is on a Pulitzer Prize winning novel. Set in several time periods, it follows a young boy who was in the middle of a terrorist attack on an art gallery that killed his mother. In the aftermath of the attack, he steals a priceless (titular) painting, which he holds on to as a memory, though wracked with guilt about it. Adopted into a foster family, he spends his adult life atoning for what he feels is his role in the whole affair and man can you ever tell this is a literary movie.

Ansel Elgort plays the grown-up version of the boy, with Nicole Kidman, Jeffrey Wright, Luke Wilson and Finn Wolfhard as other notable actors in the cast. The film seems to suffer from its weighty ambitions, and reviews are quite harsh on it for its staid tone and heavy pretensions. Elgort hasn't followed up last year's Baby Driver with anything of note, and Kidman has a recent history of these sad dramas not making a box office impact, so I'd look for a modest $5 million weekend.

This leaves things open for It Chapter Two to win a second weekend. While not reaching the heights of the first film's start, the $91 million opening weekend is merely the second-largest opening weekend of September. That is actually a full quarter of the first film's start lopped off here, which could be concerning if there were more films to make here, and if they weren't already playing with house money. After bringing in around 20 times its budget worldwide the first time, they could have literally burned the Joker's pile of cash from The Dark Knight and still come out ahead. High dropoffs are the name of the game here, with the combined factors of horror, huge opening numbers, and the film being a sequel -- the first one dropped over 50 per cent, and this ought to surpass that. While still winning the weekend, it should be with around $41 million.

The meagre roster of returning films means that's about it for this weekend, with likely nothing above $3 million. Even a couple of late expansions for Overcomer and The Peanut Butter Falcon shouldn't make an impact.