The Number One Movie in America: Ocean's Eleven
By Sean Collier
August 19, 2019
BoxOfficeProphets.com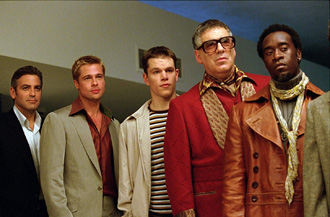 ---
It's not just that "Ocean's Eleven" is full of really famous people. It's that, for most of those people — who, yes, are exceptionally famous — "Ocean's Eleven" is among their biggest hits.

The movie is as big as its stars.

On George Clooney's career scoreboard, "Ocean's Eleven" is second, behind only "Gravity." It's third for Brad Pitt, barely edged out by "Mr. & Mrs. Smith" and a bit behind "World War Z." It's fourth for Matt Damon (and thus ahead of all but one "Bourne" movie). It's the highest-grossing film of Julia Roberts' career; it's the top earner for director Steven Soderbergh, as well.

Admittedly, it's down at seventh on the Don Cheadle chart, but the top six spots are all Marvel Cinematic Universe movies, so it's a rough comparison.

The late 20th and early 21st centuries have seen box-office dollars trend away from stars and toward franchises, so it's not particularly shocking that a top earner for many of the most recognizable performers in the world is a 20-year-old heist picture. (Though it is somewhat surprising that Julia Roberts has never appeared in a $200 million film; "Ocean's Eleven" gathered $183.4 million.) But to think of "Ocean's Eleven" first as a cavalcade of stars isn't quite right; if anything, it made its stars more famous.

In updating the Rat Pack's 1960 caper, Soderbergh absolutely nailed the formula for a modern heist movie, in a fashion so satisfying that nothing (including the film's sequels) has been able to match it since. The formula — which is much more simple than Danny Ocean's deadpan description of the nearly impossible heist in question — is straightforward: Introduce our characters, pitch the heist, put the pieces in place, execute. (With complications.)

"Ocean's Eleven" doesn't really move in acts; the script, by Ted Griffin, instead opts for continuous rising action. Things get more tense as the plan gets more threadbare, including the big, mid-movie twist: The casino our motley crew is planning to rob happens to be managed by the guy currently in bed with Danny's ex-wife. The silver-screen charisma explodes off of Clooney and Roberts in a captivating exchange that will make anybody want to have a serious conversation at a Vegas restaurant. (It probably won't be quite so electric when you try it.)

For all the tension, however, "Ocean's Eleven" is fundamentally a comedy — quick, witty and loaded with seasoned comic talent. (You don't really need more than Bernie Mac and Carl Reiner, but the movie has plenty to offer.) It makes utter sense that this was a big hit, the automatic date-night choice for the closing weeks of 2001 and the early part of the following year: It's sophisticated without being stuff, funny without being cloying, thrilling without being desparate.

In short, it's a grown-up movie — the kind that movie stars have always made and always excelled in.

"Ocean's Eleven" could not, however, change the course of cinema's turn-of-the-century momentum. Sure, it held well as counterprogramming. But the top spot on the box office charts would be claimed, quite firmly, two weeks later by a newcomer: "Lord of the Rings: The Fellowship of the Ring." That one takes place a long way from Vegas.

"Ocean's Eleven" is the subject of the latest episode of The Number One Movie in America, a look back at past box-office champions. Each episode's film is drawn at random from a list of every number-one movie since 1982. Please listen and subscribe!

Next time: There was once a time when a morning radio host could become so popular that — for better or worse — he could star in his own biographical comedy.