Weekend Forecast for August 9-11, 2019
By Reagen Sulewski
August 8, 2019
BoxOfficeProphets.com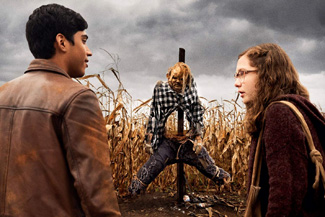 ---
After a couple of months of just one or two big releases a weekend, we're back to the more fall-like scattershot approach, and five brand new films hit theaters in wide release. That doesn't mean we're away from franchises, they're just... C-tier ones.

Long rumored and long chuckled-at, the Dora the Explorer movie (subtitled The Lost City of Gold) has gone from viral video to reality, and who's laughing now? Well, probably kids aged 4 to 12, who either are still in prime-Dora viewing age, or could appreciate what looks like a slightly satirical version of the Nickelodeon character. Yes, everyone involved in this seems to be at least a little in on the joke, with it playing a bit like a low-stakes Jumanji film and Isabella Moner's title character being an impossibly chipper adventurer in the face of mortal danger, while those around her boggle at what seems like cluelessness.

There's several touchstones of the series on display here, including Boots the Monkey and Swiper the Fox, as well as some fourth-wall breaking (and fourth-wall breaking of the fourth-wall breaking), designed to appeal to both the natural target audience, as well as to those who might have outgrown the source material, but could be pulled in with the right tone (nostalgia starts early these days. It's an accelerated culture). It's a tricky balance to strike - too many winks and you confuse the little kids, and play it too straight and you chase off the tween audience for being too childish. Early reviews seem to say that it's walked that tightrope.

Also starring Michael Pena, Eva Longoria, Eugenio Derbez, Benicio del Toro and Danny Trejo (as Boots!), it's also a proudly Hispanic movie in a challenging climate, but also just matter-of-factly so. For non-Hispanic audiences it's likely not a factor - it's just the character, after all - but for Hispanic audiences it's a potential rallying point. This adds on to the potential comparison films - Spongebob being the clearest analog, being from the Nickelodeon family - with Robert Rodriguez's Spy Kids movies coming to mind, with family friendly action.

Just like with grown-up films, family audiences are susceptible to branding, with the Spongebob movies being huge hits. The latter one opened up to a massive $50 million plus and finished with over $160 million domestic. Those are ambitious numbers for Dora, but with solid reviews and a light tone to the ads, it should be able to reach $33 million for opening weekend.

Moving up slightly in age demographics, we have the PG-13 rated horror film Scary Stories to Tell in the Dark, based on the book series that borrowed heavily from folk tales and long-lived urban legends. Not quite an anthology, it pieces together many of the short scares from the books into a thin narrative about where these stories come from - a literal haunted book that can't be destroyed and wants its readers to face their fears very, very directly.

It occupies similar space to the Goosebumps movies, Tales From the Crypt and The House With a Clock In Its Walls - entry points into the horror genre for pre-teens and teens. In a Stranger Things world, this probably seems tame, but at least has a ready audience. The biggest selling point is likley the involvement of Guillermo del Toro as writer and producer, as the young leads of the film are pretty anonymous and it's difficult to imagine kids being psyched for "Breaking Bad's Dean Norris!!" Reviews are surprisingly strong and this could lead to an opening weekend of $16 million.

Mob film The Kitchen goes back to New York in 1978, with three wives of mobsters attempting to take over their husband's territories after they're sent to jail, proving surprisingly adept at doing so. One of the better casts of August - Melissa McCarthy, Tiffany Haddish, Elisabeth Moss, Common, Bill Camp and Domhnall Gleeson, among others - headlines the movie, which unfortunately seems to be much less than the sum of its parts.

Based on a Vertigo comic, it seems to be cliched about both mob movies *and* feminist causes, and with this kind of down and dirty crime film being a tough sell lately, this is pretty much a death knell for its long term prospects. It wouldn't be impossible for this to get some legs *if* the critical support was there, but it is very much not. The direct comparison is last fall's Widows, which only opened with $12 million, a figure that's probably even a little high here. I'd look for a $10 million start.

A man/boy/girl and his/her/their dog stories have been a going concern of late, with this week getting another entry with The Art of Racing in the Rain. Starring Milo Ventimiglia as a budding F1 driver, Amanda Seyfried as his wife, and Kevin Costner as the voice of his sage golden retriever. It turns out that raising a dog, racing a car, and living your life to the fullest all come from similar techniques. Who'd have thunk it!

A sentimental piece of claptrap, it is almost exclusively made for dog lovers, and the older set of those at that. That's a very limiting audience and should find it earning around $7 million for the weekend.

In 2002, aspiring football player Brian Banks was falsely accused of rape and accepted a jail sentence of five years in prison and requiring him to register as a sex offender, ending any chance of a sports career. Shortly after his release, his accuser admitted on tape that she had made up the accusation in order to get a monetary payoff. From this, Banks' charge was wiped away and he was able to resume his career, eventually signing with the Atlanta Falcons for a cup of coffee. This story is the source of the movie bearing Banks' name, which gets a national release.

Directed by Tom Shadyac (Ace Ventura!), and starring Aldis Hodge, Greg Kinnear and Sherri Shepherd, it's the story of Banks' redemption and the efforts to clear his name. It's not the sort of film to set the world on fire, and lacks advertising and major studio support, which should put it at around $2 million this weekend.

The question about Hobbs & Shaw was whether Fast & Furious has a life as a franchise outside the main series. The answer was a firm "...maybe?", with a $60 million start. This is well below the established franchise numbers, which could be a weakness in the spin-off concept, or more worryingly, in the series itself, which at nearly 20 years is showing some whiskers. Legs are likely non-existent here and it should wind up with $28 million for weekend number two.

The Lion King remake has reached $450 million prior to the weekend, passing both the original film and several others, to make it into the top 20 domestic all time. With a couple of weekend of big drops, the final target is around $525 million, which would make it the most lucrative of all of Disney's recent run of remakes. It should see $20 million this frame.

Once Upon a Time ... in Hollywood had the expected chop in half after its solid $40 million start - it's divisive, even for Tarantino's films, but as previously mentioned, not for the typical reasons. With a probable $120 million finish, it's certainly enough to get it into end of year awards competition. Give it $11 million this weekend.

Spider-Man: Far From Home and Toy Story 4 both end the major parts of their runs this weekend, each grabbing around $5 million, on the way to $380 and $420 million each.