Weekend Wrap-Up
By Tim Briody
July 14, 2019
BoxOfficeProphets.com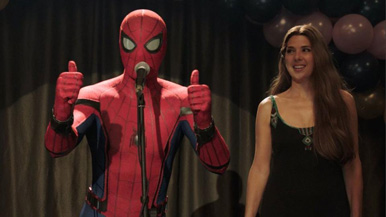 ---
Ho-hum. The two new releases fail to make a big impact as Spider-Man: Far From Home continues to lead the box office, while The Lion King looks to make a big splash next weekend.

Falling 51% to $45.3 million, Spider-Man: Far From Home still easily takes down the weekend. After two weekends and (totaling 13 days in theaters because of the Tuesday release), it's got a tidy sum of $274.5 million. That has already surpassed the two Amazing Spider-Man films released earlier this decade. Pretty soon Sony is going to pretend those movies never existed.

Far From Home is currently ahead of 2017's Homecoming at this same point in release, as of its 13th day in theaters, Homecoming had $225.2 million. It finished with $334.1 million, and Far From Home is looking like a $375 million film right now, which would just beat out Spider-Man 2's $373 million for second highest in the franchise, with tops being the 2002 original, at $$403.7 million, a figure that's certainly still in play for Far From Home as of this week.

Homecoming had some big drops in its first few weekends, but held well through the dog days of the summer box office against a weak slate of new films and spent 11 weekends in the top ten. I don't think Far From Home has the same luxury, but it should remain a player for at least another month.

Toy Story 4 earns $20.6 million (down 39%) in its fourth weekend and has $346.3 million to date. It's just a few million ahead of where 2010's Toy Story 3 was at this same point in its release, and that finished with $415 million, so we're looking at $420 million as a final destination. Though it gets some prime competition for family box office dollars in the form of The Lion King next weekend, Disney is of course glad to have that sort of problem.

Our first opener lands in third as Crawl earns $12 million. A weather-based thriller starring mostly nobody (Kaya Scodelario and Barry Pepper?), Crawl was not screened for critics and was expected to largely be a box office non-factor this weekend. But then a funny thing happened, as those who did review it said it was actually pretty good, and Crawl rated a surprising 88% Fresh at Rotten Tomatoes. With a $13.5 million budget, Paramount is going to end up with a small winner here, even if it falls off a lot next week, which is likely.

The same fate does not fall our other opener, the buddy comedy Stuber. Starring Dave Bautista and Kumail Nanjiani (in his second straight movie where he plays an Uber driver), Stuber earns just $8 million on the weekend. With middling reviews (just 46% Fresh), it again shows what an uphill battle comedy has in theaters these days. It's a side effect of the idea that it takes something really special to get audiences to the movie theater these days; there's lots of comedy on the streaming sites, which is why the superhero movies are the only ones really dominating these days.

One way to get your comedy to succeed a little bit is to possibly appeal to older audiences. Thus, Yesterday continues to hold well, falling just 33% in its third weekend to $6.7 million and has $48.3 million to date. The Beatles fantasy cost $26 million to make, and Universal should be pretty happy with the $65-70 million final domestic total here.

As we wait for Disney's latest remake next weekend, their previous one continues to hold strong, as Aladdin drops just 22% to $5.8 million and has $331.4 million in eight weekends in theaters. With The Lion King's reviews potentially giving pause to its box office prospects (though Aladdin itself was just 57% Fresh), it's weird that the one entry that was a big internet punchline when the first images of Blue Will Smith were released has set the box office bar for Disney's live action/CGI remakes.

Annabelle Comes Home drops 41% to $5.5 million and has $60.7 million after three weekends. It's definitely not getting to Annabelle: Creation's $102 million from 2017 and it likely will not match Annabelle's $84.2 million total from 2017 as The Conjuring Universe suddenly appears to have an expiration date. It was still fairly cheap to make, but Warner Bros. should not expect future returns to be that great.

Midsommar slides a better than expected 44% from its opening weekend to $3.5 million and has $18.4 million to date. The horror/thriller cost just $10 million to make, so the A24 film is going to go down a winner, as the company behind Lady Bird, and Moonlight still searches for their first real box office smash.

The Secret Life of Pets 2 earns $3.1 million in its sixth weekend and has $147.1 million to date. The disappointing sequel should end any plans for a third one, especially with the box office chopped in half.

Another disappointment wraps things up this week as Men in Black: International adds $2.2 million in its fifth weekend and has a total of $76.4 million. Consider even the 10 years too late Men in Black 3 earned $179 million, and you see how much box office behavior has changed in this decade, as audiences just aren't buying any old thing anymore.

On this low key weekend, the top 12 films earned $116.4 million. Last year's films earned $157.2 million, with Hotel Transylvania 3 winning the weekend with $44 million and Skyscraper debuting with $24.9 million.

Next weekend it's Disney bringing the fire again, with their CGI update of The Lion King.