Weekend Forecast for June 21-23, 2019
By Reagen Sulewski
June 20, 2019
BoxOfficeProphets.com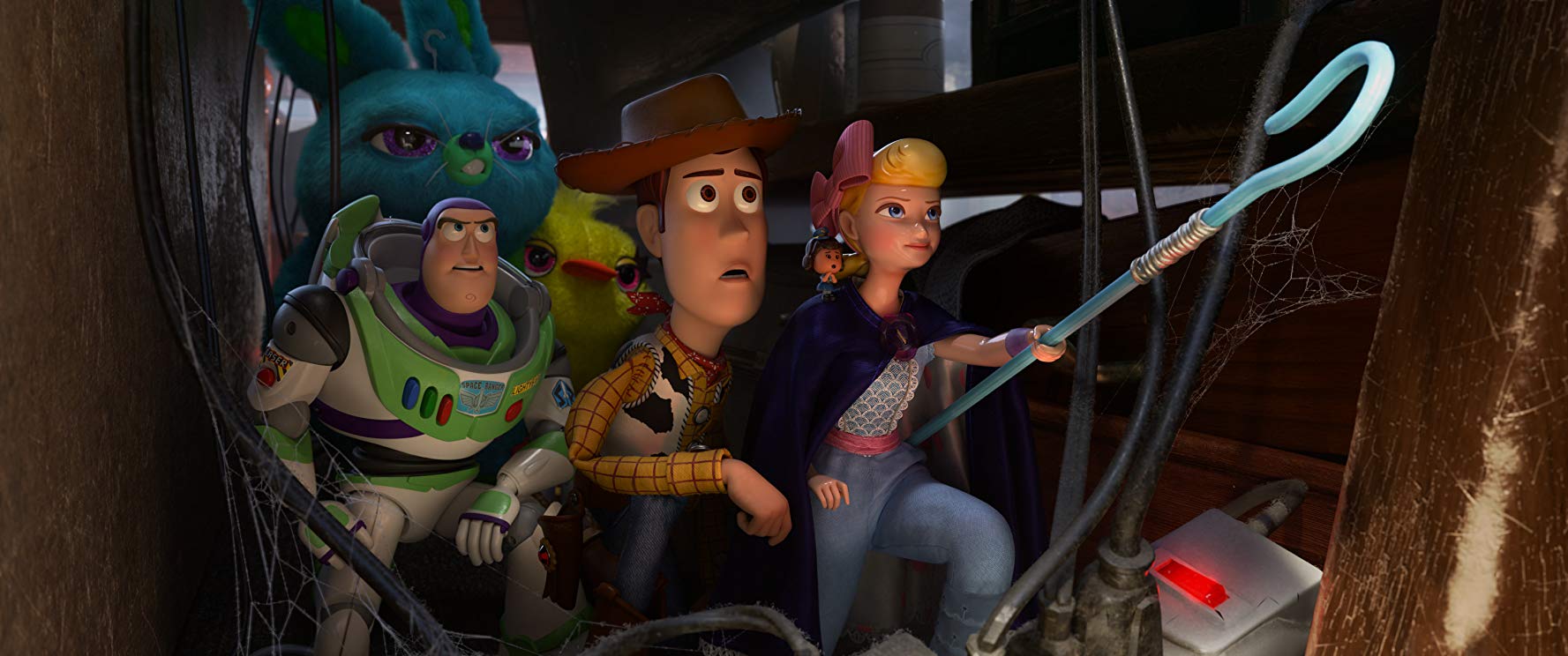 ---
What happens when your highly-touted sequels leave a crater on opening weekend so big that paleontologists start to get excited? Sequel even harder! This time, it may just work.

While much was made of Men In Black's 22 year span between its first film and its fourth last weekend, it has nothing on the 24 year span between Toy Story and its fourth edition. The film that launched computer animation as a viable thing and made Pixar into the powerhouse that it is is now old enough to start paying back its student loans and yet somehow doesn't feel as desperate a play as the headlining sequel from last weekend. A few reasons come to mind, firstly that it's held its quality all the way through its run. Another is that the cast has stayed intact, though with voice acting that's much easier. The themes of the film have aged with it, but haven't had to hold to any trends in comedy, rather that it's blazing its own trail. As well, technological improvements have kept it looking fresh, whereas live action CGI has seemed to revert in some ways, or maybe just held stagnant in all this time.

But yes, Woody, Buzz and the gang are back for what may be one last round, although that's kind of what we all thought the last time around, especially with them coming to a natural stopping point with Andy giving away his toys. There are always more stories to tell, apparently, and the film leans into its relative pointlessness by having its new kid character, Bonnie, invent a toy out of a plastic spork and pipe cleaners which achieves sentience and immediately tries to kill itself. Fun times for the whole family!

As the gang tries to convince Forky of his own value, they get lost... again... and wind up at a carnival, where they come across another old friend - Bo Peep. She's been living life alone, kidless and discovering the freedom that brings. The metaphor for "toys as parents" has been one of the big throughlines of this series, and we've reached the "empty nest" phase, as the film ages with its original audience (and its filmmakers). New voices to the cast include Tony Hale, Keanu Reeves, Jordan Peele, Keegan-Michael Key and Christina Hendricks, though Tom Hanks and Tim Allen remain the key people here.

While Pixar's magic has dispelled a little, its recent sequels have remained some of its highlights in terms of box office. The Toy Story series has always been the flagship of their studio, with each improving on the last, and the most recent entry opening to over $110 million and grossing over $400 million domestic, almost a decade ago. Weekends have only gotten more ridiculous since then ($100 million doesn't even get you into the top 50 anymore), and this remains one of the best reviewed series of all time, with a near unblemished record. I'd expect a massive turn around from last weekend's box office, with an opening weekend of $165 million, blowing past the mark set by Finding Dory.

In perhaps the wildest and wickedest case of counter-programming in history, Toy Story 4 and its sentient toys go up against... the remake of Child's Play, and its sentient, homicidal toy. In a nice update for the times from its 31 year old predecessor, it's no longer a demonically possessed doll with the soul of a recently executed serial killer (weren't the 80s fun?), but instead is controlled by a corrupted A.I. bent on murder.

The series was always known for having a bit of humor to go with its horror (how could it not?), particularly in some of the later sequels which went very metaphysical on the bit. This one is no different, especially as it brings on Mark Hamill as the voice of Chucky. Here, he's just an over-protective doll with a deep need to bond with his new owner, bringing out all the absurdity in the situation of a psychotic killer in the form of a doll that just wants to be loved. Aubrey Plaza (as the mom - you are old), Bryan Tyree Henry and Tim Matheson round out the notable human cast which, while loaded with lots of talent, isn't really made up of stars. That's OK, as this is really just going for some yuks (and yucks) and should find a solid $14 million opening weekend off solid reviews.

So, it turns out Luc Besson has a thing for lithe, female action heros. The man behind The Professional, La Femme Nikita and Lucy now brings us Anna, a film about a Russian model turned assassin. And, that's about it for story, at least as far as the ads are concerned. Surprisingly brutal looking fight scenes see the title character (played by model Sasha Luss) take on entire rooms filled with mobsters and hitmen, with deadly results. Cillian Murphy, Luke Evans and Helen Mirren round out the important cast members, but in a Killing Eve world, this all seems a bit reductive and old hat. I'd look for around $5 million this weekend.

Men in Black International was the second film in a row to lead the box office as a sequel but still put out highly concerning numbers. Opening to just $30 million on flat reviews, the Hemsworth/Thompson led movie was a huge step back for the series, which had opened to at least $50 million each previous time. While the budget was helpfully kept lower than other instalments, just over $100 million, there's a solid chance this end up under $75 million domestic. With little critic or world of mouth support, look for this to drop to $13 million this weekend.

Two animated features on the same weekend is one of the rare cases where competition comes into play, and that's bad news for the already beleaguered The Secret Life of Pets 2, which is likely to end up with just a little over a third of the total of the first film in the series, effectively killing this franchise off. It's perhaps a record for going from a thing being enjoyed to that same thing being cast aside, and should make about $12 million in its third frame.

The remake of Aladdin, however, continues to cruise along well, headed straight towards the $300 million mark. While Toy Story 4 might eat a little into that, it should still play well for its fifth weekend, earning $10 million this weekend.

Rocketman should have one more weekend of relevance, though the Elton John musical/biopic is playing like a knockoff Bohemian Rhapsody, and should find only $5 million this weekend as it heads to about $85 million.