Weekend Forecast for May 17-19, 2019
By Reagen Sulewski
May 16, 2019
BoxOfficeProphets.com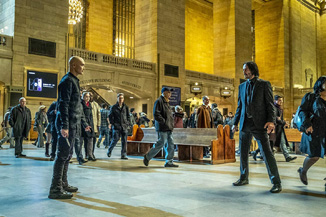 ---
This weekend's films include one that's all about dogs and loyalty, and also one that stars Dennis Quaid.

Five years ago, John Wick was something of a throwaway movie, a gunplay-heavy action film starring Keanu Reeves, who was largely considered to be done as a lead. Sure the film had lots of style, but action as a genre was essentially over, and the director was just some crew guy from The Matrix films. We'd been through this before, and with better casts. In a afterthought of an October release, it opened to a respectable $14 million, made a little over $40 million domestic and that was going to be that.

Then a funny thing happened - it started making end of year critics lists, and the 2014 version of "home video" started to kick in, giving it as much of a secondary life as can exist these days. Three years later, a sequel expanded on the exotic world hinted in the first film, one of hitmen with codes of honor, with a bureaucracy supporting them and sanctuaries and currency and... let's just say it was a master class of world building based on a few spare words than The Hobbit films did in nine hours. That sequel got a better timeslot, opened to $30 million and was an international hit at $176 million.

And that's to say nothing so far of the real reason these films have gathered a following - their over the top, kinetic, acrobatic, inventive action scenes, which see Reeves' title character turning into an angel of death, all in the service of revenge over the callous murder of his puppy, the last remnant of his tragic marriage. It's not the strongest character motivation ever, but within the world set in place, it's a surprisingly effective anchor, and really, you just go with it.

John Wick 3 deals with the consequences of his actions at the end of the second film, where he broke the peace at The Continental, a neutral ground hotel for all of the hitmen in this world. That makes him ex-communicado with a bounty on his head, which the rest of the hitman world is eager to collect. While guns have always been the focus of the John Wick world, it's also never been afraid to branch out, and knives, swords, motorcycles, horses, dogs, even books become objects of mayhem and destruction here. Adding to the returning cast members of Ian McShane, Lance Reddick and Laurence Fishburne, we get Halle Berry, Mark Dacascos, Anjelica Huston, Jerome Flynn and Asia Kate Dillon as notables (plus I'd be remiss if I didn't bring up Jason Mantzoukas in the evocatively named role of "Tick Tock Man"). There's a sense of finality to this, though there's no official word that this is the end of the John Wick series.

Reviews are extremely strong for this edition of the series, and hype is reaching quite a fevered pitch though that's something you have to take on a relative measure. This isn't exactly Endgame. But for an action series, made from wholly new material, starring Keanu Reeves? It's a spectacular achievement. I'd look for an opening weekend of around $62 million.

A Dog's Journey continues the story started in A Dog's Purpose, the 2017 film based on the best seller about a man's (Dennis Quaid) relationship with his dog, well, his series of dogs, which were really all the same dog, reincarnated over and over again, each time coming back to be with him. This film is essentially second verse, same as the first, although the focus moves to Quaid's granddaughter and her dogs, through a series of traumatic events that the ads are really not commenting on. Think, death, abuse, addiction - not happy fun times and about as ruthless as an old school Disney film.

Josh Gad returns as the voice of the dog, which you get to see die -- over, and over, and over again, I feel the need to point out -- while Kathryn Prescott, Marg Helgenberger Betty Gilpin and Henry Lau join the cast. The film does seem to suffer from "wait, didn't I just see this?" more than any other film I can remember, with the title itself being a large portion of the issue. Years from now, no one will remember which one was first just on that alone. While the original opened to $18 million, this will likely not reach that height, and start around $12 million.

Teen weepie The Sun is Also a Star rounds out our new releases. Based on the book of the same name, Yara Shahadi (best known from Black-ish) plays a young astrophysicist student who is saved from being run over by a car by a young romantic spirit (Riverdale's Charles Melton). The problem is that she doesn't believe in love, which just becomes a challenge to him. A second big problem (since no teen film can ever be about just one thing) is that she and her family might be being forced out of the country in a day -- so if there's going to be sparks, they'll have to happen quick. I'll give it points for not having one of the characters be mortally ill, at least.

This looks to be a fairly standard issue melodrama, and while the two leads are decently known, they're not superstars yet. Reviews are just ... enh... so it's likely to start with around just $9 million.

Avengers: Endgame will give up its top spot this weekend after three straight at the top, though it now sits at third all time with $737 million and second internationally, at $2.5 billion. The third weekend drop is a little higher than you'd like to have seen, but we're talking about minor flaws in an absolutely dominant performance so far. I'd expect $36 million for the fourth weekend.

Pokemon's branch out into live action was a solid success, as Detective Pikachu started with $54 million. Some might have hyped this up a little higher, but it's a bigger number than any other Pokemon movie has achieved in North America, and it'll shoot past the domestic total of the 1999 movie by this weekend. The crazy idea to take this idea seriously and make a "real" movie has paid off in spades. It should see around $24 million this weekend.

The Hustle was not respected by audiences, only grabbing $13 million in its debut. The remake of Dirty Rotten Scoundrels underwhelmed to a great degree, with reviews and a lack of quality jokes sinking this Anne Hathaway/Rebel Wilson comedy. It should fall to around $6 million this frame.