Weekend Wrap-Up
by Tim Briody
May 12, 2019
BoxOfficeProphets.com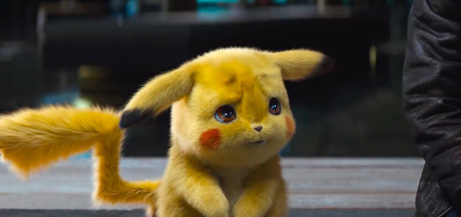 ---
Avengers: Endgame hangs on for a third and likely final weekend at the top, becoming the third biggest domestic film of all-time as we now look to see if it can eventually overtake Star Wars: The Force Awakens. Meanwhile, Detective Pikachu begins a streak of at least one big opening film for the next couple of months. The summer movie season is here, folks.

Endgame falls 57% to $63 million in its third weekend, enough to earn to the top spot for a third weekend. It now has $723.4 million. It entered the weekend as #5 all-time on the domestic chart, just passing Titanic at $660 million, and with Saturday's figure, it passed Infinity War and Black Panther to take over third all time. The next victim is Avatar, with $760.5 million, which Endgame will pass midweek. Then it gets interesting.

Despite nearly a $100 million head start, Endgame is now behind The Force Awakens' box office at this same point in release. After 17 days in theaters, The Force Awakens had earned $742.2 million. Star Wars took full advantage of the holiday money train to reach that otherworldly figure so quickly. But thanks to that, right now, The Force Awakens' record of $936.6 million is safe. It's going to be close, and Endgame is perhaps on track for $900 million, but that might be one record it doesn't get - at least not without a significant end of year re-release, should Endgame find itself in any awards conversation.

For a consolation prize, Endgame is merely $300 million away from becoming the biggest film ever worldwide, passing Avatar's $2.79 billion.

As it gives up the top spot next weekend, we'll continue to monitor Endgame's trek towards history, even if it ultimately will fall a little short.

After everything got out of the way of Endgame's second weekend, Detective Pikachu begins a streak of at least one high profile/tentpole-esque release a week as the summer movie season is underway. The first live-action Pokemon movie, Detective Pikachu blasts off with a solid $58 million for the weekend. While John Wick 3 is going to take the weekend title from Endgame, Detective Pikachu is the answer to the trivia question, as it actually beat Endgame on Friday, with $20.6 million on opening day.

An incredibly high concept film on paper (wait, 25 years later we find out Pokemon can talk?), the film was helped by having Ryan Reynolds provide the voice of Pikachu and do a Deadpool-lite impression, dripping with sarcasm. While there were perhaps some questions as to who exactly this movie was for, as a Pokemon movie had not been released theatrically in the US since 2003, the power of Reynolds and the ongoing popularity of Pokemon GO likely helped Detective Pikachu to a great opening weekend.

Despite a $150 million budget, things are definitely in Warner Bros' favor here, as it has already crossed that figure worldwide, and Detective Pikachu stands to have a decent run domestically as the best kids option for a couple of weekends, perhaps including Memorial Day if people don't want to see Blue Will Smith.

The Hustle takes third with $13.5 million. The film is a gender flipped update of 1988's Dirty Rotten Scoundrels, with Anne Hathaway and Rebel Wilson taking on the roles of Michael Caine and Steve Martin from the original. Despite being shredded by critics (just 16% Fresh at Rotten Tomatoes), The Hustle didn't tank completely, and I'm reminded of last year's Overboard remake, which ended up with $50 million after a $14.7 million start. That would require some strong legs, and comedy isn't in a great spot right now, so that's asking a lot, but hopefully for United Artists it wasn't that expensive to make.

The Intruder slides 39% to $6.6 million and $20.9 million after two weekends. Like any good psychological thriller, it was made for under $10 million, so Sony is likely already happy with this one.

Long Shot earns $6.1 million in its second weekend (down 37%) and has $19.7 million to date. It's a decent sign that two of the movies that were thrown out against Endgame's second weekend didn't completely fall apart in their second weekend; it's possible that audiences were willing to wait to see these mid-tier releases to avoid the ridiculous crush at the theater as Endgame continued to run rampant.

Poms is another opener this weekend, one I actually hadn't heard of until Friday. This one is a comedy with a bunch of older women (Diane Keaton, Rhea Perlman, Pam Grier, Jacki Weaver) who start a cheerleading team in their retirement home. No, really. Anyway, it earned $5.1 million for the weekend, a disappointing figure. While it only cost $10 million, STX Entertainment isn't having a good year.

Speaking of STX, Ugly Dolls drops 55% from its weak opening to $3.9 million and has $14.2 million in two weekends. It cost about $50 million to make, and that ain't happening.

Breakthrough adds $2.4 million in its fifth weekend, and has $37.1 million to date. The faith-based film only cost $14 million to make, so it goes down as a winner for Fox. Or I guess it's Disney now.

Tolkien, a biopic about the early life of Lord of the Rings author J.R.R. Tolkien is the biggest flop of the weekend with just $2 million, albeit in just 1,500 theaters. Starring Nicholas Hoult and Lily Collins, even the biggest Hobbit fans couldn't be bothered, and I kind of wonder why this exists. From Fox Searchlight (or is it Disney Searchlight now, huh?), this somehow cost $20 million to make, and won't even crack $10 million.

Captain Marvel's last week in the top ten wraps things up this weekend, adding $1.8 million and giving it $423.7 million in ten weekends.

The top 12 films this weekend earned $165.6 million, still ahead of last year's $128.9 when Avengers: Infinity War's third weekend led with $62 million, and the top opener was Melissa McCarthy's Life of the Party with $17.8 million.

Next week brings all the violence you can handle with John Wick Chapter 3: Parabellum, and A Dog's Purpose sequel A Dog's Journey.