Weekend Forecast for March 29-31, 2019
By Reagen Sulewski
March 28, 2019
BoxOfficeProphets.com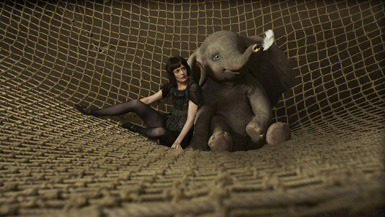 ---
"Siri, follow up Us's opening weekend with the film that's the complete and total opposite of Us."

Disney's commitment to mining through their back catalog for properties to remake in various forms continues this weekend with a live-action production of Dumbo, to go with similar productions of The Jungle Book, Cinderella and Beauty and the Beast, with several more in the pipeline. While Dumbo isn't one of the more beloved Disney animated films, it definitely has cinematic potential, filled with several iconic scenes and themes (one hopes they nixed the racist crow bits right off the bat). There's a pretty solid matching of material and director, with Tim Burton getting the gig since his movies are basically a sad clown on black velvet these days anyway.

Telling the story of, well, you know how it goes.... but anyway, an elephant born with oversized ears that enable him to fly with the aid of a feather (or so he thinks!), it's a classic tearjerker in the Disney style. Recognizing that telling the story as strictly elephant-centric as the animated film is wouldn't work very well for a new feature, Burton's Dumbo expands the universe of the circus with the circus' owner and various other hands becoming major characters. Colin Farrell and Eva Green play performers who take to the care of the young elephant (Farrell playing the role with a CGI-removed arm), while Michael Keaton reunites with Burton as the scenery chewing theme park owner attempting to purchase Dumbo for his new attraction. Danny DeVito is another Burton alumnus, as the ringmaster and owner of the circus, struggling to defend it against the grand corporate designs and abject cruelty of Keaton. It's rare for a studio to call itself out in its own product, but here we are.

Burton's quirk factory approach to filmmaking is on full display here though there's something rather cloying about this whole production. Most of these Disney remakes have rested heavily on nostalgia and novelty, which likely isn't as strong in Dumbo's case. It's been too far out of the mind's eye for most people to really embrace it, which is a lesson Disney learned the hard way with Mary Poppins Returns just a few months ago, as well as the train wreck that everyone sees coming with the Aladdin remake (I dare them to do a Bambi remake this way. I *double* dare them).

There's a pretty high floor to this, even as the whole thing screams overreach. Disney branding remains top notch, and animal films still bring in kids - Dumbo *is* cute beyond all other things in this film. The giant figures of The Jungle Book and Beast seem well out of reach here, and even Cinderella's $67 million feels optimistic. I'd expect around $58 million to start.

A handful of national-sized releases round out the new films this weekend, with The Beach Bum, Unplanned and Hotel Mumbai each grabbing about 1,000 venues.

The first sees Matthew McConaughey leaning heavily into his stoner persona for a Harmony Korine directed film about a ne'er do well and his stumbles through a cast of ever increasingly eccentric characters, played by Isla Fisher, Jonah Hill, Martin Lawrence, Zac Efron and Snoop Dogg. To say that Korine's films are hard to manage for most audiences is a bit of an understatement, as his sensibility is one that basically rejects pleasing audiences. The presence of McConaughey might help a bit, in the same way that his Spring Breakers used James Franco and some then-Disney friendly teens acting out as bait. I'd look for $3 million at best.

Unplanned is a bit of agit prop pitched at a very specific audience, but a tactical error may lock them out of it. A dramatized film about Planned Parenthood and some alleged policies regarding abortions, it's an R-rated film going after a religious audience. If you're attempting to sell this to younger audiences coming out of church, that's a big road block to bigger audiences. I'd expect around $2 million here.

Expanding from a limited release, Hotel Mumbai tells a United 93-style version of the 2008 terrorist attacks in India which claimed the lives of over 150 people over four days. A mostly Indian cast headlines the film, but also includes Armie Hammer as an American trapped in the hotel, Dev Patel as one of the waiters at a hotel under siege, and Jason Isaacs as a Russian businessman.

There's no great happy ending to this (see above) and makes for a gruelling watch, possibly veering into exploitation. This idea of tragedy-as-entertainment seems to be waning in popularity but the nuts-and-bolts approach here may have some value. The relative obscurity of the events in North America, as well as the bleakness of the film itself probably keeps this at $2 million this weekend.

Jordan Peele followed-up his smash success of Get Out with a $71 million opening weekend for Us, a more traditional horror film than the socially-focused on he debuted with. That enormous take reflects a lot of the buy in he can grab just from his name now, which is spectacularly impressive. We trust him pretty implicitly after just one film and let's hope he doesn't let this go to his head. Legs will probably not be great since the opening weekend is earned off of Get Out's long run and paid off early, but a weekend of $34 million seems reasonable here for its second frame.

After three weekends, Captain Marvel is sitting strongly at $325 million domestic, and after this weekend will be sitting between the two Guardians movies in terms of Marvel's repertoire, and within decent range of Wonder Woman, DC's current standard bearer. Also important is that it'll cross $1 billion worldwide, the sixth of Marvel's films to do so, and just the 35th film ever to do that. It should grab around $19 million this weekend.

Animated film Wonder Park seems headed for a fairly miserable $50 million domestic off its $100 million budget, and worldwide numbers don't seem to be coming to the rescue. I'd expect $6 million for its third weekend. Five Feet Apart is probably looking at around the same final total, but with a much more budget friendly $7 million cost, this is well into the black already for its teen weepy story.