Weekend Forecast for March 22-24, 2019
By Reagen Sulewski
March 21, 2019
BoxOfficeProphets.com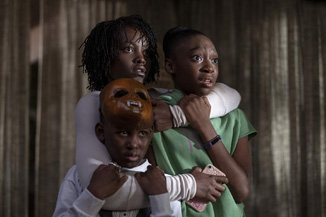 ---
In a year filled with highly anticipated sequels, this weekend brings a... highly anticipated directorial follow-up? Hey, it's something.

Two years after loudly announcing his arrival on the filmmaking scene with social-horror (and Oscar winning!) smash Get Out, Jordan Peele has his second film in the genre in theaters this weekend, simply titled Us. The big question for this sophomore effort is whether he has established himself as a brand as a director, a la Spielberg or Tarantino or more relevantly, and let's hope this isn't a jinx, Shyamalan, capable of selling a movie based on who's behind the camera rather than what's in front of it.

Leaning less towards the outright racially-tinged social commentary and more towards just, general social commentary, Us centers on a young family (Lupita Nyong'o and Winston Duke and their two kids) who while on vacation encounter what appears to be a group of doppelgängers. Creepy enough, but then they seem to be expressionless, dripping blood and stalking their house. While this is the point that most families would just skedaddle like the famous Eddie Murphy stand-up bit it's not so easy in this case, as how do you escape from yourself?

Peele's move away from explicit racial themes is probably a smart one, considering his career trajectory. While it's clearly his wheelhouse, you probably don't want to become "that" filmmaker when you're trying to make mass-market horror films. One should still note that it's a majority black cast (Elisabeth Moss is a notable exception), which is still fairly unusual for a film with blockbuster expectations. The genre is still a tough one to get a massive breakout in, though that's changing as studios put more faith, budget and advertising into them. In 2017, we had both Get Out and It, while last year saw A Quiet Place and the Halloween rebootquel put up huge figures.

One of the things that helped drive Get Out to a big opening weekend (a now quaint seeming $33 million) was strong reviews that focused on the importance of the message of the film. Reviews are similarly strong here, though mostly they peg it as an excellent example of the genre rather than anything that's going to be in contention for major Oscars.

Marketing for the film has been top notch, with a truly creepy trailer making the case, and even the posters doing some of the lifting for it. The comparisons here are obviously to Get Out, though one would suspect there's a bit of buy-in from the legs of that film, and last year's A Quiet Place, another high concept horror film about a family in peril. That one opened to $50 million, which might be the ceiling for this. I'd place it at around $45 million this weekend.

Captain Marvel will cede first place at the box office after two strong weekends at the top and having earned $275+ million so far. Its drop-off was on the high side of normal for mega openers, but things should settle down a little now that we're comparing apples to apples. The table setting film for both Phase 4 and the next Avengers film looks headed for around $425 million domestic, which would outpace everything but Black Panther and the Avengers films. Look for $36 million this weekend.

Animated film Wonder Park had a slightly stronger weekend than expected at $15 million, though that's still a fairly sad one for its budget ($100 million). Combine this with its production issues, and this is an overall disaster for Paramount. Give it $8 million in the second weekend.

Five Feet Apart had a decent weekend at $13 million, capturing a good portion of the teen market. Its likable stars, Cole Sprouse and Haley Lu Richardson, likely had a good deal to do with this, selling the doomed romance well. I'd still expect a steep drop off here, to around $6 million.

The final chapter of the How to Train Your Dragon series should have one more weekend of relevance, earning about $6 million in its fifth weekend, as it heads towards around $160 million domestic.