Weekend Wrap-Up
By Tim Briody
March 3, 2019
BoxOfficeProphets.com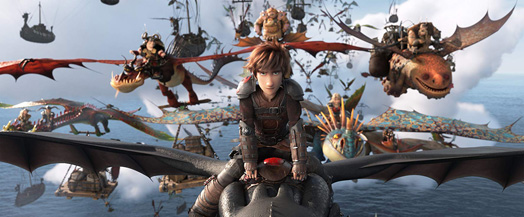 ---
The last quiet box office weekend for a while sees the sendoff(?) of a beloved(?) character as Tyler Perry earns his best weekend in quite some time, but How to Train Your Dragon hangs on top for a second weekend.

With Captain Marvel next weekend and a couple other high profile releases set for the rest of March (Jordan Peele's Us, Disney's Dumbo), here's hoping that these big releases get the 2019 box office back on track after the jumpstart provided by The Hidden World last weekend.

How to Train Your Dragon: The Hidden World wins the weekend with $30 million, down 48% from last weekend and giving it $97.6 million in two weekends. The drop is a probably a little higher than expected, but the second entry did slide 50% in its second weekend in 2014 (the first entry was a mere 34% second weekend decline). It's still ahead of the other two by a few million and becomes 2019's third $100 million film mid-week (The Upside falls out of the top ten but crossed the finish line this weekend), but it's very clear that it's not matching the first film's $217.5 million despite the higher opening. It should hold on long enough through March to beat the second's $177 million, but there's a chance that despite the biggest opening in the franchise's history, it certainly can still be the lowest performing of the three films. Next week will give a much clearer picture of where its destination is.

Tyler Perry's A Madea Family Funeral by Tyler Perry, written, directed and starring Tyler Perry takes second place with a solid $27 million. The supposed final film in which Perry will play Madea, a shtick that began in his first theatrical release, the somewhat more serious Diary of a Mad Black Woman in 2005, he was rewarded with one of the best opening weekends in his career. The Madea films have always played well with his target audience even if critics hate it (most of them aren't even screened for reviewers anymore) and they have a short shelf life (his highest earner is 2009's Madea Goes to Jail, which opened to $41 million and $90.5 million).

A Madea Family Funeral should fall off quickly from here and probably has a ceiling of around $55 million, which given Perry tends to keep his budgets very low, ensures it's profitable enough that he can keep turning out his other films at a rate of 1-2 a year.

Alita: Battle Angel continues to fall, down 43% in its third weekend to $7 million and $72.2 million to date. It's pushing $300 million overseas, though, which may just be enough to force the issue of a sequel, despite the reported $175 million price tag. Domestically, it's a prime candidate to lose quite a few of its 3,000 screens to Captain Marvel

Another good choice would be The LEGO Movie 2: The Second Part, which dips 32% to $6.6 million this weekend and has $91.6 million in four weekends. That it's still not even at $100 million yet is still a stunning, and the weekdays could be low enough that Captain Marvel could beat it to the punch as the fourth $100 million movie of 2019. As a reminder, The LEGO Movie had $209.1 million at this same point, while LEGO Batman had made $148.6 million. Barring something from Disney flopping this year, it's going to go down as the biggest disappointment of 2019.

The only impact of the Academy Awards on the top ten (Spider-Man: Into the Spider-Verse, A Star Is Born and Bohemian Rhapsody also saw expansions but missed out on the top ten; all had run their course anyway) is Best Picture winner Green Book, expanding from 1,253 theaters last weekend (where it placed 11th) to 2,641 theaters and $4.7 million, giving it $75.9 million since its November release and Thanksgiving wide release. Also picking up Best Supporting Actor and Best Original Screenplay awards, Green Book was a controversial Best Picture winner, and it might get a couple more weekends of play out of this, but will ultimately fall short of $100 million, though the fact that we're even entertaining the idea of that is remarkable.

Fighting With My Family drops 40% from last weekend to $4.6 million, giving it $14.9 million after two weekends. I stand by the assertion that this is a movie about a wrestler for non-wrestling fans, but that's something nearly impossible to explain to people. Still, it was cheap to make, so it'll end up profitable and play well once it hits the streaming sites.

Isn't It Romantic earns $4.6 million in its third weekend, and has $40.3 million to date. The Rebel Wilson anti-romantic comedy had a solid concept but it takes a lot more than that for comedies to break out, as we've seen over the last couple years. It's managed to make back its $31 million budget, though.

Greta is the other new wide release this weekend, a psychological thriller starring Chloe Grace Moretz and Isabelle Huppert from director Neil Jordan. With only $4.5 million this weekend, I'm not quite sure who this was aimed at, and the 57% Fresh rating at Rotten Tomatoes shows that critics agreed. Headed for a quick trip out of theaters, we'll all have forgotten that this got a theatrical release when it shows up on Netflix in a couple months.

What Men Want adds $2.7 million in its fourth weekend and has $49.6 million to date. Performing a notch just above Isn't It Romantic, these two entries are showing that date night just isn't at the movies anymore. Or it's saved for Marvel movies, like next weekend.

Happy Death Day 2U wraps up the top ten this weekend with $2.5 million (down 49%) and $25.2 million in three weekends, a figure that has yet to match the opening weekend of Happy Death Day from October 2017. It's still a cheap Blumhouse production and still profitable, but this is totally not the outcome Universal was expecting.

The top 12 films this weekend earned $98.7 million, still down from last year's $137.1 million when Black Panther's third weekend earned $66.3 million.

Next week things finally take off as it's the first big Marvel/Disney offering of the year, as Brie Larson is Captain Marvel.