Top Chef Kentucky
Kentucky Farewell
By Jason Lee
February 25, 2019
BoxOfficeProphets.com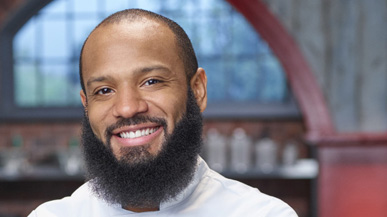 ---
And then there were five. Errr, wait a minute, six? We have six chefs again?

Two long gestating developments come to fruition this episode. First, we have the garden outside the Top Chef mansion, which has plots sectioned off for each of the chefs, which they were allowed to use back in episode one to plant whatever they wanted (and to care for it to whatever extent they wished). The playwright Anton Chekov once remarked that a loaded gun that appears in the first act must go off by the third act. Today, the promise of the Top Chef garden is fulfilled.

Second, we have Last Chance Kitchen. Though Brother made it back into the competition from Last Chance Kitchen midway through this season, the after-episode competition series continued behind the scenes. Today, the champion of Last Chance Kitchen rejoins the competition (a few episodes earlier than in seasons past). That champion is none other than Michelle, who previously made what still stands to be the best dish of the season so far.

With the finale around the corner, immunity in today's Quickfire is out of the question. So is any "significant advantage" for the Elimination Challenge, which has available at times. Instead, the only things up for grabs are bragging rights and $10,000. Not too shabby.

Instead of Padma, we have Tom Colicchio presiding over the Quickfire with guest judge and James Beard-nominated chef, Ouita Michael, who also hails from Kentucky. The remaining six chefs will have 45 minutes to harvest whatever they want from their own garden plot and then use it to make a garden-focused dish where the vegetables must shine.

Sara has been preparing for this challenge since the garden debuted. She's taken care of it, she knows what vegetables are in it, and she has thought frequently about what she'd make. In short, she's ready. Other chefs also feel they have a leg up—Adrienne grew up on a farm, and Michelle often watched her dad make food from their household garden.

The chefs take different approaches to their dishes. Always willing to bring the 'Bama to Kentucky, Kelsey is doing fried green tomatoes. All is going well until she burns her hand badly on a smokin' hot pan that had been left on the stove. Sara is doing her take on a local dish named byaldi, which Google tells me is a spin on the classic French dish, ratatouille (which is, for my money, also the name of Pixar's best film and one of the greatest animated films of all time). Justin eschews the cooking being done by the other chefs, deciding to go raw with a version of gazpacho.

With their dishes done, Eric is the first to have his food sampled. He has a green tomato and coconut soup with fresh vegetables . . . but not enough. He gets docked for not being vegetable-forward enough.

Kelsey presents her fried green tomatoes with pickled vegetables and homemade ricotta. It's all good except for the ricotta, which has a gritty texture.

Michelle is next with roasted radishes and chard with a poached egg. She ran out of time and left a lot of vegetable components off her dish. These three chefs comprise the bottom of the pack for this challenge.

Adrienne lands amongst the top with seared summer baby squash, cucumber blossoms, and a Green Goddess aioli. The judges love her use of acid and the cucumber blossom.

Sara's spin on byladi is a hit with roasted radishes, cucumbers, squash, and cypress goat cheese. Again, her use of acid draws praise.

Finally, Justin has a radish and chard salad with scallions, radish tops, arugula, and pickled chard stems. It's a nice take on a parsley salad, and his use of all parts of the vegetables—tops, stems, etc.—is celebrated by the judges. For that, he wins the Quickfire and goes home $10,000 richer.

But that's just the prologue. Now we get to the all-important main event. This will be the last Elimination Challenge for the chefs in Kentucky and will determine which five chefs make it to the finale in (wait for it) MACAO, CHINA. No one wants to miss out on such an epic trip. Though it's not clear how the chefs could be any more motivated, they are now.

Thankfully, in Pixar fashion, the producers of Top Chef decide to ratchet up the emotional resonance of the challenge to reflect the dramatic stakes. Each chef is tasked with making a "thank you" dish to their culinary mentor. It should be something they'd be proud to serve to their mentor, not only because a trip to the finale is at stake, but also because their mentors will be dining with the judges. The stakes, which were already high, are even higher.

The chefs are given a fun exercise for choosing high-end, high-quality ingredients to feature in their dishes. They're brought to an auction house in Lexington and given $500 to use on bidding on different ingredients. Whatever money they have left over can be used at Whole Foods. What ensues is a relatively uncontentious and uncontested series of bids for proteins (like iberico ham, wagyu beef tenderloin, foie gras, and yellow tail), and some ridiculously high bids for quality (but hardly expensive) vegetables like petit daikon radish ($50) and heirloom asparagus ($95). Seriously, wouldn't a $5 bunch of asparagus at Whole Foods be just as good?

With the auction done, the chefs make one last scurry through Whole Foods (Kelsey, with her bandaged hand, grabs some canned crab meat since she won't have time to clean and prepare a large enough portion of fresh crab meat). Then it's off to the kitchen. As befits the stakes of the challenge, everyone is pretty much able to get done what they want to get done (you wouldn't want to see someone get eliminated because, for example, a pressure cooker malfunctions).

And before we know it, Michelle is up the first dish. She has a slow roasted salmon with crispy skin, grain porridge, and a burnt citrus and bone marrow broth. Inspired by her mentor, Kim Alter, she wanted to make (and succeeded in making) a very feminine, nurturing dish. Padma finds it to be a great example of what Michelle is capable of doing. Gail Simmons, back from her maternity leave from the show, praises the dish's balance and gorgeous paring of bone marrow and citrus.

For her mentor, Gavin Kaysen, Kelsey has a take on gumbo featuring crab, a thick and gorgeous looking seafood sauce, and a garnish of caviar. It's both homey and high-end, just like Kelsey. Gavin proclaims the whole dish to be incredibly smart, and Gail loves how the dish provides moments of cool, raw ingredients (like the crab) and fiery moments from the sauce. The only flub is that one diner finds a piece of shell in his crab meat.

Although her mentor, Chris Koons, is known for having absolutely beautiful presentations for his dishes, Adrienne has run out of time and, in her own words, resorts to throwing food on her plates. She incredibly embarrassed by the look of her spiced duck breast with seared foie gras, spring vegetables, and garden herbs. Luckily for her, the dish is great overall. The duck is cooked perfectly, and the only complaint is that her spice blend isn't a strong enough component on the dish. Perhaps instead of only spicing one side of the duck, she should have spiced both.

Justin hauls ass to finish his dishes in time, but then somehow finds himself five minutes early. Having to wait before getting to present his food, he throws all of the plates under a heat lamp to keep them warm as he paces nervously behind them. Finally, he's allowed to present his dish of yellowtail two ways: yellowtail sashimi and miso-cured sashimi. Alas, Tom notes, Justin has fallen victim to the Top Chef/two-ways curse. Instead of doing two takes, he should have focused on doing one dish really well, as his raw yellowtail is too bland and the butter on the miso-cured yellowtail is cold and lends a greasy texture to the dish. Moreover, the cooking of his yellowtail varies from plate-to-plate around the table.

Ladies and gentlemen, we have a frontrunner for elimination.

Eric's mentor is none other than Top Chef finalist and Top Chef Masters contestant Brian Voltaggio. Like Adrienne, Eric isn't thrilled with the look of his dish—nor should he be. His wagyu beef with wheat berries, barley, and quinoa all have the same magenta, blood-red coloring, and the ingredients stand alone on an empty white plate without any green vegetables or herbs to brighten things up. While the grains are a huge hit and widely praised, the dish as a whole leaves the diners wanting. Without some type of contrasting fresh or herbaceous element, Tom finds it to be "not a fully realized dish."

Lastly, we have Sara's olive oil poached sea bass with an iberico ham broth, black-eyed peas, and baby lima beans. She knocks the dish out of the park. The dish is both subtle and delicate, but also a powerhouse of flavor with good balance and perfect cookery.

Back at Judges Table, the judges waste no time in announcing that there was one clear winner in this challenge: Sara. The home-state girl wins the final challenge in Kentucky and will be heading to Macao. Tom tells her that her dish was "perfect," and Gail praises how every element of the dish was wonderful.

That means that there are four spots left for the five remaining chefs. Among them, there does appear to be some amount of separation. Michelle's fish was flawless and the judges love how she used all parts of her ingredients—the flesh and skin of the fish, the tops and bottoms of the asparagus, etc. She really maximized all parts of her foods. Kelsey also seems safe, smartly incorporating two different rouxes in her gumbo, which lent a rich and deep flavor to the dish.

The chefs with something to worry about are Justin, Adrienne, and Eric. Both parts of Justin's duo had flaws, with his miso-cured yellowtail was a bit overcooked and the raw yellowtail a bit overpowered by the accompanying kimchi. Adrienne cooked her duck perfectly but underdelivered with the spice. As for Eric, his grains were spectacular—especially his use of sorghum leaves, which none of the diners had ever seen before—but the dish overall felt unfinished without some type of fresh or bright element.

As the above description might make clear, Justin's errors were the biggest and it's he who will have to watch the finale in Macao from afar. He's clearly bummed, but notes that the experience on Top Chef as a whole has been a huge confidence boost. He says he'll leave the show forever grateful for what it gave him.

But as for five remaining chefs who'll travel to China to prepare what they hope will be the best food of their lives, Tom has two final pieces of advice: "Study up and cook from the heart." We'll see next week who'll be able to do that.