Weekend Forecast for February 15-17, 2019
By Reagen Sulewski
February 14, 2019
BoxOfficeProphets.com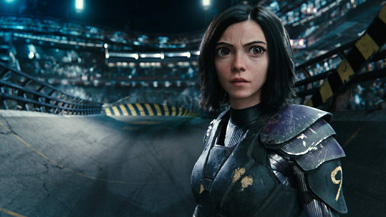 ---
After last weekend's disappointing debut of a perceived giant, studios may be feeling a bit rattled about 2019's heavy slate of sequels. While there is generally no connection between weekends, a second straight weekend of disappointments might have others feeling differently. In comes a gimmicky release strategy for a couple of marginal films, which is looking like maybe a bad idea, and about to play right into the narrative. A dodgy attempt at starting a franchise is probably not adding to things.

Isn't It Romantic and Happy Death Day 2U made the decision to premiere on Wednesday the 13th, ahead of Valentine's Day, one of the biggest boosts to box office of the year (if nothing else, on a percentage basis), each to ... underwhelming numbers. Perhaps people just were saving up?

An anti-romantic comedy, Isn't It Romantic stars Rebel Wilson as a woman who has a complicated relationship with romance and romantic comedies. Hitting her head after an attempted mugging (CTE! The new hot plot device for women in film!), she wakes up in what appears to be a stereotypical romantic comedy setting as the leading lady, complete with a new gay best friend and a spectacularly gorgeous new boyfriend (Liam Hemsworth, not even the good one).

Taking the piss out of all of the usual conventions of the genre - her apartment is suddenly out of Architectural Digest, flash mobs set to Whitney Houston are everywhere, and her nebbishy office mate with the crush on her (Adam Devine) is suddenly catching the eye of a "yoga ambassador" played by Priyanka Chopra. The worst part of all of this - it's PG-13, so attempted ... relations... have a hard wipe to the next morning's afterglow.

A bit more directly satirical about the genre than last year's I Feel Pretty, it also has a less well known, but also less divisive star in Wilson, probably best known from the Pitch Perfect movies at this point. An opening day of $1.8 million on Wednesday is fairly bad, but you definitely expect that anyone eager to see this film was waiting for Valentine's Day proper. While there's breakout potential here, that the genre itself has seen better days leaves the satire a bit toothless, a weapon in search of a battle to fight. Straight up comedies themselves are even having a hard time. I'd look for around $18 million on opening weekend, which is a solid figure for a up and coming lead actress.

Happy Death Day was a surprise winner from indie studio Blumhouse two years ago with a $26 million opening weekend for its "Groundhog Day but horror" premise. It saw a college student (Jessica Rothe) forced to relive her birthday while being murdered at the end of it, until she could uncover the identity of her murderer. Broadly comic with its horrific premise, the winning and charming performance from Rothe helped push it over the top. Now, Happy Death Day 2U sees Rothe having to repeat this feat, only now her friends are joining her in being murdered too. Each time they come back, they learn a little bit more about who is doing this and why, but it also leads to them choosing to abort the loop in ever inventive ways.

Things don't look so rosy for this budding franchise this time, though, as its Wednesday opening was a mere $1 million. Horror is actually a very good performer on Valentine's Day but it's already starting out in a bit of a hole, and should debut at around $9 million.

The marquee film for the weekend is expected to be Alita: Battle Angel, a long delayed collaboration between Robert Rodriguez and James Cameron. Based on a graphic novel, it's part Blade Runner, part Ghost in the Machine, and stars Rosa Salazar as a reactivated cyborg that discovers she has unique fighting abilities. On a quest to rediscover her origins, she has to navigate through the mean streets of Iron City, playing like a cyber-punk version of an Old West city.

Notable most perhaps for its CGI effects, particularly the e-nor-mous eyes on its title character, it plays a bit like Uncanny Valley: The Film. Also starring Christoph Waltz, Jennifer Connelly, Mahershala Ali and Michelle Rodriguez, it's a big budget sci-fi flick that hasn't quite done the work of establishing a franchise. This reminds me a bit of Valerian and the City of a Thousand Planets, which had a unique look but little name recognition or branding. Rodriguez and Cameron aren't quite going to cut it on that front. I'd say we're looking at a mid-tier performance with around $27 million.

LEGO Movie 2 had a severely underwhelming debut at $34 million, just a little more than half of the opening weekend of the ground-breaking animated film from Miller & Lord. The fourth film in the LEGO series after LEGO Batman (which hit) and Ninjago (which... did not), it may be a case of franchise fatigue. However, a more likely option is that while the first film captured a spirit of fun that wasn't expected, a second go around with the material didn't really make sense. WB may also have not done the work of selling the film, expecting its name recognition to do all the work, and forgetting to build a compelling reason to see it. The holiday weekend should be friendly to it, but I'd still expect a second weekend of around $22 million. Some of the more ambitious plans for the LEGO-verse seem harder to imagine now.

What Men Want had a solid $18 million start, showing solid support for a 19-year-old property and a gender swap concept that was long considered a bit of a joke. Taraji P. Henson continues to expand her reputation as a box office lead, which includes successes in comedy, thriller, drama and action. I'd look for a second weekend of around $11 million.

Liam Neeson Is Very Angry Indeed may not have much life left in it as a genre although the budgets and expectations have downgraded as we've moved along. The latest example, Cold Pursuit, opened to what seems like a poor $11 million, although that's in line with some of the recent examples like The Commuter and Run All Night. Dodging the controversy from Neeson's... unnecessary comments about revenge, that opening weekend points to a final box office total of around $25 million domestic for the tongue in cheek action film. I'd expect $5 million here.

Other returning films include The Upside, one of the leggier films of 2019, which should reach $100 million in the next couple of weeks but should grab $5 million, and Glass, which has trickled away after a hot start, and should have about $4 million this frame.