Weekend Wrap-Up
By Tim Briody
February 3, 2019
BoxOfficeProphets.com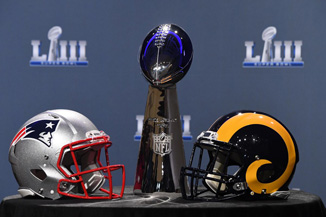 ---
Super Bowl weekend is a total snoozer at the box office, as we all sit on our hands and wait for the 2019 box office year to properly begin next week. Just one new opener attempted to counter program the big game, but was met with a shrug as Glass manages to hang on for the threepeat.

With $9.5 million, Glass wins the weekend with a total lower than any weekend in 2018. Down 50% from last weekend, in three weeks it's got a total of $88.6 million. It's a lock for $100 million, but I'm pretty sure Universal was expecting it to have done that already. The conclusion of M. Night Shyamalan's surprise trilogy is $10 million behind where Split was after three weekends, and that was with essentially the same opening weekend. It may not quite reach the promised land next weekend, and there's a chance it's beaten to the punch as 2019's first $100 million film by one of next weekend's releases. Again, it's wildly profitable, but as it's definitely going to match the total of Split, Glass definitely could've been even bigger.

The Upside continues to show very strong legs, dipping just 26% in its fourth weekend with $8.8 million and giving it $75.5 million in four weekends. It's actually got a fair chance at $100 million in a few more weeks provided the releases that people actually want to see don't take away The Upside's audience.

The weekend's lone new release is Miss Bala, and it lands in third with $6.7 million. An action thriller starring Gina (Jane the Virgin) Rodriguez, the film attempted to counter program (not the worst idea in the world on this weekend), but disappointed with just a 27% Fresh rating at Rotten Tomatoes.

The last remnants of Christmas, Aquaman adds $4.7 million in its seventh weekend and has $323.5 million to date, while Spider-Man: Into the Spiderverse earns $4.4 million in its eighth weekend, a total of $175.2 million. Both blew away expectations in terms of box office and quality (definitely in the case of Spider-Man; your mileage may vary for Aquaman), and their departures should accelerate here as we move into some bigger releases in the next couple of weeks.

Green Book, the only major awards contender in wide release, drops 21% to $4.3 million (after adding a couple hundred more screens after its major expansion last weekend) and has $55.8 million since its initial release in November. Green Book is almost certainly a lock for Mahershala Ali to win Best Supporting Actor, but it's in strong contention as the winner of the big prize, despite its...problems regarding its take on race relations. Box office wise, it's been very successful, as it only had a $23 million budget, and should continue to be a mid-tier earner for the month as we approach the Academy Awards.

The Kid Who Would Be King slides 41% from opening weekend to $4.2 million and $13.1 million after two weekends. That's a disappointing hold for something aimed at younger audiences, but I anticipate it being a better performer in its home country, and whatever's earned here is just gravy. It's still on track for about $20 million total here.

A Dog's Way Home and Escape Room are the dregs of January, as the former earns $3.5 million in its fourth weekend, and has $35.9 million total, while the latter adds $2.9 million and has $52 million in five weekends. It was an overall forgettable January of box office, but between Escape Room and Glass, it was certainly a very profitable one for the studios.

A mild surprise lands in tenth place this weekend as They Shall Not Grow Old earns $2.4 million in 735 theaters. This documentary was directed and produced by Peter Jackson (and somehow isn't three hours long) using footage from World War I that has been colorized and digitally improved with modern production techniques. They Shall Not Grow Old has earned $10.7 million to date, and prior to this weekend, its box office had come from a series of one day releases by Fathom Events. It debuted on the Monday before Christmas, earning $2.3 million in 1,122 theaters. It returned two days after Christmas in 1,007 theaters, making $3.3 million and then appeared again on Monday, January 21st, taking in $2.6 million. The solid earnings there led Warner Bros. to give it a standard release this weekend, and $10.7 million is still a great figure for a documentary.

This sorry excuse for a weekend's box office earned just $55.4 million. Last year, Jumanji: Welcome to the Jungle returned to #1 with $10.9 million as the top films earned $71.2 million.

Next week things finally kick into high gear as we have multiple quality contenders, including the first really big release of 2019. The LEGO Movie 2: The Second Part is here, and we also get comedy What Men Want, horror entry The Prodigy and Liam Neeson's Mr. Plow Cold Pursuit.