Top Chef Kentucky
Carne!
By Jason Lee
January 21, 2019
BoxOfficeProphets.com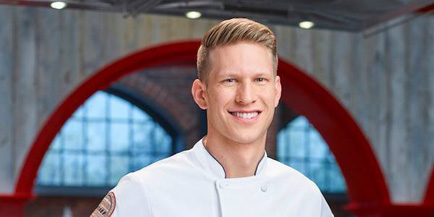 ---
Top Chef: Kentucky gets its first (non-culinary) celebrity appearance in the form of Lena Waithe this week. An Emmy award-winning writer, producer, and actress (most notably, at least for me, from Ready Player One), she's a huge fan of Top Chef. "Please don't change that," Padma asks of the chefs as today's Quickfire kicks off.

It's a pretty classic Top Chef challenge, though the first of this type for this season so far. The ten chefs (following Brother's ouster last week) will have to make a dish that Lena would enjoy eating at 3 am after a night of partying—one inspired by another famous Kentucky hotel. Last week, we were at the Seelbach, and this week, we're taking inspiration from the Brown Hotel, where, decades before, restaurant staff had to pull together food for their 1,200 guests based on what they could find in the restaurant refrigerators. What was born came to be known as the "Hot Brown"—a dish of turkey atop thickly cut bread, all swimming in gravy. It's calorie-laden, heavy, and absolutely delicious.

So, of course, the chefs will be putting their own spin on the dish. It must include turkey, must have a sauce, and must be served in a skillet, but other than those parameters, the chefs have free rein. The winner gets all-important immunity. Justin is thrilled with this challenge, as he has a version of this dish on his menu back home. Sara is equally enthused—she smartly anticipated some sort of Hot Brown challenge and made sure to have a number of ideas in her back pocket before the show started.

As the dishes start to come together, it's pretty amazing how far the chefs are willing to stray from the original dish. Kelsey is doing a version of the French classic, a croque madame, Adrienne is doing something with cheesy garlic bread, and Brandon is frying some eggplant. What the hell is going on?

Meanwhile, hometown girl Sara is making a scotch egg, which doesn't appear to me to resemble a Hot Brown in any way. That doesn't seem to matter, though, as no one will get to taste the dish. Sara preps her two eggs and drops them into the fryer, only to find that the sausage encasing one of the eggs hasn't cooked all the way through. She luckily has a spare that she quickly throws into the fryer, but as the final seconds tick down, she slices that one open, too, but fails to get it on the plate. It's not clear whether that egg is even cooked all the way, but it's a failure all the same.

The first group of chefs present their dishes to Lena and Padma. Justin has his (well-practiced) fried breakfast Hot Brown with smoked gouda and maple, which looks amazing. Eddie has a turkey and speck salad with herbs, citrus, and cauliflower, but Padma has a hard time finding the turkey. Brian's dish incorporating traditional Nashville hot sauce with turkey and county hearth bread is marred by his dried-out turkey meat. Finally, Eric has doubled down on a heavy, fatty Hot Brown with spiced pepper sauce, parmesan espuma, and pancetta.

Brandon kicks the next group off with his dish of fried eggplant, smoked paprika, turkey, honey ham, and roasted cauliflower, which doesn't not resemble the original dish in any way. Adrienne has glorious fried turkey on cheesy garlic bread, and a bourbon corn puree. Kelsey's croque madame Hot Brown with a poached egg and pancetta with shaved gruyere looks cute and petite, though Padma questions whether her vinaigrette really qualifies as a "sauce" for purposes of the challenge. David has turkey tenders with a blue cheese sauce. Finally, Michelle has a fried turkey ham with brown butter and a smoky aioli.

Though it's hard to go wrong with such a indulgent dish as a starting point, Sara (who had no scotch egg to serve), Brian (whose turkey was dry) and Kelsey (whose dish didn't reflect something Lena would order at 3 am) end up on the bottom. On top are Justin (with a great combination of savory and sweet), Eddie (who cleverly made a healthier, but still delicious, take on the dish), and Adrienne (who lightened the original up without losing flavor). Because he made something people would want to eat all the time (assumedly back in his own restaurant), Justin takes the win and immunity. He's thrilled.

Never one to slow things down, Padma dives straight into the Elimination Challenge, welcoming culinary LEGEND Nancy Silverton as this week's guest judge. Nancy has a restaurant back in Los Angeles that is essentially an ode to beef. So given that Kentucky is the largest beef producer east of the Mississippi, today's challenge will be all about that beef (bout that beef, no trouble).

The chefs draw knives, each of which lists a particular cut of beef. The chefs have guessed it—they will be given an entire side of beef (which they'll have to break down), and they'll have to make a dish using that cut of beef. Basically: we give you an entire cow, you show us how well you can use the entire thing.

Luckily, as not all of the chefs are butchers by trade, they'll have some help. Dario Cecchini, a world-renowned, eighth-generation butcher from Italy, will break down the beef into its primal cuts. The chefs will then have to complete the rest of their butchery on their own.

After selecting additional ingredients from a table full of locally sourced Kentucky offerings, and then shopping at Whole Foods, the chefs get their first look at Dario. He's a white-haired, gregarious man with a big voice and infectious smile. He doesn't speak a ton of English, accenting his butchery with a growly "CARNÉ!" every so often. It's incredibly fun and charming to watch.

With that much done, the chefs get to work, and I gotta say, many (many MANY) of their decisions seem to be highly questionable. Because she's unfamiliar with her cut (the "plate") and is not sure how much beef she'll actually have, Sara decides to make a sausage. Two chefs are doing steak tartares—Brandon and David. Eddie is grinding his steak to make something looking like stuffed cabbage rolls.

Honestly, even from my untrained vantage point, it seems like these chefs are missing the whole point of this challenge. They've been given A WHOLE FREAKING COW. They need to do something to celebrate the animal and respect the sacrifice it made to make their meal possible. And yet, instead of presenting the protein as something herald-worthy, they're mincing it down, grinding it up, and sticking it in sausage casing. As a vegetarian myself, I am horrified by the lack of respect the chefs seem to be showing for the cow only recently slaughtered. Honestly, the contrast between the approaches taken here and that of the chefs from two seasons ago, who made indulgent, pork-forward dishes for their Whole Pig Roast challenge, could not be more stark.

Brandon and David kick things off with their respective (sigh) steak tartares. Brandon is worried about his loin cut tartare, which features a miso egg sauce, black raspberries, crispy potatoes, and asparagus. First, the consistency of his tartare had been off during cooking, so he added some xantham gum to try and thicken it. Second, when blending his sauce, the top of the grapeseed oil dispenser came off, leading to an unknown amount of oil going into the mixture.

Needless to say, things do not work out for him. Tom finds the texture of the dish "just so off," and Graham doesn't believe the sauce makes any sense. Unfortunately, David fares little better with his round cut dish, comprised of a cold smoked tartare, allium confit, cheddar, and dijoinaise. Nancy Silverton likens the texture of his dish to "hamburger meat."

Adrienne is next, and she had the sirloin. She offers a "black and blue" NY strip featuring blue cheese, collard greens, and pickled green garlic. Nancy finds it well seasoned and well cooked, while Padma praises Adrienne unique preparation of the collard greens, with the acidic crunch they lend. Next to her, Justin had flank steak and serves it with creamy polenta, braised mustard greens, and a local carrot puree. Graham finds his steak well cooked, with the greens used smartly like salsa verde. Tom is happy that Justin actually presented a meat-forward dish, in the spirit of the challenge.

Next up are two dishes so teeny tiny in size that Padma asks upon seeing them, "what happened to the rest of the cow?" Amen, girl. Sara's sausages made using the plate cut have turnips, mulberries, and a garlic vinaigrette. She knows the texture is off because the casings somehow got really thick, while the meat got really soft, leading her to sear all of the pieces before service. Serving with her is Brian, who has a itty bitty rib eye with charred spring vegetables and a raspberry-infused bordelaise sauce.

Upon trying both dishes, Padma declares herself underwhelmed. You and me both, girl. Graham can't taste any of the beef in Sara's dish, as half of it is pure casing. Meanwhile, Tom is beside himself with Brian's pitiful cooking of his beef. "I really don't know how you can cook meat this poor, overseared on the sides and raw in the middle," he says. The most heart-wrenching reaction, however, is from poor Dario. He butchered the animal as he butchers all animals—in the spirit of respecting and celebrating the animal who is giving his life for this meal. The chefs have not approached this challenge with the same mentality, clearly.

Michelle and Eddie are up. She had beef chuck and has made braised chuck with a ginger berry sauce with white corn grits. Eddie has done a spin on a polish dish, using his brisket to stuff a romaine leaf next to ragu and a beet and berry sauce. Eddie receives aplomb all around for his smart cooking of a very tough piece of beef. Michelle was not as successful, as her chuck was quite dry and her grits had coagulated.

Two chefs are last and they're Eric and Kelsey. Eric had to make a dish out of the head meat, and he did a beef tongue mousse with braised cheeks, lentils, and seasonal vegetables. Unfortunately for him, the spice in his dish was not balanced. Kelsey had the shank, and she did a braised shank with carrots, saffron grits, braised greens, and a pickled salad. While she braised her shank well, the saffron overpowered the dish.

So a lot of swings and a lot of misses from the chefs. It's as poor a collective performance in the Elimination Challenge as I can remember—by far the worst of the last three seasons, at the very least. Dario sums it up, lamenting the fact that the chefs took a "frou frou" approach. He wanted more courage, more celebration of the animal, and less formality.

Amen, girl.

At Judges' Table, the judges make their complaints known. This was a real missed opportunity, Tom says, and he's really disappointed. It appeared that the chefs got collective amnesia on how to deal with beef. He wanted to be able to dig into some really meaty, beefy dishes, and he got the opposite.

"We did have a few good dishes," Padma says, damning with her faint praise. Justin made a nice dish and cooked his meat well and marinating it long enough to really infuse with great flavor. Eddie took a smart path with his cut of beef, making good use of it (despite grinding it up) for a very tasty dish. Adrienne was also flavor-forward, hitting all points of the judges' paletes.

In the end, it's Eddie who had the best tasting dish and the one who paid the best homage to the cow. Winning his first Elimination Challenge leads to Eddie finally breaking into some semblance of a smile.

Really, I'm giving him a hard time here, but it's just because he's such a nice guy. Eddie has consistently been at the top of the Elimination Challenges, even on the one where he monopolized his team's entire budget. At this point, he seems like the person to beat.

As for the remaining chefs, Padma doesn't let them off the hook. "We were very underwhelmed," she tells them, "and every one of you missed the mark in some way." The biggest miss-ers of that mark were Sara, Brandon, and Brian.

For Brian, who had the rib eye, Tom can't understand why he took the meat off the bone. He correctly concludes that Brian was simply scared to serve a big piece of meat on the bone. Sighing with exasperation, Tom offers a piece of advice to all of the chefs in the room: "Be yourself. That's when you cook the best."

The judges acknowledge that Sara had one of the toughest cuts of meat, but she botched the casing of the sausages, the texture of the meat was way off, etc etc. The judges are disappointed in her, but she's even tougher on herself. Tearing up, she acknowledges that she, of all people, should have been able to excel in this challenge. She knows all of these local Kentucky ingredients, she and her husband raise cattle . . . "I'm sorry ya'll," is all she's able to get out through her tears.

As for Brandon, "there was a lot going on," Tom says, "walk us through the dish." He does so, checking off all the ingredients, including grapeseed oil. The oil made it slimey, Graham says. Well, Brandon notes, it could have been the grapeseed oil, but it also could have been the xantham gum.

"THE WHAT?!?" the judges exclaim in disbelief. Brandon takes them through his rationale in using xantham gum, which does nothing to render the decision reasonable in the judges' minds. Padma's face is stuck on a "WTF?" setting, and Tom facepalms so hard and I wouldn't be surprised if it had left a mark. "It's about the beef?" Tom says, "Why xantham gum? Why the hell . . . ," trailing off without finish the question.

"I've never used xantham gum," Nancy says, "but olive oil has great flavor and does the trick."

"I would have preferred a classic tartare," Padma says.

"I will shake my head for a couple days on that one," Tom says.

In case it's not clear, Brandon's going home. There are mistakes and bad decisions, and there are MISTAKES and BAD DECISIONS. Brandon's, unfortunately, falls into the latter, and he's not surprised with the outcome. He knows he made a stupid mistake and is disappointed, as he thought he'd go much farther.

I have to say, though he initially grated on my nerves, he has made clear over the past couple of weeks that he really knows his stuff, and though he may be a little too free in dispensing thoughts and suggestions, they're not typically wrong. It's too bad that he tripped up so badly, but I wouldn't be surprised to see him go far in Last Chance Kitchen. Certainly, him versus Brother is must-see-tv.