Top Chef Kentucky
Roaring Munchies
By Jason Lee
January 16, 2019
BoxOfficeProphets.com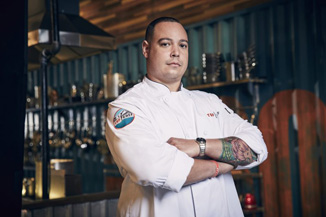 ---
It's the aftermath of Restaurant Wars and we're down to eleven chefs following the elimination of Nini and Pablo. Or are we?

We rejoin the chefs as they trudge off to the Top Chef Kitchen, exhausted from the crucible of Restaurant Wars. But for us who have been following Last Chance Kitchen, we know they're in for a surprise. Three Top Chef vets—Brother Luck and Carrie Baird from Top Chef Colorado and Jim Smith from Top Chef Charleston—have been battling it out with this season's eliminated chefs for a chance to get back into the competition.

It's now down to Nini and Brother Luck for the final spot, and our chefs walk right into the middle of that throwdown, which is a mini Restaurant Wars challenge. Both chefs have had to come up with a concept and submit one dish for Tom's critique. They now have to rework that dish based on his critique and also offer up two other dishes to show how their restaurant would fulfill their intended concept.

As Tom notes, Restaurant Wars requires a team, and the two Last Chance Kitchen finalists have already drawn knives to select their team. Helping out Nini are Michelle, David, Justin, Brandon, and Eric. On Brother's team are Brian, Kelsey, Eddie, Sara, and Adrienne.

Nini, never the shrinking violet, immediately puts her team members to work on her dishes. Brother is admittedly at a disadvantage, not knowing any of this season's cast and having no idea of their respective strengths in the kitchen. For the first dishes, Nini has a po'boy-style fried shrimp with fish sauce, in the style of her "Mekong River Delta meets Mississippi River Delta" concept. Tom likes the flavors but finds the breading dry. Brother has a tempura jalapeno popper with a soy/sesame pickle. Tom doesn't find the pickles to have been brined long enough and wants more Japanese flavor for his vague "Southwest meets Japanese cuisine" concept.

Fifteen minutes go by and the chefs' second courses come out. Nini offers a lemongrass pork chop with a corn and tomato salad. Tom likes the use of spice and herbs, but finds that the pork itself lacks a little flavor. Brother has a cumin-dusted scallop with yuzu guacamole, which is nicely balanced and boasts good texture and acid.

Finally, the third courses come out and Nini has gone balls-to-the-wall by offering a dessert of tapioca pudding with bananas foster with coconut foam and toasted coconut. Tom finds that this dish is her most successful in terms of epitomizing her concept. Brother has seared tuna with pico de gallo, cherries, apple, bonito, and beurre blanc. Tom loves Brother's use of bonito in bringing a smokey quality to the dish.

The current season's chefs are all clearly rooting for Nini to come back, even those who worked on Brother's dishes. Alas, Brother's dishes win Tom over and Nini's time on Top Chef has come to an end (incidentally, how crazy is it that we're five episodes in and only one chef still in the competition has won an Elimination Challenge?). Nini had just a few missteps in her dishes, and that's enough to knock her down to second. She's engulfed in hugs from her fellow chefs, who are visibly not thrilled with Brother entering the competition—not because they don't like him or are intimidated by him, but because they don't know him and would prefer someone from their own season to come back.

Tom apparently isn't great at reading a room and he barrels forward towards the Elimination Challenge, oblivious to the mood of the crowd in jovially declaring that he needs a stiff drink. Thankfully, Padma (who arrived in time to present Brother with his Top Chef apron for rejoining the competition) is much more socially observant and tones down her own energy level. For this week's Elimination Challenge, the chefs will be catering a 1920s-themed party in Louisville—a time when Prohibition was formally in place, though undermined through widespread hosting of underground boozy shindigs, like the one the chefs will help recreate.

Each chef will select a cocktail that was popular in Kentucky back during Prohibition and have to create a canapé inspired by it. We have southside fizzes, old fashioned, something called "The Last Word," a cocktail named "Twelve Mile Limit" in reference to the fact that patrons would sail twelve miles from the coastland in order to circumvent Prohibition . . . this sounds like a really fun challenge. As the winner of the Quickfire/Last Chance Kitchen, Brother and his team go first in selecting their own cocktails, followed by Nini's crew.

They head to Whole Foods for 30 minutes of shopping before engaging in three hours of prep in the Top Chef Kitchen. This includes more hilarity on the part of Eddie—seriously, between the ribbing over his exorbinant spending from Episode 2, to the judges' constant comments about how he still looks terrified at Judges Table, even when he's in the top . . . is there any more inadvertently funny/endearing chef on the show other than Eddie? He's quickly becoming one of my favorites in the kitchen. Anyways, he's trying to reduce a pot of cream so that it breaks and releases dairy solids, but a series of chefs express concern over the bubbling pot and either attempt to alert the owner (Eddie is aware, he assures them) or turn off the burner. Good intentions, but counterproductive.

Meanwhile, Brother is still adjusting to his new life on Top Chef. He's getting flashes of déjà vu cooking in the Top Chef Kitchen, and he acts like a transfer student to a new prep school when he returns to the Top Chef house, not sure where he should put his things, who he should decompress with, etc etc. I sympathize with him, but only up to a point. His alienation from the other chefs is borne of equal parts (1) the fact that he is, indeed, new, and thus it feels to the other chefs like there's an outsider invading the house, and (2) Brother's own brash personality, which can come off as stand-off-ish.

After a good night's sleep (Brother apparently gets a whole bedroom to himself, which is a pro and a con, for different reasons), the chefs head off to the absolutely gorgeous Seelbach Hotel in Louisville for their Elimination Challenge. Two chef in particular are totally in the weeds. Eric has set for himself the task of shucking 200 oysters for his dish—a monumental task that invites skepticism from Kelsey that he'll be able to finish and prep his dish in time. Meanwhile, Brian is totally behind schedule. In order to finish cooking his homemade sausage, he throws all of the meat on the cooktop in order to get it done. And because he doesn't have time to sauté his gnocchi, he throws them into the fryer. The only other chefs who've won an Elimination Challenge have both been eliminated—will Brian fall victim to the same curse?

The first group of chefs are up first with their canapés. Eddie has a bourbon-cured salmon with peach puree and brown butter, bidding homage to the Old Fashioned. The judges find it subtle, nicely sweet, and well balanced. Brandon has a duck and artichoke croquette for his whisky sour, and the judges praise his smart use of the artichoke to create flavors in the dish. Finally, we have Brother with a chicken salad adorned with cucumber, mint, peanut sauce, beef liver, Fresno chiles, and basil. His drink was the Southside Fizz (remember: he got to pick his drink first among all of the chefs) and the judges lambast his dish for having absolutely nothing to do with the cocktail or its flavors. Perhaps the only overlap, Tom notes, is Brother's use of mint, choosing instead to go a Southeast Asian route and throwing ingredients in that have nothing to do with the drink.

Needless to say, this is not a good start.

The next group comes forward, and first up is Brian with a pork and fennel sausage with basil gnocchi, as he tries to channel the "Last Word" cocktail. The judges are not fans of the dish—the dish tastes greasy and stale due to Bria having fried his gnocchi, and the main components (sausage and gnocchi) are both dry. "It's like sand in a cup," Tom says. Michelle similarly does not have a hit on her hands with a liver mousse on a pastry puff with bourbon and tart cherries, done in the style of a whisky sour. Her puff is soggy and lacks the requisite sourness from a whiskey sour. Kelsey is the only one of the group to draw praise for her bay scallop ceviche with rhubarb-cherry consommé. She does a nice job of taking inspiration from the Twelve-Mile Limit cocktail, and her dish is just overall nicely acidic and delicious to eat.

Three more chefs come out with their offerings. First is Justin with an Old Fashioned-inspired duck à l'orange with duck liver mousse, bourbon, and orange zest. The judges find it really complex and find that he nailed his cocktail. Sara has a "Last Word" cocktail dish of scallops with avocado, eggplant, and accompanying crudités. The judges slam this for being too one-note, lacking acid, and for being more of a dip than a canapé. Finally, there's Eric, who somehow managed to get all of his oysters shucked in time. He has a "Twelve Mile Limit"-inspired oyster with rum-bourbon mignonette and a greadine-nage floater. The judges adore it, loving its flavor profile and use of a seafood to harken back to the actual story of the "Twelve Mile Limit" cocktail.

Two chefs are left—David and Adrienne—and they both had the Gin Ricky for their canapés. David does a shrimp tartare with radish, cucumber, and radish. The judges love how it has a clean finish like a good cocktail and note the creativity in using radish to reference the Pernod flavor in gin. Adrienne also does shrimp, but on avocado toast with watermelon and a serano chile. While it captures the flavor of a Gin Ricky really well, it's just too oily as a canapé.

With the party over, we're treated to the familiar sight of the chefs slowly making their way to the stew room, tired and antsy. As per usual, they don't have any sense of how things shook out, or what might have pleased or displeased the judges. Well, our judges are happy to provide that information.

Kelsey, Eric, and Eddie had today's best dishes (cue massive laughter following Eddie's explanation that his eyebrows are the reason he always looks concerned/worried/perturbed, despite having been in the winners circle multiple times already this season). He gets major props for his incorporation of the dairy solids on his salmon, which added great richness to the dish, along with the acid from the orange marmalade. In all, it just ate like a well-made cocktail.

Kelsey's scallop ceviche was delicate and pretty, just like her cocktail, per Padma. Tom tells her that it accomplished everything the judges wanted—it tasted like the cocktail, felt like the cocktail, and was delicious.

As for Eric, apart from the ridiculous amount of shucking that he had to do, he somehow incorporated really strongly flavored ingredients without overwhelming the oyster. It was a great bite of food that smartly relied on the flavors of and story behind his cocktail.

Because it was the best bite of food all day, and because of the dish's creativity, Eric's Twelve-Mile-Limit oyster comes out on top. It was, Padma comments, a really tough decision because all three dishes were fantastic, but Eric takes home today's top honors and he couldn't be more thrilled.

Worse news comes for Brian, Sara, and Brother. Though Brian professes to be feeling good and happy about his dish, Tom informs him that the entire dish was dry and felt very one-note. Padma chimes in, saying that all she tasted as fried gnocchi, which was more akin to a greasy sponge.

Brother fully acknowledges the weaknesses in his dish, correctly guessing that it had strayed too far from the Southside Fizz cocktail that was supposed to have inspired it. He moved way too far in the wrong direction, Tom notes, with no overlap between the two except for the use of mint. Brother is further subjected to the additional criticism that he appears to have learned nothing from his original elimination from Top Chef—he was cut last season because he presented a dish that in no way reflected the intent of the challenge. Today, he did the same thing.

As for Sara, her avocado and eggplant puree was more like a dip than a dish—especially one supposed to be served at a swanky, 1920s cocktail party. It lacked creativity and ambition—hardly worthy of a Top Chef.

But it's good enough to get her through to the next episode. The person going home today is Brother Luck. From Lack Chance Kitchen champion to eliminated in less than 60 seconds, it's quite an emotional whipsaw for him. It's a disappointing result, Tom notes, because Brother had made pretty amazing food on Last Chance Kitchen, and he'd been expecting the same once Brother was back on the show. "I could have used a break," Brother responds. Alas, time is a luxury rarely afforded on Top Chef. Brother is bitterly disappointed about being cut so soon, but he understands and respects the judges' decision.

As he heads back to Last Chance Kitchen to see if lightning can strike twice, I wish Brother luck better luck next time.