Weekend Forecast for December 28-30, 2018
By Reagen Sulewski
December 27, 2018
BoxOfficeProphets.com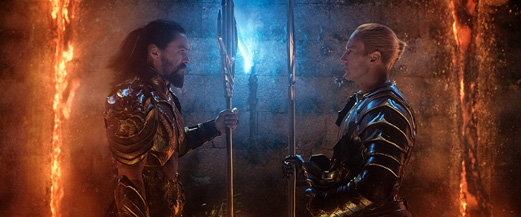 ---
We reach the final weekend of 2018 with the winners and losers mostly settled for the Christmas box office bonanza. In this case it's been more losers than winners, as a couple of reboots and spinoffs failed to connect as well as expected, while a couple of prestige films utterly failed to launch. With the big benefits of the week going to holdover films, it's been a subdued week in terms of overall dollars.

Aquaman is the first unqualified winner of the week, having taken in over in $120 million in its first six days of release (including previews). With $22 million on Christmas Day, it managed the highest non-Star Wars tally for that days since Sherlock Holmes and Avatar both breached that mark in 2009, though that was a Friday and carries a bit of an asterisk. It's also almost exactly the same figure that Justice League pulled in over its first six days, but with the rest of Christmas still to go and … OK-ish word of mouth, thinks look much stronger for it instead of the dismal funeral march that saw the previous DC effort limp home. Indeed, based on previous years' patterns, Aquaman should be looking at a second weekend take of around $52 million, which would put it awfully close to $200 million after just ten days of release. Everyone who had Aquaman beating Justice League this quickly, or at all, take one step forward. Liars.

Worried looks are probably flying around Disney headquarters based on the Mary Poppins Returns numbers, which have seen it reach only $60 million after eight days of release. While the expected jump on Christmas did happen, it was based on a smaller number to start with, severely limiting expectations. No Night at the Museum or Jumanji type run is happening here, which is shocking both in result and for the comparisons being reached for. I would expect an increase from its $23 million opening weekend to around $30 million, but I have to think Disney was hoping for at least half again more.

Michael Bay sure did a number on the Transformers franchise with The Last Knight, as spinoff Bumblebee limped in with a $21 million opening weekend and $40 million over six days. With those weak daily figures, it's looking towards just a $20 million second weekend, and maybe if it's lucky, around $120 million domestic. This, after the best reviews ever for the Transformers franchise. There's just no justice in this world.

While having started out lower on the box office scale, Spider-Man: Into the Spider-verse is earning success on its own terms, having earned a little under $80 million to date and was one of the few films to increase its take on Boxing Day. The animated super-hero film looks to be a solid gainer this weekend with around $18 million and should find its way to at least $150 million domestic.

After a solid $6 million start, Will Ferrell and John C. Reilly's Holmes & Watson fell quickly to $3 million on Boxing Day, and with abysmal reviews, could be exiting stage right very quickly. Adult comedy is one genre that doesn't carry well over Christmas, and going back to Ferrell's Anchorman 2, we can expect a steady drop not just this weekend, but after it too. Give it $10 million for its first proper opening weekend.

Clint Eastwood's The Mule has churned along over the break, closing in on $50 million, but should see around $9 million this weekend. The other Christmas Day opener, Vice, started with just shy of $5 million but quickly exhausted the audience for a Dick Cheney bio-tragi-comedy, and it should come in around $7 million for its first proper weekend. Second Act, featuring Jennifer Lopez as an old maid of (gasp!) nearly 50 rejoining the workforce, lived down to its modest budget, and should earn around $6 million this weekend, but should finish up with around $35 million domestic.

Two more family films are sticking around with Ralph Breaks the Internet and Dr. Seuss's The Grinch each in line for about $6 million this frame, though at this point this is all bonus money for these films, with $170 and $270 million each respectively. The latter is more impressive, having officially outgrossed the Jim Carrey version.

After this we get to the realm of limited releases and outright bombs. Mary Queen of Scots and The Favourite should each find around $2 million at approximately 800 venues, with room to expand if awards attention come their way. Welcome to Marwen, however, earned its way right out of contention, opening with $2.5 million, and headed for less than that this weekend. A final total of less than $10 million is entirely possible.