Top Chef Kentucky
Have Yourself a Merry Little Breakfast
By Jason Lee
December 24, 2018
BoxOfficeProphets.com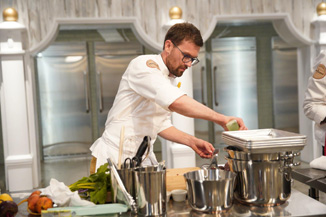 ---
Episode 3 of Top Chef Kentucky checks back in with two chefs on opposite sides of the emotional spectrum. On one side, we have Nini, last week's Elimination Challenge winner, who's $10,000 richer as a result. On the other, we have Eddie, who's still dealing with the guilt of having monopolized one-third of his team's budget in the Elimination Challenge, thus indirectly leading to Nathalie getting cut. That guilt, he predicts, is going to last a while.

But what better way to forget about one's sins than with a holiday-themed Quickfire challenge? The Top Chef kitchen is all decked out (with bows of holly?) for our chefs, who enter to find Padma standing next to former Top Chef-winners Richard Blais and Brooke Williamson wearing the requisite ugly sweater. We all know this is a total fiction and that this must have been filmed sometime in the sweltering Kentucky summer—anyone remember the oppressive Kentucky heat from just last episode, which melted Nathalie's lemon curd?

But I digress. Padma lays out the rules: the chefs will have two minutes in which to select ingredients from the pantry and put them into each of their Christmas-decorated boxes. The chefs will then have 30 minutes in which to cook a dish using only the ingredients in those boxes. Thus, they're going to have to get everything they need in those short two minutes.

When it's go-time, the chefs race to grab their box and then book it over to the pantry. It's like Black Friday, with chefs grabbing items, dumping them into their boxes, and basically looting the place. It's a total mess and quite chaotic—multiple bottles of random ingredients shatter on the floor as chefs scurry from one station to the next, sometimes without any thought process behind their selections. For example, Kevin grabs five different types of flour without any apparent purpose.

After the two minutes are up, Padma announces the twist: there's now going to be the traditional Christmas white elephant gift exchange. That means that no one will get to cook with the ingredients they actually selected—rather, those ingredients are going to form the basis of someone else's dish, for good or for worse.

The chefs draw knives for their order and then either select one of the boxes put together by a felloe cheftestant, or can steal an already-selected box from someone else. It's a relatively cordial and lighthearted affair—David is thrice deprived of the box he selects, everyone laughs at Justin's predicament of having to figure out how to use any of the five types of flour Kevin grabbed, Nini laments having no protein in the box that Sara put together . . . in the end, only about half of the chefs are happy with what they ended up with.

But that's the name of the game on Top Chef, and luckily, the results are not bad at all. There are a few dishes that have a couple of problems—Eddie didn't make good use of Nini's box, with a curry that had muddled flavors, Justin's kimchi meatloaf was simply too salty, and Kelsey admittedly had a tough (holiday) challenge with all the spring ingredients in her box, but the judges don't feel like she was successful enough in executing her attempt at making a play on bacon-wrapped asparagus.

Sarah, David, and Nini get better news. The judges really liked Sara's play on chopped liver, which incorporated fried chicken and had lots of flavor. David was brilliant at making a leek carbonara where the leeks substituted for noodles in the dish. And Nini's use of her box ingredients to make a cream cheese pepper jelly with apples was sheer genius. In the end, David takes home Quickfire win #2 and gets immunity.

In a surprising show of generosity, Padma promises them the rest of the day off and invites to return home, where there's a "real present waiting for them." The present turns out to be the fact that the Top Chef house has been beautifully decorated for "Christmas" and they have an amazing Christmas meal prepared for them by Tom and Graham. To make things even better, Eric Ripert from Le Bernadain will be joining them.

A lot of culinary fanboy-ing and fangirl-ing commences.

Before the feast begins, Padma, Brooke, and Richard also arrive, and everyone digs in for a wonderful meal. There's lot of chatter about the holidays and family traditions. It's warm, comforting, and relaxing.

Perfect time to spring a trap. The meal was, Eric explains, a take on the Réveillon de Noël, a Christmas feast in France. That typically ends with a spread of thirteen desserts. Well, whaddya know, Tom comments, thirteen desserts, thirteen chefs . . . seems like a perfect fit. Perfect for everyone except those who'll have to cook. Despite the fact that it's now MIDNIGHT, the chefs are each tasked with taking the next two hours to make a dessert to present to the judges, sharing space, equipment, and ingredients in the kitchen of their Top Chef house.

It's a madhouse. Chefs are cooking elbow-to-elbow, people are having to borrow ingredients and cookware, ovens are opened and closed and opened and closed as chefs try to get their desserts together. It's creating a lot of problems. Pablo was trying to make a South American dessert, which requires chilled dough, but the freezer never got cold enough, which means his cake dried out when it was transferred to the oven. Meanwhile, Kelsey's plan to make macarons is foiled by the constant opening and closing of the oven, and she has to turn them into cookies instead.

The judges do their typical walkthrough, chatting with the chefs, and all they see is chaos. When Padma asks how things are going, Tom suggests that it's a mess in the kitchen. "A hot mess," Brooke adds.

Again, though, the sheer talent present in this group of chefs helps them rise to the occasion. The judges are presented with an army of desserts, leading to Padma getting the "dessert shivers" before she's even halfway through with the group. After gorging on cakes, ganoches, tarts, fruit, biscuits, chocolate, and sugar galore, the judges dismiss the chefs so that they can debate on the outcome. The results, the chefs are told, will come in the morning.

But how are the chefs supposed to go to sleep now? They head back into the kitchen to sample each others' dishes and to recap how things went. It's 2:33 am, but it doesn't seem like anyone's ready to head to bed.

They finally do, and after a fitful night of sleep, they trudge to Judges' Table in the morning. Padma delivers the good news: Eddie, Kelsey, and Nini have their favorite dishes. Eddie smartly paired strawberries and fennel together in his take on a strawberry shortcake, and his use of streusel as a textural element impressed Eric. Kelsey's chocolate pot de crème was luscious in texture, and the biscotti she paired with it had great flavor and nice textural contrast. Finally, Nini's blackberry and lemon vacherin was complex in flavor, simple in execution, and had a cohesive use of all elements.

Due to its balance, simplicity, deliciousness, and originality, Eric announces that Nini takes home the prize today—her second in a row. She's growing with confidence with each challenge, having been in the top three in the Quickfire and now winning the Elimination. She's serving notice that she's a real threat to win this thing.

On the bottom, we have three men with desserts that missed the mark. Kevin had a ricotta cake with ricotta whipped cream that was dressed with a cherry sauce that was simply too salty. He admits that he knew this, but says he tried to fix it by adding additional butter. Brian had a sweet and savory biscuit with a sauce of dried fruit, but his biscuit was too dense and his sauce was way, way too acidic—mostly because he tried to pickle his cocoa nibs. Finally, we have Pablo, whose dark chocolate ganache with a South American cake, Tom says, had problems in every element—his chocolate seized up, his cake was too dry, and the raspberries he used as garnish were unripe.

As Tom notes during his discussion with the judges, the problem for each of these chefs is that something went wrong but the chef didn't fix or address it. Kevin knew his sauce was too salty and should have left it off the plate. Brian knew his sauce was too acidic and didn't do something to fix it. Pablo knew there were problems with his components but steamrolled ahead with his plans. It's a basic error, and it's going to send someone home.

And that person is Kevin. "It was so salty that it was inedible," Tom tells him. Well, when something's inedible, chances are that you're going to be asked to pack your knives. Kevin is a good sport about it, noting that Top Chef teaches you how much more there is to evolve as a chef. He's going home as a recharged chef, ready to throw himself back into his restaurant back home.