Weekend Forecast for December 14-16, 2018
By Reagen Sulewski
December 13, 2018
BoxOfficeProphets.com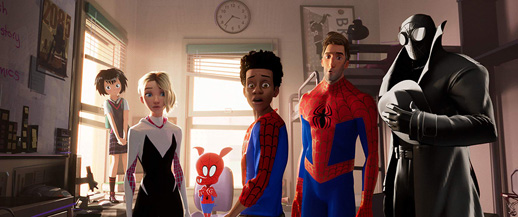 ---
After taking a full week off, the first of our contenders for the Christmas bonanza make themselves known. However, even after the mostly empty last two weeks, there's still only one major, blockbuster-sized film entering the marketplace, and it's not even one you'd have placed that tag on even a couple of months ago.

While the MCU is far from finished with its long term plans, there's some thoughts about what the next steps for it could be. While I don't think Spider-Man: Into the Spider-Verse is really the plan for future Marvel films, it does point at a potential way forward should the implied Plan A of branching into the next gen of heroes fall through.

It's the first animated Marvel film in the new regime to hit the big screen, and takes the opportunity to use the Miles Morales version of Spider-Man developed and made popular in the last few years. Well, not just that version. It's all of the versions, including classic Peter Parker, Spider-Man Noir, Spider-Gwen, Peni Parker and all the way down to Spider-Ham, the throw-away comic-relief hero (and not a pig bitten by a spider, but a spider bitten by a pig!) created in the depths of the 1980s (listen, it was a desperate time for comics, OK?). They're brought together in Morales' universe to confront a dimension hopping team of criminals that threaten to destroy all of their realities.

With as much CGI as is in most superhero films these days (coughcoughDeadpoolcoughcough), it's not that much of a stretch to go fully animated at this point, and in some ways it's a bit liberating. Live-action movies have to look a particular way, or least within an acceptable boundary. Spider-Man: Too Many Spider-Mans here has the ability to play with its visual palette in a way that's created a gorgeous and eerily effective style that leaps over the Uncanny Valley but still maintaining a "plucked from the comics" look. Animation quality would be one thing, but reviews for the film praise it to the moon as one of the more vital super-hero films, period, let alone for animated films.

Part of that could be a consequence of the creative team, which features Phil Lord and Chris Miller, who've done amazing jobs with finding the obvious-in-retrospect angles for atypical media projects. With a months-long ad blitz and reviews that bordered on perfect for a long time and have settled for merely near-perfect, it's one of December's surprise potential breakouts. The voice cast, as much as it matters, includes relative newcomer Shameik Moore as Morales, with Jake Johnson, Nic Cage, John Mulaney, Hailee Steinfeld and Chris Pine as various webslingers, with Mahershala Ali, Brian Tyree Henry, Zoe Kravitz, Liev Schreiber, Natalie Morales, Zoe Kravitz... well I could go on. It's a stacked bunch, and Sony Animation shelled out for this one.

Animated super-hero movies have usually been adaptations of existing TV shows, and they've probably suffered for that. Batman tried ages and ages ago with Mask of the Phantasm, which got decent reviews but landed with an utter thud on the big screen, coming in the middle of the Schumacher Batman era as it did. Teen Titans Go was a modest success this year, but the real gold standard here is LEGO Batman, which came from, well look here, Lord & Miller, at least as a spinoff. Combining the renewed appreciation for animated superheroes, the spectacular reviews and the solid cast, and we could be looking at a weekend of around $46 million.

Clint Eastwood's second film of the year in the director's chair, The Mule tells the story of a real-life nonagenarian that acted as a drug mule for the Sinaloa Cartel. Eastwood plays the title role, showing how a man who simply accepted a way out of crippling debt in his last years unknowingly became one of the biggest links for drugs from Mexico to Michigan. Not shockingly, his life wasn't a barrel of sunshine before that, but befitting Eastwood's Cranky Old Man persona, the film doesn't shy away from mirth, finding the funny side of drug running as a senior citizen.

Also starring Bradley Cooper and Michael Pena as DEA agents on his tail, along with Laurence Fishburne, Dianne Wiest, Alison Eastwood and Taissa Farmiga, it was pegged as a potential Oscar candidate early on, thanks to pedigree. That's faded as we've seen more of the finished product, but it's looking like a mid-tier Eastwood product (i.e. Not one about war or terrorism) and should come in with about $16 million this weekend.

Give Mortal Engines points from trying something new, I suppose. The adaptation of a book series set in a retro-future post-apocalyptic steampunk world, it imagines cities as giant roving mechanical monstrosities, gobbling up smaller communities for their resources. This film, based on the first book, sees a ragtag band of survivors taking on the city of London, which has mostly reverted back to Victorian times.

A special effects extravaganza, it's the latest project from Peter Jackson and company, though he, Philppa Boyens and Fran Walsh have producing and writing credits, while the directing duties went to Christian Rivers, an effects supervisor and art director on some of Jackson's other films, making his feature debut. It unfortunately looks like a bit of a CGI-filled mess, and it reminds me of nothing more than Jupiter Ascending, when the Wachowskis were trying to force it and the public wasn't buying. Its cast is fairly unremarkable, at least in its leads, with Icelandic actress Hera Hilmar (oh, don't act like you know her) getting the call for the biggest role in the film. Hugo Weaving and Stephen Lang are the most recognizable names in the bunch, which doesn't say much for it.

The way this is playing is not as one of Jackson's prestige adaptations, but rather, one of those budget YA series movies... and a lesser one of those. Reviews are decidedly terrible, and the top notch effects aren't making up for a mess of scenes and muddled, bloated storytelling. This seems to be a total miss and should open to around $11 million.

Wednesday saw the release of Once Upon a Deadpool, the PG-13 re-edit of Deadpool 2. Well, not just re-edit – it's a bit of a meta-rework, with Deadpool kidnapping Fred Savage in order to tell him the story of the movie in a Princess Bride-style framework, while lampshading everything it's doing. Is it a gimmick? Openly! And it's for charity, mostly, so do you hate charity? If so, don't see this! Wednesday saw it open to a little less than $1 million, which is a solid take for a re-release, frankly. It should see about $5 million this weekend.

Ralph Breaks the Internet will thus relinquish the top spot after three weekends at #1, though after barely holding off the fourth weekend of The Grinch, which is itself gearing up for a solid Christmas run. For this weekend, Universal probably beats Disney, with Grinch coming with around $12 million and Ralph falling to $10 million. Creed II is the other interesting film among returners, with about $6 million in store and helping it to cross $100 million.