Top Chef Kentucky
The Fastest Two Minutes in Cooking
By Jason Lee
December 13, 2018
BoxOfficeProphets.com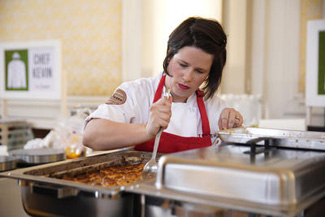 ---
Merry early Christmas, foodies. Top Chef is back with a Kentucky swagger.

That's right. (Cable) television's best food competition show (actually, lets be honest, it's the best food competition bar none . . . I don't know how many of you checked out Netflix's "The Final Table" over Thanksgiving, but in this writer's opinion, it simply doesn't compare) is back to showcase fifteen* of the most exciting up-and-coming chefs around. And the caliber of the chefs seems markedly higher than last year's crew, who were no slouches.

*Another writer sidenote: don't they usually start off with sixteen chefs? Maybe I'm getting things mixed up with prior seasons where they kicked things off with an immediate Sudden Death Quickfire.

Apropos for the location, the first chance for this year's cheftestants to meet each other and the judges is at Kentucky's most iconic venue: Churchill Downs Racetrack, the scene of the Kentucky Derby. The names and backgrounds of the cheftestants come whiz-bang, one right after another. We have private chefs, consulting chefs, executive chefs, chefs de cuisine, chef partners at restaurants . . .

But if you thought that was fast, wait til you get a look at the first Quickfire. In an ode to the general pace of activities that take place at the Derby, the judges are going to test the cheftestants' speed. They split into five teams of three and are given two minutes, and not a second longer, to choose from 20 different ingredients and complete all of their mise en place knife-work. At the end of those two minutes, their knives will be taken away and they'll have 20 minutes in which to prepare a dish to wow the judges. And as they say, you only get one chance to make a first impression.

The chefs, unsurprisingly, sort themselves into teams based generally on where they're standing and, upon commencing selection of ingredients and tasks, the alpha-chefs of each group take over and begin directing things. While this isn't entirely inappropriate given the lack of time for reasoned team decisionmaking, some chefs seem concerning like they'd be inclined towards dictatorial team structures, even absent today's time constraint. Example A: Brandon, someone seemingly cut from frat-boy cloth on the red team, who seems to relish telling other people what to do. He's an immediate contender for this year's Top Chef-er you love to hate.

The two-minute time limit ends up being more vexing than one might think. Aside from the fact that it requires the chefs to select ingredients and design a dish on the fly, there's so much rushing in the preparation process that chefs aren't fully able to process the implications of their lack of knives following mise-en-place. For example, the Blue Team prepares a pork tenderloin . . . but doesn't have a knife to portion out slices. Same with the Green Team, who cooks a steak but doesn't have a way to cut it. Each team finds their own way out, with the Blue Team turning the pork tenderloin into pulled pork pieces and the Green Team using only the beef fat and using poached eggs as their protein.

It all works out remarkably well. The Blue Team, composed of a sweet girl named Adrienne, a Vietnamese chef named Nini, and bro-chef Brandon, prepares a pulled pork tenderloin with sweet pepper relish and a corn cake. The pork is cooked perfectly and the corn cake is nice and fluffy.

Chefs Justin, Pablo, and local girl Sara offer a beet-pickled poached egg with beef-fat roasted carrots, and roasted corn. It's a hit—the egg is perfect and the dish is perfectly seasoned. Judges Tom and Padma seem shocked at the strong start of this season.

The White Team is Eddie, Kevin, and Natalie, and they have a poached tilefish with herb salad and fresh corn. It's a subtle dish but lacks a bit of seasoning.

The Yellow Team is made up of Brian, Michelle, and David, and they have a pan-seared rabbit over basil corn cakes. Their error is excess, as the protein is a bit overcooked and the dish is a bit too aggressively seasoned.

Finally, the Red Team, Caitlin, Eric, and Kelsey, have a smart take on succotash with cornmean-crusted fried oysters, a corn sauce, and curried lima beans. It's got a ton of flavor and all the ingredients are well cooked.

There was not a bad dish to be found in the bunch, and Tom and Padma admit to nit-picking, despite this being the first challenge of the first episode (amazing!). But someone has to lose, and thus, on the bottom are the Yellow Team and White Team. As for the top teams, the Blue Team had great flavors, the Green Team incorporated lots of textures (despite not having their steak), and the Red Team had a smart conception of the dish. The Green Team wins, proving that you can win by rolling with the punches and being smart. As prizes, each member gets two VIP tickets to the next Kentucky Derby—not too shabby!

But there's another round of competition yet to come, and it's the all important Elimination Challenge. As the Guest Judge, we have David Danielson, the Executive Chef of Churchill Downs. Sticking with the competition theme, the chefs will stay in their three-person groups, but instead of group-against-group battles, each chef will compete head-to-head against their other two team members. They'll be hosting a Kentucky Derby party for 200 VIP guests, and the winning chef from each group will be up for the round win, while the losing chef from each group will be up for elimination. There are no restrictions on the dishes—the chefs will just need to use the 2 ½ hours they have to make the best dishes they can.

From the Kentucky Derby to the Whole Foods Derby, the chefs engage in a mad 30-minute rush through the supermarket grabbing everything they need. Everything except, in the case of David, the flour he needs to make his planned gnocchi dish (Side note: how does the Top Chef Pantry not have flour?). Can he follow the trend from the Quickfire and rebound smartly?

Onto the Top Chef Kitchen and the editors of this show demonstrate that they haven't lost any of their passion for use of slo-mo. Seriously, how many slo-mo shots of chopping, running, sautéing, mixing, etc., can they stuff into a 5-minute montage? I feel like I'm watching a culinary cooking show by the Justice Kitchen League produced by DC Comics and Warner Brothers.

Slo-mo aside, there are some questionable decisions being made by some of the chefs. Atlanta chef Kelsey is making deviled eggs, which begs the question every chef on the show should ask himself or herself before committing to a dish: do I think I can win with this? Though Kelsey seems confident, I hope for her sake that her eggs are damn good.

Meanwhile, Adrienne is having serious issues with rolling out her pasta. There simply doesn't seem to be enough time for her to complete her intended tortellini—a point repeatedly emphasized by frat boy Brandon, who can't help but pepper Adrienne with suggestions on what she should do. Seriously, Brandon, she's a big girl. Let her figure this out.

After a frantic set of hours, the chefs head back to check out their digs for the next couple of weeks (or at least, they hope their stay will last a couple of weeks or more). Cheftestants typically are set up in what looks like the best AirBnB in a city, but here, I'm a bit taken aback by the very loud wallpaper plastered across every wall of the first floor. The chefs finally get a chance to relax, unwind, and get to know each other a little bit.

But the morning comes all too soon and the chefs are brought into a gorgeous ballroom where they'll serve up their dishes. Kinks are still being worked out. Caitlin, a very sweet-seeming chef, is having trouble with her tomato cobbler topped with homemade biscuits. She can't seem to get the biscuits hot enough, quick enough, and thus has to pull all of her biscuits off of the top of her cobbler in order to toast them. It doesn't portend well for her.

The ravenous VIPs enter and begin chowing down. Meanwhile, the judges (Padma, Tom, Graham, and David) take center stage next to a big scoreboard. The judgment will be public, with the winners and losers of each team announced to the entire crowd (and the rest of the cheftestants).

The Red Team is up first. Eric offers a raw bay scallop with Ghanaian honey glaze and pickled shallots. Tom loves the use of spice, acid, and texture, saying it "really works." Kelsey has her deviled eggs with pimento cheese and a spring salad. It's a huge hit (what do I know?), with David complementing her decision to make a classic southern dish. Finally, Caitlin has her tomato cobbler with salt and pepper biscuits, but alas, her biscuits are soggy (I cross my fingers that someone will make a "soggy bottoms" reference, a la the Great British Baking Show, but I'm left disappointed). Kelsey ends up taking first place for her deviled egg, Eric lands in the middle, and Caitlin unsurprisingly will be up for elimination.

The White Team is up next and one chef, Eddie, does not appear to be dealing well with the stress of competition. Though he studied with Tom Chef Season 11 winner Nick Elmi, he doesn't seem super prepared for this level of anxiety. It doesn't affect his cooking, though, as his scallop crudo with haricot verts, apple slaw, and puffed wild rice is a smash, with Graham calling it a "great first dish." Kevin has roasted and pickled beets with homemade ricotta and arugula, which is good, but lacks a touch of salt and acid. Finally, we have Natalie, who took the last 10 months off of cooking in order to spend time with her mother, who has Parkinson's Disease. She shows no sign of rust, though, offering a halibut ceviche with pickled bell peppers, confit potatoes, and a laksa curry—the combination of Spanish and her own Vietnamese style is a hit. She ends up winning, with Eddie in second, and Kevin bringing up the rear.

The Red Team is next and Adrienne is dreading it. She wanted to make homemade tortellini, but because she couldn't finish her dough in time, she had to turn it into simple, unimpressive fettucini, which she pairs with snap peas, an arugula pesto, mortadella, and a mint puree. While it has nice flavor and the pasta is cooked well, the dish appears to lack an identity, with the judges not sure if it's a pasta dish, a salad, or something else. Her teammate Nini has a blackened catfish with Vietnamese cabbage, that Graham loves. And busybody Brandon has a roasted Prime New York steak with smoked gouda, polenta, and charred broccoli. The judges praise his presentation and balance of flavors.

Tom notes to his fellow judges that there was nothing outstanding among the three, though each was a good dish. Nini ends up winning with her great flavors, Brandon's precision gets himself, and Adrienne will be up for elimination—a result she doesn't seem surprised by.

The Yellow team is next, and Michelle kicks things off with a beautiful carrot-top tagliatelle, braised chicken, oranges, and berbere spice. Padma finds the dish very comforting, and Tom praises the cooking of her pasta. Upon first tasting it, David's dish of potato and porcini soup with bok choy pesto draws a variety of perplexed expressions from the judges . . . but apparently they love the dish, which is an umami bomb and changes flavors with each bite. Brian can't keep pace with his teammates with his country ribs with bourbon and mint, which is a bit undercooked. David wins with his soup, Michelle is in the middle of the pack, and Brian is last.

Finally, there's the Green Team. Justin has coconut shrimp with grits and pink peppercorns, which Tom loves. Kentucky chef Sara has a bourbon-braised pork belly with BBQ-spiced carrots. And Pablo has a tilapia crudo with a green apple vinaigrette and sweet potato bourbon puree that blows the judges away. He ends up winning, with Justin following, and Sara in last—even though, the judges assure her that she made a good dish.

Indeed, the dishes all-around were really strong, which is definitely not always the case with the first episode of Top Chef. Tom notes that even the dishes that ended up losing were good, and Graham comments that if this first episode is any indication, he's psyched for the rest of the season.

Among the five winning chefs, Natalie, Pablo, and David had the best showings. Padma adored Pablo's vinaigrette, Tom found that Natalie shone through with great flavors and great technique in her dish, and David's soup with simply a powerhouse. Though it seems like David is going to come out on top, Natalie ends up winning the opening elimination round—an amazing result given that she hasn't been cooking professionally in the last 10 months.

As for the chefs who lost their group rounds, Caitlin, Kevin, and Adrienne had the weakest showings. Kevin was simply unambitious with his beet and arugula dish, content with landing in the middle but falling short of even that. Caitlin's biscuits were her downfall, as all the moisture in the cherry tomatoes led to them being steamed (and soggy) instead of baked through. And Adrienne's pasta dish just needed more editing. She notes that she had intended to make a stuffed pasta dish, but didn't have time to pull it all together. "Welcome to Top Chef," Tom notes ironically.

No one wants to be the first one to go home—no one. But Caitlin is gonna have to live with that ignominious result. Kevin's sin was settling for mediocrity, and Adrienne's pasta had no identity, but a soggy biscuit will send you home, every time. And so it is for Caitlin. "It sucks," she notes, wishing that she could have shown more of her skills and cooking on the show. If it happens, it'll have to be on Last Chance Kitchen, as Tom notes.