Weekend Forecast for November 23-25, 2018
By Reagen Sulewski
November 22, 2018
BoxOfficeProphets.com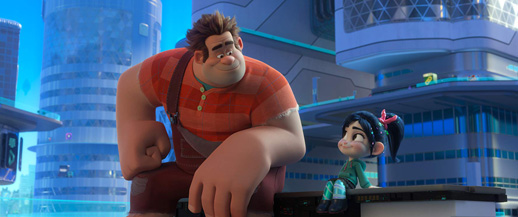 ---
While a lot of modern thinking about blockbusters has been to put the big films the weekend before in order to take advantage of two large weekends from holdover, a more classic Thanksgiving slate greets us this year. Two tentpole films, an Oscar hopeful and well, something that is not either of those, but is trying dammit, greet holiday audiences this weekend.

Wreck-it-Ralph was one of the first films after Disney's purchase of Pixar that really showed that they had started to learn the lessons of that studio. A full CGI film that took place almost entirely within the world of video games, it followed something of a Pixar pattern, building up a cast of characters in a pop culture adjacent setting and then following a classic hero's journey. Leaning on the world of video games, it was both familiar and innovative and introduced a new era of Disney story-telling.

For the sequel, Ralph Breaks the Internet, we leave the world of the arcade (because what's an arcade now?) and into the world of online content as they try to save their ever-more-obsolete existence. Disney also flexes its impressive IP content muscle by blending in its Star Wars/Princess/Marvel content, but it's mostly about a knowing look at the current culture and its corrosive influence, particularly in the Always Extremely Online world. Ralph got woke.

John C. Reilly returns as the title character, with Sarah Silverman also making the return journey. Key additions are Taraji P. Henson as an avatar of social media, and Gal Gadot as a driver in a more violent online racing game that Silverman's character immediately takes to, threatening never to return to her candy coated arcade racer. If there's one theme that Disney returns to again and again, and does extremely well, it's families – makeshift or otherwise – and this seems to be another solid outing in that vein. Reviews are great and the ads have a few killer hooks and takes on both the current era of mobile games, as well as Disney's history, including a widely hyped scene that brings together over a dozen princesses with their original voice actresses when possible.

The original Wreck-it-Ralph started modestly, at $49 million, eventually hitting $190 million domestic and nearly $500 million internationally. It comes in with more hype this time, and gets a running start from being known material now. Since its release, we've have Big Hero 6 and Zootopia as "non-Princess" Disney, both of which built on that opening. Disney films have typically sacrificed opening weekends for longevity, but that's a relative term when you get up to these levels. However, I'm looking for an opening weekend of around $72 million.

The Rocky series of movies started out as a part of the independent spirit of 70s filmmaking, a tiny underdog film, then quickly blew up into Hollywood excess. The 40 years later sequel series, surrounding the son of a character from those films, hopes to maybe avoid that? Maybe it wants that though? It's a tough call at this point Creed II brings back Michael B. Jordan as Adonis Creed, son of Apollo, who three years ago, fought his way from an unknown, driven by anger and abandonment issues, into a title fight. On the way to that, he dealt with a blossoming love to a young musician (going deaf) and the illness of his trainer (Rocky! Cancer!) -- the script was buying pathos on an instalment plan.

The sequel decides to make things even more personal, with Creed's coming up to a bout against Viktor Drago, son of Ivan, the man who killed his father in the ring 30-some years ago. It's not quite the same Cold War tensions that dominated Rocky IV, but if you've watched the news lately, Russia is still kind of a thing. Adding to the personal stakes, Dolph Lundgren is back as Ivan, Rocky's greatest foe (not counting the inevitable passage of time).

Creed was mostly just an "updated-for-those-dang-millenials" version of Rocky so it's not like it's defying some great plan for this sequel to hew to franchise formula. It does tell us that we're getting into tentpole territory, which these days means you bring in the unknowns in creative to keep control and costs down. The director is Steven Caple Jr., who you've never heard of, replacing Ryan Coogler (who you'd sort of heard of and is moving on to bigger things anyway). Juel Taylor, who's had various crew roles on many films, gets his first screenplay credit, though Sylvester Stallone shares it (uh-oh. Maybe he's learned his lesson?).

After opening to $29 million ($42 5-day) over Thanksgiving 2015, sights are looking higher for Creed II, but I expect we're not going to see a stratospheric jump. Jordan's shoot to stardom off the backs of both this and Black Panther very definitely do not hurt, and his cast mate Tessa Thompson has also hit the big time since then. With all this in mind, I'd expect a weekend of around $40 million, or $53 million in five days.

One of the nice things about works falling into public domain is that these stories become free to be popularized for all, living forever. Then again, this often leads to umpteen terrible versions of the same thing. As I was saying, Robin Hood comes out in theaters this weekend, with Taron Egerton playing the title role of the outlaw who steals from the rich and gives to the poor, becoming a hero to all but the landed nobles. It's a Snyderian/Ritchiean take on the legend, with all sort of modern touches and feels (including what appears to be the medieval version of a gatling gun). The usual band of Merry Men is on hand, with Jamie Foxx, Jamie Dornan and Tim Minchin (!) as the key figures, with Ben Mendelsson as the Sheriff of Nottingham and Eve Hewson (a.k.a. Bono's daughter) as a decidedly Millenial Maid Marian.

Nothing in here looks either as boring or as bonkers as Ridley Scott's version a few years ago, but that means it just looks like it's... there. There's little that's being brought to the table for mass audiences unless you already like Egerton, he of the horrendous Kingsman movies (though to be fair, that's not his fault). Reviews peg it as one of the worst of the year, and there's little in the ad campaign to deter from that assessment. There's a floor for a movie based on a popular concept like this and this film will likely approach it, at around $10 million this weekend.

Green Book is one of the more Oscar Baity-ish movies that's ever tried to bait a hook for awards. Set in the newly desegregated South of the 1960s, it stars Mahershala Ali as classically trained Jamaican pianist embarking on a tour of said same, while Viggo Mortensen plays his driver, an Italian from Brooklyn hired to be the muscle (the title refers to a list Black Americans kept at the time that told them of safe places to travel and stay across America). Can this odd couple, a persnickety musician and a slovenly enforcer, hope to get along? Why, they ain't so different after all, you see!

While the two leads are no stranger to high profile prestige films, the director's name will probably cause a few headshakes. Peter Farrelly, half of the Farrelly brother of Kingpin and There's Something About Mary fame, is behind the camera here, shedding his gross-out comedy roots for a "thanks for ending racism, white people!" movie, a la The Help. Reviews are at least positive, and I don't think critics would shy away from calling it a didactic mess were it so, but it definitely seems just surface level on the topic. That said, it's probably the right movie for these times, and while Ali and Mortensen aren't huge names, they're respected and have been able to draw in the past. Expanding to around 1,000 venues, it should see a weekend of $6 million.

Our holdovers are led by Fantastic Beasts 2, which debuted to $62 million, a significant and troubling drop from the first film if you're Warner Bros. I think there's little chance of this not making it to the full five films, especially considering those wonderful, wonderful international dollars, but it's very much an afterthought to the larger Potter community. I'd expect about $37 million this weekend.

While facing direct competition in the family market, The Grinch should fare well in the expanded holiday market. Its second weekend drop wasn't great, at 39 per cent, but that'll course correct slightly this weekend, and should see about $27 million in light of the holiday.

Lower down the list, Bohemian Rhapsody didn't hold three solid weekends together, taking a big hit last weekend. It should bring in about $11 million this frame, but $200 million domestic is probably out the window now. Instant Family was a minor disappointment at $14 million, well under Mark Wahlberg's recent average. While it has a good message for this weekend, I don't expect a heavy hold over and it should come in with about $8 million. Widows was even more disappointing, not able to translate it's heist premise and strong cast into big audience numbers. I'd look for just $7 million this weekend.