November 2018 Forecast
By Michael Lynderey
November 3, 2018
BoxOfficeProphets.com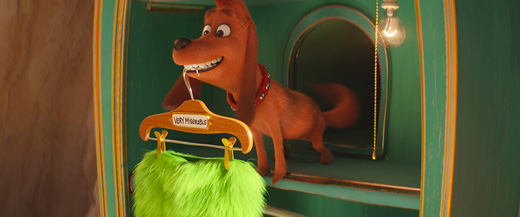 ---
November 2018 plays sharply to one base. Every one of the month's putative three biggest films is aimed at children, leaving other demographics with a less lucrative if not unimpressive slate. The focus of the month is on legendary brand name characters - Lisbeth Salander, Robin Hood, Rocky Balboa, The Grinch, Gary Hart - as popular culture thrives on, borne back ceaselessly into the past.

1. The Grinch (November 9th)
The Grinch, Theodor Geisel's best-known character, bursts out of the grave to stalk the traumatized citizens of Whoville and their holiday paraphernalia yet once more, in the tradition of Jason Voorhees, Freddy Krueger, and Michael Myers before him.

December 24 is the night he comes home.

This time, it's the power of CGI animation that brings him back, with Illumination Entertainment and Universal Studios at the helm. Geisel (real name: Doctor Seuss) wrote the book in 1957, and then the Grinch's animated television special has never quite left the air since its debut in 1966. It gave inspiration to Ron Howard's live action How the Grinch Stole Christmas, a film that opened on November 17, 2000 to a $55m weekend, and then, by the time the last errant holiday decoration had been removed in February 2001, had earned a sterling total of $260 million to its credit. It was the biggest movie of 2000. And that was the end of an era, just about the last year ever in film history before the hordes of comic book heroes and Lord of the Rings-type fantasy adaptations arrived to take #1 at the box office over and over again.

The 2000 version had some spectacular scenery and intriguingly malnutritious-looking costuming on its Whos, characters who veered into the grotesque even as they remained modestly good-hearted. The film starred Jim Carrey at the height of his absurd-movie face contorting stardom, and while the casting this time is perhaps not as nakedly obvious, it has a certain hindsight logic. The new Grinch is Benedict Cumberbatch, who will provide for a holiday spoiler less hammily malevolent and more chillingly deadpan, if the history of his performances comes through. Unlike, say, Wreck-It Ralph, the rest of the voice credits are not elaborate and lengthy, but they don't lack talent - Rashida Jones plays Cindy Who's mother, and Angela Lansbury, who made her film debut in 1944, is Whoville's Mayor. Long live the queen.

As for the title, the tradition began by The Fast & the Furious (2009) continues, as this CGI-animated remake slits off a couple of words from the longer 2000 moniker and voila, at simply "The Grinch" is ready to be remade with a brand new name.

The Grinch of 2018 begins nice and ripe and early on the 9th, eight days earlier than Grinch 2000. As a holiday film, it'll have a lot of good weekends. And if Mary Poppins (lord, her again, the horror) isn't all that in December, it could even win the entire last third of 2018, even with the number I give it below.

Opening weekend: $42 million / Total gross: $259 million

2. Ralph Breaks the Internet (November 21st)
Ralph Breaks the Internet is a jolly-looking CGI animated sequel to what I'm told is a popular and well-made film, fundamentals that in theory would have it winning the month, if The Grinch just didn't carry such an innate and in-built seasonal advantage. This film is a follow-up to Wreck-It Ralph from 2012, and as such is a rare non-Pixar CGI sequel that arrives quite so many years after its original (assume it was worth the wait). Would Ralph Wrecks the Internet have been a more astute title?

John C. Reilly reprises his title role, the pixel-made arcade game mainstay, who six years ago broke free from his digital bonds and explored a vast pop culture world of video game icons. Sarah Silverman returns as his concierge, von Schweetz, and all manner of comedy practitioners provide their voices in support - Bill Hader, Jane Lynch, Ed O'Neill, and the list continues into infinity and beyond, ad Apatow.

As with The Nutcracker below us, Ralph comes from Walt Disney Studios, and should mine the studio's ever-growing toolshed of icons for cameos and cultural mileage. The posters make no secret of the presence in the film of any number of Disney Princesses, a fact that would have excited me... never. But the world, apparently, doesn't revolve around me.

Expect very positive reviews (75% on the Tomato seems a minimum) and a hearty, leggy box office run into early next year.

Opening weekend: $65 million (5-day) / Total gross: $201 million

3. Fantastic Beasts Bite Back (November 16th)
Actually known as Fantastic Beasts: The Crimes of Grindelwald. As with entry #2 here, this is a sequel to a November film that I have somehow, still, neglected to see... (and I've seen at least five Leprechaun movies, so you know I'm comprehensive).

Every single sequel must try to outflank its original, whether in body count, casting, or quality, and the Beasts at the very least try on one front, adding no less than two winners of the People Magazine's Sexiest Man Alive title to their acting roster: Johnny Depp joins the Harry Potter Cinematic Universe as legendarily malfeasant villain Grindelwald, and Jude Law is, yes, a (somewhat younger) Professor Dumbledore, whose murky ageing process need not be addressed here (yes, I know Harry Potter is actually set in the 1980s - and therefore got there with its idea before Stranger Things).

Eddie Redmayne straps on the period attire and magic wand again in the lead, in what is, I suppose, technically the tenth Harry Potter film. His friends and acquaintancees from film number one basically all return - Katherine Waterston and Alison Sudol as feisty New York sisters, Dan Fogler as the series' first major non-supernatural character (a token), and Ezra Miller and Zoë Kravitz as magical sprites on whatever side of the good-evil-other spectrum. I can assume that major cast members from Beasts 1 who do not reprise were killed off (Colin Farrell, dead?).

Fantastic Beasts was the first Potter film set in the United States, a novelty that's shorn off this time around, as the leads head back to Europe to confront their own magic world alternative to World War II in the 1930s. The director, David Yates, can now be said to have directed most Harry Potter films, having been on the job since Order of the Phoenix back in 2007 and gamely showing less exhaustion with the material than I experience just forecasting it.

When Fantastic Beats was released in November 2016, about five years after the last Potter misadventure, I estimated fan fervor at higher-than-existing levels, and perhaps overforecast. I predicted $350m. The real number was $234m. This time around, Grindelwald could set a record, whether it wants to and especailly if it doesn't, as the lowest-grossing film in this extended franchise. But nearly two hundred million dollars ain't chump change.

Opening weekend: $62 million / Total gross: $180 million

4. Creed II (November 21st)
Adonis Creed is, as one should instantly recall, the fictional son of fictional boxer Apollo Creed, who was killed in the ring in 1985 (also in the movies) and is still fondly remembered as Rocky Balboa's original antagonist. Adonis reclaimed his father's legacy in a 2015 film that at once resurrected the Rocky franchise, netted Sylvester Stallone his first acting Academy Award nomination since Rocky in 1976, and shifted the series' axis onto another focal point:
Michael B. Jordan, who once more plays Creed, in the second of what could perhaps end up a sixology of films about the character, if history repeats itself (as I often say, the Rocky films are unique as a multi-sequel phenomenon not in the horror, science fiction, or traditional action genres). Jordan was quite scary and effective in his first villain role, over in Black Panther, and here should help punch in an excellent 2018 for himself.

Original Creed director Ryan Coogler does not return to helm this sequel, having been off making something inexplicable (oh, it was Black Panther). Sylvester Stallone is back as Rocky, of course, and since the character barely skated past death's door in the first Creed, it is difficult to predict if he will quite pass by again the second time around. Surely, if there's film number three, he's toast. Tessa Thompson is again the love interest, and the three years since the first have been kind to her movie star status.

The Creed series is about addressing old wounds and rehashing old rivalries, and so it's only natural that in film two Adonis Creed face-off against Viktor Drago, the son of the man who killed his father in the ring, Russian boxer Ivan Drago. Dolph Lundgren reprises his old Drago role, and it's heartening to see him in a major film again (he was also one of the Expendables); first-time Romanian actor Florian Munteanu joins as his son (no actual Russians were harmed in the making of this film). Rocky IV, where Balboa faced Drago, was just about Lundgren's first film, so Munteanu may also have a long career to look forward to (those Expendables reboots in the 2040s aren't casting themselves).

Now, when it comes to box office, Creed II has a sort of ace in the hole: its direct ancestor Rocky IV remains the series' biggest title, after opening on basically the same weekend in 1985 as do the Creed films, and totaling with a $127m potluck (yes, Rocky III, which finished with $125m, was thoroughly outflanked). I hope that Rocky IV's most memorable line, "if he dies, he dies," is reprised, as perhaps should be its great cheesy '80 music. I don't know if Creed II will get good reviews (it's certainly quite possible), but its reserved audience goodwill is such that it will do well irregardless.

Also noted: in a sense, Creed II is the eighth Rocky film, though Rocky Balboa (2006) may be the last one in the series to bear that man's name. I propose, in the tradition of Halloween (2018), that some day they could make Rocky (2026), which again stars Stallone, and ignores everything that happened in the series since the closing credits of the very first film in 1976, with Balboa facing off against Apollo Creed for the first time since the first time. So see Creed II while it still exists.

Opening weekend: $52 million (five-day) / Total gross: $122 million

5. Bohemian Rhapsody (November 2nd)
Bohemian Rhapsody was a 1975 single by Queen, the English rock and roll band of the 1970s and 1980s, known for period attire and exceptionally declarative ballads. It is now a film bearing the same title. The star of the show, then as now, is frontman Freddie Mercury, who led Queen into superstardom and achieved rock immortality before dying of AIDS in 1991.

I may be a big disgrace, but my extensive mental database does not include much information about Queen aside from a few macho song titles vaguely jaggling around in that brain ("We are the Champions," "We Will Rock You," "Another One Bites the Dust"). But I do sense that, as uncommon as it is for biopics, even musical ones, Bohemian Rhapsody is likely to go forth more as a fan rushout film than an awards contender.

Mercury is played by Rami Malek, known by me as the kindly Pharaoh Ahkmenrah in the Night at the Museum films, and by many others for starring in, but not as, Mr. Robot on television. Among his band mates here are Ben Hardy (Angel from X-Men: Apocalypse) and Joseph Mazzello, who as a child actor starred in everything from Jurassic Park to Simon Birch to Star Kid, and who lately has been consigned merely to supporting work in The Social Network and a G.I. Joe sequel. The film had some behind-the-scenes excitement (Bryan Singer is still credited as director, though Dexter Fletcher did much of the job) and an even longer production history before that (Sacha Baron Cohen was attached to star at one point, completely irony-free). But all is now in the past, as Bohemian Rhapsody arrives on the magnetic buzz of its lead character/actor, and trailers that highlight the film's appeal in IMAX exhibitions, with music that's felt as it is heard. That's enough for Bohemian Rhapsody to coast on for a solid weekend or two.

Opening weekend: $42 million / Total gross: $105 million

6. Widows (November 16th)
Four women whose husbands die in the midst of a robbery conspire to finish the job, with bad guys and police on their posterior (armed robbery is technically illegal. I checked).

Widows is the latest from Steve McQueen, previously the director of somber, important artistic films Hunger (2008), Shame (2011), and his Best Picture-winning masterwork, 12 Years a Slave (2013). Widows is somber, too, and might be important - class, race, and economic disenfranchisement are unavoidable topics even in a commercial package.

Viola Davis leads the team of women, with the strength and ferocity she brings to her authority figure roles in Suicide Squad and How I Met Your Mother How to Get Away with Murder. Her co-horts in redemptive thievery are Michelle Rodriguez, in another of the cascade of no-nonsense roles she's carried since 2000; Elizabeth Debicki, towering above it all; and Cynthia Erivo, who was very good as the soul singer in last month's Bad Times at the El Royale, a film I decidedly recommend.

In support are Liam Neeson as Davis' husband, Jon Bernthal as Rodriguez', Robert Duvall and Colin Farrell playing a father-and-son pair prone to suspicious behaviour, and Daniel Kaluuya (the Oscar nominee from Get Out) as an enforcer on Davis' trail. In short, as this exhaustive laundry list of impressive names indicates, Widows has quite a lot going for it: cast, director, and reviews (ninety something mega-fresh), a trifecta for a film taking on the kind of mid-November slate inhabited by a lot of recent, meaty, awards contenders; and in her role as a grieving woman taking violent action into her own hands, Davis recalls another of those titles, Three Billboards Outside Ebbing, Missouri, with Frances McDormand's righteous anger finding a worthy comrade here.

Opening weekend: $23 million / Total gross: $85 million

7. Instant Family (November 16th)
Mark Wahlberg and Rose Byrne play a couple who decide their house is just too big and too empty for the two of them (at least I think that's it), and so adopt three adorable children, led by a teenage girl with the trained skills of a master manipulator (Isabela Moner of Sicario). From that point forward, the script writes itself: conflict, drama, comedy, and moral certitude mix and erupt.

Moved up from 2019 to have more fun with the holiday release frame, Instant Family should follow in the tradition of, say, Dennis Quaid and Rene Russo's Yours, Mine & Ours (2005), a Thanksgiving family release about overwhelmed parents and their eighteen or so offspring, give or take.

Instant Family, too, is presumably aimed at children, a demographic whose attention and limited resources will be in high demand this November, although a broad comedy with no fantasy elements offers a nice and marked contrast to all the special effects and CGI manipulation careening about their galaxy (Beasts, Nutcracker, Grinch, etc.). Wahlberg has established himself as a star of, well, practically anything and everything, having headlined R-rated action and PG-stamped holiday films with equal zest and workmanship. His two Daddy's Home films are probably more popular with their target audience than they are with me, and Instant Family should be a defacto part three. If a part three is something you'd want to sign up for, sign away.

Opening weekend: $20 million / Total gross: $72 million

8. The Nutcracker and the Four Realms (November 2nd)
The Four Realms is an addendum that's new to me, but this new film is a big-screen high-budget special effects version of Pyotr Ilyich Tchaikovsky's 1892 Russian ballet The Nutcracker. That piece itself was based on the 1816 story The Nutcracker and the Mouse King, by legendary German genre writer E. T. A. Hoffmann, who would have been the third, gentler Grimm brother had the position become available. On-camera, the story has been told in a couple of minor films (in 1986, 1990, 1993, and 2010), one animated, one starring Macaulay Culkin, and two misc.; it was also occasionally seen on television, but this is the first production that can be described as a major studio film with considerable box office expectations (with remarkable if undesirable consistency, none of those previous film versions I mentioned topped two million dollars in domestic box office. This version has its work cut out for it).

Mackenzie Foy (previously the little spawn of two teenage idols in Twilight) stars as Clara, the Austrian girl of the 1920s who is accosted one Christmas Eve by some kind-hearted supernatural creatures, whom she follows from her Vienna estate down into a world of fantastical abundance. Amping up the action and drama, the film gives big supporting roles to the antagonistic Mother Ginger (Helen Mirren), Keira Knightley as the Sugar Plum Fairy, and several character actors playing all the way to type (Eugenio Derbez and Richard E. Grant as quirky rulers of magical realms, Morgan Freeman as the ever-helpful Drosselmeyer). Misty Copeland and Sergei Polunin add an element of ballet, what they do best.

Through some complex accounting and melodrama, the film has two accredited directors, Joe Johnston, a veteran of more than his share of sturdy PG-rated fantasy (Captain America, Jumanji), and Lasse Hallström, known for lush melodramatic films like The Cider House Rules and Chocolat. Here, they're in charge of a project that wouldn't suffer from a little lushness, melodrama, and sturdiness, separately or in unison. The film's Christmas setting and appeal to smaller, younger, children might limit its opening weekend, but could help it along in the nine or so weekends left until the end of the year, as the malls of America begin more and more to resemble the film's setting.

Opening weekend: $15 million / Total gross: $63 million

9. Nobody's Fool (November 2nd)
Tyler Perry spent some time caught in a delightful Halloween loop, having just made Boo!: A Madea Halloween (2016) and Boo 2 (2017) in persistent succession. As I discovered when glancing at the October 2018 schedule, to my great distaste Perry had elected not to direct a third film in the series this year. And how deprived we felt - with a third film, Mabel "Madea" Simmons could have been competing with Lin Shaye in the sadly understaffed contest for definitive horror icon of the 2010s.

Alas, Ms. Madea does not appear in Perry's new film, Nobody's Fool, either, though the story seems tailed to her wheelhouse. Here, the arc of redemptive family melodrama is clear - Tiffany Haddish is a woman released from an incarceratory facility (remember, as the Trailer Park Boys say, prison is part of life). She remends herself into the custody of her uptight sister (Tika Sumpter), and the situation escalates naturally from there, as contrasts are drawn, conflicts are re-litigated, and humorous asides are liberally interjected into the goings-on. Whoopi Goldberg, largely unseen on screen in the past decade or two, is on hand, along with Amber Riley from Glee. Perry is good at giving work to deserving actors.

Haddish, though, has starred in any number of films released in any or every recent month (Uncle Drew, The Oath, Night School, four others I'm forgetting). Her outgoing style is a fit for Perry, who is prone to melodramatic theatrics with a moral lesson, and her name and his shining boldly and brightly on a film poster is enough to inspire heavy attendance, even if only for a weekend.

Opening weekend: $22 million / Total gross: $47 million

10. Robin Hood (November 21st)
Robin Hood 2018 is played by Taron Egerton, star of the Kingsman movies and thus probably the right actor to star as a working-class hero taking on the stone-faced establishment. It's practically typecasting.

Robin Hood is so entrenched in our popular culture that, like Frankenstein or Leatherface, the man finds himself the star of a new film every decade or so, and indeed the new title jumps the gun on the existence of Russell Crowe's 2010 version of the character. That film, by Ridley Scott, took a more realistic approach and played on its director's aptitude for historical placemaking. In the new release, by Otto Bathurst of Peaky Blinders, the focus, as advertised, is more on audience-pleasing action, as Egerton's hero joins Jamie Foxx as Little John, and Jamie Dornan, the star of the 50 Shades of Grey films, downgraded from playing billionaire to merely Robin's half-brother Will Scarlet. Eve Hewson is Maid Marian. And if you know Ben Mendelsohn is in the cast, you know who's playing the Sheriff of Nottingam this time around.

The Crowe film grossed $105 million, which seems a tidy sum in retrospect, but was branded a disappointment, and then tarred, feathered, and banished from the scene eight years ago. Unlike the 2010 edition, this new Hood doesn't have the advantage of a summer release date or the Scott name, but if it's even pretty good, it could find its audience over the Thanksgiving slate or its successors.

Note: in the tradition of Fast & Furious (2009) or The Grinch (2018), this movie should just be called Robin.

Opening weekend: $18 million / Total gross: $45 million

11. The Girl in the Spider's Web (November 9th)
Noomi Rapace starred in three Swedish films about Lisbeth Salander, the computer hacker and slick fighter for justice, and then Rooney Mara played Lisbeth in the three American remakes of the originals, The Girl with the Dragon Tattoo (directed by David Fincher; 2011; grossed $102 million), The Girl Who Played with Fire (again Fincher, 2013, grossed $125 million), and, finally, The Girl Who Kicked the Hornets' Next (directed by Gavin O'Connor, 2016, grossed $71 million). (yes, I'm gaslighting. Those last two movies probably never happened. Probably. You had really better check).

The Girl in the Spider's Web is an adaptation of the series' fourth book, by David Lagercrantz, the author who took over on the book series after the death of creator Stieg Larsson. Claire Foy borrows the role from Mara for film number... four. Her character, still a Swedish hacker possessive of a dragon tattoo, is on the hunt for the conspiracies and aggressors that always seem to bedevil the upper echelons of Stockholm society in these stories (they're simply incorrigible!). Swedish actor Sverrir Gudnason takes over for Daniel Craig as Lisbeth's aid Mikael Blomkvist, Lakeith Stanfield is an American tracking her down, and Sylvia Hoeks is an apparent villain. The direction is by Fede Alvarez, previously of Evil Dead (2013) and Don't Breathe (2016). Your mileage on the two may vary.

The set-up of this series all along - a strong and non-traditional female character on the hunt for male abusers - is ready-made for the #MeToo era. Reviews lean to the positive. And Foy, the star of television's The Crown, is having a break-out film year and will surely leave her mark on the character, even if this chilly winter-set thriller doesn't break out to numbers quite as high as the three Mara films.

Opening weekend: $15 million / Total gross: $43 million

12. Overlord (November 9th)
While you may have lived your life completely unaware, all this time, any number of zombie Nazi films have been in fact been produced for your consumption, usually at the lower tier of low-budget camp filmmaking, and often by European directors primarily dedicated to serving the interests of bad taste.

Overlord, which is about scientifically-created Nazi monsters, is more serious, less garish, and will at least attempt to maintain good taste, as possible under the circumstances. As produced by genre aficionado J. J. Abrams, Overlord stars Jovan Adepo (the hapless son in Fences) and Wyatt Russell (the aimable jock from 22 Jump Street) as the most visible of a group of American soldiers, stranded behind enemy lines in World War II Europe, and gradually discovering they've got to blow away more than just the usual Nazi horde. This is where the horror part starts.

Overlord premiered at Fantastic Fest not too long ago, and there reviewers stamped it "yes" (90% on Tomatoes from the current sampling). "This is why horror fans go the movies," by Slashfilm, is a nice critic quote to stick on the poster. We'll see. As an R-rated fright film in November, Overlord is incongruous if not undesirable (say, the first two Freddy Kruegers were November releases, with one of them opening on November 1st as a sort of thumb to seasonal authority). And with this November bearing a vague lack of content for audiences over the age of twelve, the film could do a little better than the November average. Not that twelve year-olds shouldn't get the chance to enjoy Overlord, too.

Opening weekend: $15 million / Total gross: $35 million

13. The Possession of Hannah Grace (November 30th)
Shay Mitchell stars as Hannah Grace, a young woman whose body is unwittingly occupied by a demonic presence that takes control of her person, in what I assume is a clear case of #MeToo. Hannah is as such condemned to a lifetime of satanic torture, which includes but is not limited to finding her name ending the title of another film that begins with "The Possession of." I'm not sure if an exorcism is involved, but, in the name of creativity if not practicality, I implore Ms. Grace's loved ones to find some way of rescuing her from this abusive situation that does not involve an older man reading from a holy book into her face. This is because the exorcism sub-genre is so popular that, by now, surely more exorcisms have been performed in the movies than in real life, and it isn't a contest.

Screen Gems/Sony did a savvy, seeing an opening in the release schedule and placing their truant horror film onto its welcoming shores. The film now shares the date of nimble thrillers like Awake (2007), with Hayden Christensen, and could do a bit better: Mitchell starred for seven seasons on television's Pretty Little Liars, giving her some credential for headlining a genre entertainment, and a knack for being trapped in an unbearable nightmare from which there is no escape.

Opening weekend: $9 million / Total gross: $22 million

14. The Front Runner and co.
As an obsessive follower of presidential nomination elections, I know pretty well the story of Senator Gary Hart of Colorado: he did fairly in the 1984 Democratic primaries, and was a leading contender for 1988 (though I think the film exaggerates his standing). As he began his race to the White House, he challenged the press to find evidence of his extra-marital affair. Quickly, they did. And thus Sen. Hart became arguably the first politician whose political career was essentially ended by a very public sex scandal, the kind that looks positively wholesome and genial today.

In the film version, Hart has the good fortune to have himself played by Hugh Jackman (I, ugh, don't see the resemblance). As his foil, Sara Paxton, a star of teenage films a decade ago, is finally back, playing apparent mistress and presidential deal breaker Donna Rice. The Front Runner is directed by Jason Reitman, who went from acclaimed end-of-year dramedies like Juno and Up in the Air to smaller, darker, psychologically nasty films like Young Adult and Tully. Here he makes what appears to be a more mainstream commercial entertainment, led by an A-list star and packed to the brim with name supporting actors (J. K. Simmons is Hart's campaign manager, Mike Judge takes a live action acting role, Alfred Molina follows Jason Robards and Tom Hanks in playing Ben Bradlee, etc.).

Given the topic, The Front Runner is seen as an awards contender, and one of a number in the field to begin its run this month. The others include, but are not limited to, gay conversion drama Boy Erased, starring the excellent Lucas Hedges, my favorite actor of his generation (begins November 2nd); Willem Dafoe as doomed painter Vincent Van Gogh in At Eternity's Gate (November 16th); the historical drama The Favourite, about women jockeying for power among kings (November 23rd); Barry Jenkins' aching period piece If Beale Street Could Talk (November 30th); and Viggo Mortensen and Mahershala Ali in the crowd-pleasing Green Book (November 21st), which I really ought to devote more space to, since it will probably gross $100 million and win Best Picture. No, really. Carry on.