Weekend Forecast for October 26-28, 2018
By Reagen Sulewski
October 26, 2018
BoxOfficeProphets.com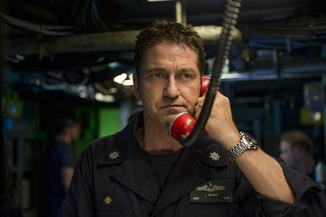 ---
October's new releases have seen a bit of a see-saw pattern, with a couple of weekends of record- and near-record breaking totals, sandwiched around an slate that severely underwhelmed. For this weekend's new films, having expectations for them just seems like a cruel jape.

Human monument to mediocrity Gerard Butler fires another volley into the vast ocean of forgettable action films that makes up his career output with Hunter Killer. A photocopy of a photocopy of The Hunt For Red October, it sees him play a submarine captain (struggling with an American accent) who's tasked with rescuing the Russian president after he's been kidnapped by a rogue general who's starting a coup. Awkward and alternative-universe geopolitics aside, this does seem like the kind of thing that would start a nuclear war, and averting that seems like a good thing, on the balance (opinions vary).

Exciting (?) underwater combat ensues along with Very Serious Men making Very Serious Statements at each other about how important and crucial their actions are to the survival of all. It basically uses up enough testosterone to make next year's Tour de France run as a fair competition. Gary Oldman, fresh off his Best Makeup Oscar, becomes the yellingest version of himself as an Admiral overseeing the whole schmozzle from central command, while Common (!) plays a Rear Admiral who must be his son, judging by how much Oldman is disappointed by him. Swedish actor Michael Nyquist, in what is likely to be his last seen role in American cinema, plays a Russian sub captain on the other end of the conflict, while Linda Cardellini balances out some of the overstuffed male cast as an NSA analyst.

Butler may be the greatest example of Hollywood continuing to try to make Fetch happen, as he's been tossed out in film after film, plying a Scottish Mel Gibson impersonation to very poor effect. It's all back to chasing the high of 300, but hey the mid 00s were a strange time for gimmicky film. I will grant him that Hunter Killer is a less nonsensical than his film from last year at this time, the ridiculous Geostorm. However, with a look that screams "highly budgeted video game cut scene," it seems likely to end up towards the bottom of his recent unremarkable efforts, with around $9 million.

Religious themed film Indivisible focuses on an Army Chaplain who is deployed to Iraq, taking him away from his wife and three kids, and finds the transition back to regular life difficult, which they then tend to with their faith. Stirring stuff. Pure Flix, the studio behind this film, has had a difficult run of late with its releases, as with the novelty of faith-based films wearing off and with quality generally lacking, they've faded into sub-$10 million results. Other than a bit of stunt casting by having two leads from Grey's Anatomy, this doesn't look to change the script, and on 830 screens, it should see a $2 million opening weekend.

Not technically wide but we'll discuss it here, Johnny English Strikes Again is the third film in Rowan Atkinson's spy spoof series, of which you forgot the second one came out. Wildly successful internationally, where Atkinson is not unlike a comedy god, it's rolling out here in only 500 venues, a third of what the 2011 version premiered on, and barely a fifth of the venues of the original back in 2003, which still only earned $28 million at the time. Strikes Again seems to be going the bold move of not being a comedy at all... wait, I'm being told that the footage we're seeing is meant to be funny. ... Ye gods. Now look, I am as big a Black Adder fan as just about anyone, and much of the classic Mr. Bean shows still hold up. But this material is about as lame and tragic as anything not starring Kevin James, and I truly hate to see something like this pushed on an undeserving public. I'd expect a sub $2 million weekend here.

Jonah Hill's directorial debut mid90s expands into 1,200 venues this weekend after a huge per screen average last weekend. Diving into the suddenly hot territory of nostalgic teen awkwardness, it focuses on a troubled 13-year-old with a terrible home life and his entry into the skateboarding culture of southern California and its band of misfits. With a cast of mostly unknowns (Lucas Hedges and Katherine Waterston feature in supporting roles), it's a film that's going to live and die on reviews and word-of-mouth, which have been very positive. It looks for all the world like a rougher, male version of Eighth Grade, which was a minor sensation in the summer. It's not going to carry its massive $64k per screen average into wide release, but should be able to hit around $4 million this weekend.

Halloween blew the doors off all the previous films in the franchise with a $77 million debut last weekend, nearly breaking the just-two-weeks old October record. Bringing back Jamie Lee Curtis for the third time seems to have really done the trick, along with a high profile adaptation from David Gordon Green and Danny McBride, though I still find myself boggling that *this* was the magic formula. With both a horror drop and a "blockbuster" drop incoming, there should be a huge fall off to around $31 million, though that'll still be more than good enough to win the weekend.

After three weekends, A Star is Born's legs were finally enough for it to pass the weekend total of Venom, despite starting at about half the amount. The two natural rivals should wind up with around $12 million and $10 million this weekend, with Venom getting that much closer to a $200 million domestic total.

Goosebumps 2 had an okay second weekend after its hugely disappointing start, with just under $10 million. We're still looking at around a $65 million domestic total at best, which is a troubling fall off from the first film two years ago. Aging out of your audience is never pretty, and for this series, it's happening rapidly. Give it $6 million this weekend.

Race-based YA drama The Hate U Give had a great wide expansion with $7.6 million last weekend, and feels like the kind of film that can capitalize on buzz. Topical as ever, it should hang around with $5 million this frame. Astronaut drama First Man, however, is barely getting exit velocity from bomb-territory with maybe a $70 million domestic total in its trajectory. I'd expect a similar $5 million this weekend.