Movie Review: Colette
By Matthew Huntley
October 11, 2018
BoxOfficeProphets.com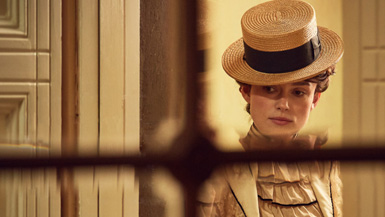 ---
From the beginning, it's pretty clear where "Colette" is going. It opens on a quiet, soothing image of the titular heroine sleeping soundly and peacefully in her bed, just before her mother demands she get up to greet the company that's about to arrive. It is 1893 in Saint-Sauveur -en-Puisaye, a small, quiet village in Burgundy, France, and Sidonie-Gabrielle Collette (Keira Knightley) must pretend she's not in love with the man who's come calling, a loud, garrulous fellow named Henry Gauthier-Villars (Dominic West), better known as "Willy." When Willy, an outspoken author and publisher, departs the Colette residence after luncheon, Sidonie tells her parents, Jules (Robert Pugh) and Sido (Fiona Shaw), she's going for a walk, only to sneak off to a barn to meet Willy, where they make passionate love.

Deep down, Colette has a wild spirit, which, up to this point, she's mostly kept hidden, but it will gradually manifest over the next decade into somewhat of a cultural sensation, and we can anticipate the film's ending will be a stark contrast to its soft beginning.

Meanwhile, Willy (played with cunning duplicity and pity by West) has already established his presence in society. The moment we meet him, it's obvious he's arrogant, pompous and self-serving—willing to step on or over anyone to get what he wants. But he's also undeniably charming, at least in this film's day and age, and certainly in the eyes of Colette, who's still naïve and therefore smitten by this man. For now, she's willing to overlook his leaving her alone at social functions; his flirtations with other women; his lavish spending; and his controlling nature. However, her submissive and tolerant behavior won't last.

Even if you don't know the true story of Colette, to which this film seems mostly loyal, you can guess the direction it's going to take: Colette will develop a voice and presence of her own; she'll speak up about her own desires; she'll demand what's coming to her as an artist; and both consciously and incidentally, she'll fight against gender norms and inequalities.

And yet, despite its clear trajectory, "Colette" remains regularly engaging, both as a coming-of-age story and as a complicated romance. It's not the most entertaining or energetic of biopics, and it often paints its characters in light shades of black and white, making them somewhat archetypal, but we ultimately walk away from the film learned and appreciative of the woman at its center, who helped knock down more than a few social barriers. If you don't know who Colette going in, you'll certainly know who she is coming out.

The story chronicles the near decade and a half Colette and Willy were married, living in Paris and constantly struggling with finances, despite Willy's short-lived commercial successes as an author and brand name. Back then, the name "Willy" atop a French novel meant something to readers and socialites, even though he served more as a consultant and copy editor to the true authors behind the content of his published pieces. One of these was Colette herself, whom Willy first enlisted to write his correspondence letters. Soon enough, and partly out of desperation, Willy asks Colette to pen an actual story about her formative years in Saint-Sauveur. When she's finished, he tells her frankly, "It's good, but it lacks an engine."

Dismayed, Colette crosses her name off the manuscript and locks it away. Then one day, when repo men come to take away his desk, Willy rediscovers his wife's piece and thinks that with a little more punch, pizazz and juiciness, it could be marketable. And indeed it is: her story becomes the first of three "Claudine" novels – "Claudine a l'ecole" ("Claudine at School")—a first-person narrative about a 15-year-old girl's final year in secondary school who develops a relationship with another female.

With its racy, unconventional, and homoerotic content, "Claudine at School" becomes a best-seller and Colette would follow it up with three more installments. In the meantime, the "Claudine" image becomes a pop culture phenomenon, spawning fashion, hairdos and a legion of female fans, some of whom go so far as to pay Willy a visit and entice him with sexual role playing. At the same time, Colette acts on her own lesbian feelings, and ironically enough, she's encouraged to do so by Willy, not least because it gives him justification to sleep with other women.

But just as their marriage becomes more open and liberal, it also begins to crumble, and Willy and Colette's once fervent love starts to become undone. In a way, Colette outgrows Willy as her full and independent identity—both as a woman and as an artist—takes full shape. She demands, among other things, her name be placed on her own works. She also develops a stronger, more fulfilling relationship with Mathilde "Missy" de Morny (Denis Gough), a transvestite whom Colette would eventually share the stage, as well as public affection, at venues like the Moulin Rouge. Their display of a female-female romance was unheard of at the time, and of course initially frowned upon, but Colette's very core centered around freedom of expression, and she wasn't about to let anyone stop her from telling the world how she felt.

Given our current (and crazy) political landscape, it's not surprising there has been a deluge of films and TV series recently about women's entitlement and empowerment, including "Moana," "Hidden Figures," "Wonder Woman," "The Marvelous Mrs. Maisel," "Professor Marston and the Wonder Women," and even a good portion of "Black Panther." Against these heavy hitters, it's tempting to think of the lower-profile "Colette" as just another on the list that's bound to get lost in the shuffle. But that'd be a shame, because even though it may not be as entertaining or mainstream as the others, director Wash Westmoreland has still made it with adoring enthusiasm and loving affection for his heroine. His film reminds us of the real-life, unsung female heroes who helped pave the way for the Moanas, the Hidden Figures, and the Wonder Women of today. And from a performance point of view, it also reminds us just how captivating and dedicated an actress Keira Knightley can be. Her own enthusiasm and appreciation for Colette seeps into her performance and she really come to embody this groundbreaking female.

To be sure, "Colette" would have benefitted from Westmoreland not giving his subject such a grandstanding final confrontation with Willy. The screenplay, which Westmoreland co-wrote with his late husband, Richard Glatzer, and Rebecca D. Lenkiewicz, eventually over-emphasizes who's the "heroine" and who's the "villain," and the film becomes rather forced toward the end. Still, on the other hand, perhaps it needed to be, because despite all the "female power" films as of late, we haven't yet reached a point where movies about strong-willed women can be too subtle. It's unfortunately still not the norm that women are automatically viewed as sympathetic heroines, which is probably why so many filmmakers feel the need to reiterate the notion by giving their female protagonists an overt label. Leaving this film, we recognize Colette as one of several women who got the ball rolling toward obviating the need for such labels.