Weekend Forecast for August 24-26, 2018
By Reagen Sulewski
August 23, 2018
BoxOfficeProphets.com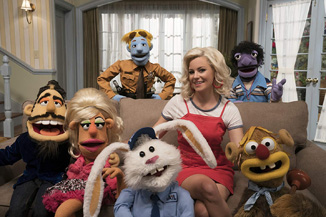 ---
If there's a clearer sign that summer is over than this weekend's gimmicky grabbag of castaway films, I'm not sure what it could be. With a cast of movies that simply scream "yeah, we don't know what to do with these either," we're in for a bumpy ride into the fall.

The best of the bunch is The Happytime Murders, which takes place in a world where Mup...*cough* puppets are real, sentient beings and hold down regular jobs in addition to just being entertainers. They also do... other stuff, stuff which has led this movie to receive an R rating for sexual and drug content. So... yeah, it's that kind of movie.

Melissa McCarthy stars as the human partner of a hard-bitten detective (Bill Baretta, mainly known for being the voice of Pepe the Prawn and the Swedish Chef) as they chase after someone who is killing the former stars of an 80s puppet show. Like a filthy, felt Who Framed Roger Rabbit, they dive into the underworld of puppetdom, filled with sex and drugs and swearing, which the film takes great pains to deliver explicitly, including an extended ejaculation scene right in the trailer. So again, yeah, it's that kind of movie.

Director Brian Henson (son of Jim) seems to have as his goal seeing what exactly he can get away with, and it's probably quite a lot – there's not many taboos you can't cross these days, especially when you've got puppets doing it. This is probably quite a limiting strategy, though, as the audience for filthy just for filthy's sake isn't going to be a large or patient one. The obvious parallel here is Team America: World Police, which hung its hat on "the South Park guys unleashed! And in stop-motion!". That got it to cult status, but not much in the way of actual business. You need a real point of view, in other words, to get past the sheer spectacle of filth. All signs point to that not being the case, and reviews don't have much to say for it once it gets past the shock value. I expect that Team America is the benchmark here, and around $13 million opening weekend seems right.

In what seems like a throw back to some of the wackier teen action movies of the 1980s, A.X.L. Arrives in theaters this week, telling the story of the friendship between a boy and his advanced, top-secret, A.I. robot dog. This reminds me of the times when every third movie for kids had robots or aliens or other sci-fi principles. I'm thinking here of things like Short Circuit and Mac & Me and D.A.R.Y.L. Or even more recently, Monster Trucks.

The film stars relative newcomer Alex Neustaedter as a motocross racer that stumbles across the robot dog in a pile of scrap (why?!) and somehow befriends him, introducing him to his PG girlfriend Becky G (the Yellow Ranger from Power Rangers), and they proceed to have wh-acky adventures until the secret tech firm that created the dog comes after him. Other notable names include Tom Jane, Ted McGinley (!) and Dominic Rains, but we're in strictly C-list territory here, if we're generous.

And, so, I kind of get the form factor thing, but why does the robot dog *act* like a dog, complete with playing and fetching? That seems a bit counter-productive for a military implement. And it somehow knows it's a dog? Are we just making movies to go direct to How Did This Get Made? I don't think they need the charity. Anyway, this is being released in a modest 1,700 or so venues, has little ad support and wasn't released for critics. This has some pretty large all-time-bomb potential and may gross just $2 million this weekend.

Perhaps the best of a bad bunch opens in only national release. Papillon is a remake of the 1973 Steve McQueen film about a French safecracker sentenced to hard labor on Devil's Island, and his subsequent attempt at escape. Charlie Hunnam stars in the title role, with Rami Malek as his confederate in prison. While it looks well shot and acted, it's fairly unnecessary as a film and has next to no release support. In just 500 or so venues, it should see just $1 million this weekend.

Medium sized phenomenon Crazy Rich Asians should repeat this weekend after its solid $26 million opening weekend. More than just a successful film with minority casting, it's a successful romantic comedy, which had basically gone extinct. It's shown a bit of strength mid-week, as much as that's worth, but its uniqueness in the marketplace and ecstatic word of mouth should help it to modest legs and a $16 million weekend, holding first place.

Shark caper The Meg was chomped in half as expected, though an even worse weekend could have been expected under the circumstances. As a late summer romp it seems to be serving the purpose and should have a decent third weekend of $11 million, crossing the $100 million domestic mark, though with a reported $400 million necessary to break even internationally, it's going to be a bit touch and go.

Mark Wahlberg's special ops film Mile 22 was a bit of a dud at $13 million opening, with the fictional story not connecting as well with audiences as his adaptations of real stories. This should fall steeply to around $6 million. Another more internationally focused action film, Mission: Impossible – Fallout, should earn about the same in its fifth weekend, moving ever closer to $200 million domestically.

The deep returning roster continues with Alpha, which overlaps a bit with A.X.L, though should manage $6 million this weekend, with Christopher Robin and BlacKkKlansman each grabbing $5 million.