Weekend Forecast for August 10-12, 2018
By Reagen Sulewski
August 10, 2018
BoxOfficeProphets.com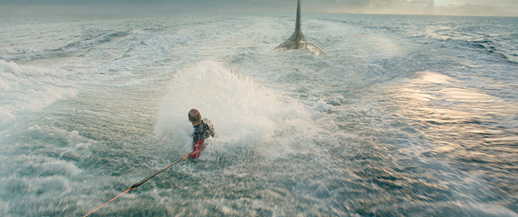 ---
Your typical grab bag of leftovers headlines this August weekend at the box office, though there's one fairly typical brain-turny-offy summer type movie that's leading the way, along with one that could wind up in end of year awards discussions. Late summer releases continue to be strange; what can I say?

The Meg has had a long journey in order to get to the big screen. Based on a series of novels started in 1997, it's been in development hell ever since. "Meg" stands for "megalodon," an extinct species of shark that was the largest ever in history, three to five times bigger than a Great White (I'm assuming the movie fudges up a bit on this part), which has suddenly reappeared after a research team disturbed its habitat at the bottom of the Pacific Ocean. Now it's hungry and ready to go after anything in its path, including these crunchy, tasty humans.

Jason Statham leads the human cast as a deep sea rescue diver in charge of bringing the science team to safety, with other notable names including Rainn Wilson, Ruby Rose, Masi Oka and (here to bump up the foreign receipts) Bingbing Li and Winston Chao. It's an... OK roster of actors that at least does battle with Deep Blue Sea's in terms of recognizability and draw. What the film is really going for it is the "hey, look at that great big shark eating people" factor, with Statham offering a bit of reassurance that this is somewhat of a legitimate film.

In some ways, the development hell this film went through was a bit of a blessing, as while it missed out on the late 90s/early 00s renaissance in animals eating people movies, it also had the good fortune to wait out the genre as it dipped into shlock and self-parody, arriving as it does on the tail end of the Sharknado era. This film certainly has a bit of tongue in cheek, but it's not full on ridiculousness, though nor is it Jaws. Director Jon Turtletaub is probably best known for the National Treasure series, an ethos he's no doubt being asked to bring to the film here, and to build the case for a small franchise.

Reviews are mostly trying to be charitable to it, asking people to take off their thinking caps and watch for the people getting chomped. Films like Deep Blue Sea live on in the memory of most for a solid reason, and The Meg is possibly another in that heritage. These are usually modest performers unless it has some built in hook or a truly mega-star – but with a more fun vibe than recent shark movies like 47 Meters Down and The Shallows, I'd look for this to come in with about $22 million.

Spike Lee's widest release in 12 years arrives in theaters this weekend. BlacKkKlansman is based on the true story of a Black police officer in Colorado in the late 70s/early 80s that successfully infiltrated the Ku Klux Klan, gaining the trust of the then Grand Wizard David Duke and through the help of another white officer, the incredibly-named Flip Zimmerman when he needed to be seen, eventually became head of the chapter and bringing it down from the inside.

Delving into the racial politics of the day which still resonate, Lee applies his usual no-holds-barred tactics with regards to race, shining a spotlight on how these figures are still a part of the modern political talking space and still trying to gain respectability. Relative newcomer John David Washington plays Ron Stallworth, the officer who infiltrated, while Adam Driver is his white counterpart on the force with, in a man-this-makes-sense-when-you-think-about-it casting decision, Topher Grace as David Duke.

Garnering some of Lee's best reviews in his entire career, this is the kind of historical drama where Lee's strident nature acts as a benefit to business rather than a hindrance. And just simply as an amazing, outrageous true story, it's got a lot of cross-over appeal. It's only opening in 1,500 venues, so should be limited to about $10 million this weekend.

Horror comes out firing at a three-years-too-late concept in Slenderman, in what may be the first Internet meme derived film. Based on a creepypasta that was making the rounds a few years ago among teenagers, the Candyman/Bloody Mary-esque figure is a very tall, very thin man in a suit that appears in the back of images, lurking and sort of out of focus. Once noticed, he continues to stalk you until ... something. Look, it's meant to scare children, all right?

And that's who we're targeting this film at, and its PG-13 rating will scare off any true horror aficionados, while pre-teens and teens have probably moved on to figuring out how to turn slime into high explosives. That's just the kind of internet world we live in now. Reviews are awful and never mind that a couple of kids actually took this idea too seriously and tried to kill a classmate as a sacrifice to Slenderman – it's more than just bad taste to continue running with this idea. Anyway, I'd expect about $6 million here.

Opening on Wednesday was Dog Days, a Robert Altman-esque story about a group of interconnected people told through the stories of their dogs. The State veteran Ken Marino directs with a modest cast headlined by Eva Longoria, Thomas Lennon, Adam Pally, Vanessa Hudgens, Nina Dobrev and Finn Wolfhard, but this is a fairly slight film that doesn't seem to be grabbing an audience, debuting to just over $650,000 on Wednesday. This should end up with around $3 million this weekend.

Mission: Impossible – Fallout probably gives up its top spot this weekend after two at #1, though it made a solid stab at legs for the sixth film in a series with $35 million last weekend. It has a solid shot at becoming the highest grossing film in the franchise, and with a $225 million estimated finish, would finally knock Mission Impossible II off the top spot, 18 whole years later. For this weekend, though, I'd look for around $21 million.

Christopher Robin fell a bit short of many expectations with $24 million, with the Disney push failing to get it out of the general family film market. There's a solid chance for legs here even though reviews were not particularly fantastic, as family films always get that benefit of the doubt. $15 million seems about right here.

Spy comedy The Spy Who Dumped me underwhelmed with $12 million and should fall out of the top 10 and the zeitgeist rather quickly, dropping to about $6 million this weekend. Mamma Mia 2 and The Equalizer 2 each are hanging around decently in their third weekends, and should grab about $5 million each, along with animated film Hotel Transylvania 3.