Friday Box Office Analysis
By Kim Hollis
July 28, 2018
BoxOfficeProphets.com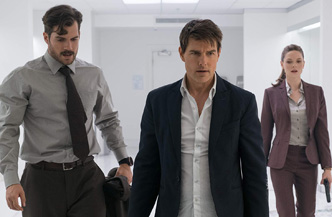 ---
We celebrate the end of July with Tom Cruise! Also, the Teen Titans Go! to the Movies. And it was good.

Yesterday's top film was the latest in the Mission: Impossible franchise, this time with the subtitle Fallout. After the second film (which is basically incomprehensible), the series has been reliably terrific, and even if it's not a series that qualifies for massive blockbuster status, it has a certain threshold and draws in a good number of ticket buyers.

Friday's box office total for Fallout was $23 million, which includes $6 million from Thursday night previews. It's the kind of movie that has a certain fanboy-ish fanbase, so that's actually not too surprising. At the same time, it's got a lot of appeal for the 40 plus crowd, and with a 98 percent fresh rating at Rotten Tomatoes and an A Cinemascore, there's plenty of reason for people to come out and support it over the remainder of the weekend. I think a realistic number is $56 million, but I certainly wouldn't blame Paramount if they estimate the weekend total at $60 million. They can make it up during the week. To set the franchise record, it will need to exceed M:I II's $57.8 million. I think the studio is going to want that headline, even if inflation obviously means it's not exactly true.

Our other new debut came from the WB and DC in the form of Teen Titans Go! to the Movies. I admit that I saw this on Thursday night, as I'm a big fan of animation and truly enjoy the irreverent series. Its $4.25 million yesterday does include $1 million from Thursday night showings, and if the kids in the theater are any intention, the word-of-mouth amongst 8- to 12-year-old-boys is going to be off the charts. (One of them screamed "Nooooooooo!" as the credits rolled.)

Anyway, let's call it about $12-13 million for the weekend, which given its $10 million budget, is MORE than fine. I assume it will be in heavy rotation on every prepubescent boy's television once it's released for home viewing.

I'm also excited to see that it appears as if Daveed Diggs' film Blindspotting will be in the top 12 for the weekend. With $468,000 from eight venues, it's going to earn about $1.5 million for the weekend. Nifty.