Friday Box Office Analysis
By Kim Hollis
July 21, 2018
BoxOfficeProphets.com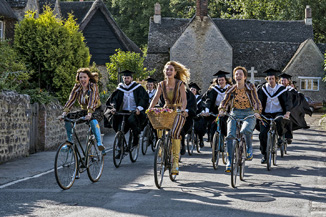 ---
I've had Waterloo stuck in my head for the better part of three days and it's all Mamma Mia 2's fault.

Yes, this weekend was a true oddity, with a 10-years-in-making sequel to the musical Mamma Mia! and a why-the-hell-did-Denzel Washington-choose-this-as-his-first-ever-sequel in Equalizer 2. Even though neither film is a follow up to a big-time blockbuster, both performed extremely well yesterday and should have fine debut weekends.

We'll start with Mamma Mia!: Here We Go Again, which earned $14.3 million yesterday, including $3.4 million from Thursday night previews. It's very clear that this was a girls' night out kind of movie, so it's going to have a bit of a slump for the rest of the weekend, I'd guess. The first Mamma Mia! had a 2.8 multiplier, but that was a long time ago and before the real advent of the Thursday night preview. So, I'm going to forecast $35 million, which is actually a bit high but I just don't see Universal going lower than that after they initially forecasted more than $40 million for the weekend based on early tracking and returns.

Equalizer 2 is right on Mamma Mia 2's heels, with $13.6 million on Friday. The Thursday night showings brought in $3.1 million, so it's looking like this is going to be a pretty darned close race to #1. I do think Equalizer is going to just miss, though, as its weekend total should finish right in the $31 million range.

Way down in ninth place is Unfriended: Dark Web, which earned just $1.4 million yesterday. The original Unfriended opened to $15.8 million in 2015, and even though it did well enough overall, I don't believe anyone was really clamoring for a sequel. I guess that's the difference between having Universal as your distributor versus BH Tilt. The weekend should come in at $4 million, perhaps a little less.

By the way, here's an interesting little stat - eight out of the top ten films this weekend are going to be sequels. The only outliers will be Skyscraper (a movie that feels like a sequel) and Sorry to Bother You, which is one of the indie stories of the summer.