Weekend Forecast for June 29-July 1, 2018
By Reagen Sulewski
June 29, 2018
BoxOfficeProphets.com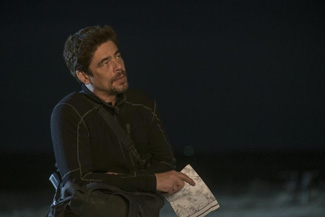 ---
Caught in an awkward spot around the holidays, Hollywood mostly punts on this weekend with a couple of films that have only limited claims on needing to exist. There was a nice string of films people actually wanted to see there for a while, but, ah well.

We're back in the place in our culture where we start handing movies over to athletes and/or marketing gimmicks, which explains why Uncle Drew is now a thing. Kyrie Irving, he of Flat Earth, LeBron castoff and Pepsi Max commercial fame, brings his character from those same commercials to the screen in a loosely plotted excuse to have us find people doing very athletic things in old man makeup funny. Ah, what hilarity!

The idea, such as it is, is that Uncle Drew was a legendary street ball champion in the 70s, but he has largely been out of sight since his heyday. In the modern day, LilRel Howrey loses control of his team in the run up to a big Harlem tournament to Nick Kroll, leading him to try and round up Drew, along with the rest of his crew (Shaquille O'Neal, Reggie Miller, Chris Webber and Lisa Leslie) to take on these brash young upstarts. Call it Old Man Can Still Jump.

Basically a series of set pieces working around these athletes' non-acting ability (Shaq's very charismatic, but that's not the same thing) along with some separate bit to use the actual, professional comedians on hand here, it's a pretty cynical, product placement heavy film where we're supposed to marvel at the world's most obvious gag (plus, Shaq as an Old Person is a lot closer to reality than he'd probably like to think).

The list of films relying on active athletes to carry them is not a long and distinguished one. Space Jam (currently being remade on the sly with LeBron James) comes to mind as the best of the bunch, and that's mostly remembered for how bonkers an idea it was. Then we get to the likes of Steel, Blue Chips and He Got Game (the latter of which at least tried to be a real movie). A film predicated on stunt casting lives and dies based on the fame of its star, and Kyrie Irving, well, let's just say he pales in comparison to Michael Jordan. It's not quite the same level of nonsense but it's almost closer to something like BASEketball than Space Jam, where someone has wildly overestimated the appeal of a non-actor. I'd look for an start of around $11 million here.

Remember 2015's pretty good drug cartel film Sicario? The one anchored by a great Emily Blunt performance, taking in her growing unease with the militarization of the drug war, and with a strange supporting turn by the ethically ambiguous Benicio del Toro? What if we said we had a new film in that series, but decided that the supporting guy was really that mercenary, and we just went ahead and made it an action movie about Mexico?

Then you'd have Sicario 2: Day of the Soldado, perhaps the least necessary sequel in some time. It sure seems like a sequel for the Trump era as we've added terrorism into the mix, and wrenched away all the irony and "fighting monsters makes you a monster" business out of this one. Josh Brolin returns as the "lots-of-nonsense" CIA officer in charge of this mess, with Catherine Keener, Matthew Modine and Shea Wigham joining as other significant cast members. The original Sicario was not a huge money maker, opening to $12 million after a short limited run and finishing with $46 million. With Denis Villeneuve stepping away as director and the loss of the most interesting character, I don't see this approaching the opening weekend of that one, and it should come in with around $9 million.

This puts Jurassic World: Fallen Kingdom in line for a second weekend at the top after its $148 million opening that definitely wasn't padded at all what are you talking about. Running with that number, it's a significant drop from the last Jurassic World movie of almost 30 percent. That's not unexpected – that movie was a surprise hit but ultimately kind of dumb and quickly dismissed as disposable – but it does show that we could be into diminishing returns. It only took three movies last time around before we shuttered the whole dinosaurs-eating-people business for a decade. I'd look for a pretty sharp drop off here to $64 million.

Incredibles 2 had a pretty steep dropoff itself despite good word-of-mouth, but then that's kind of baked in today when you open to $180 million. I'd expect that to reverse a bit this weekend as it brings in about $46 million and blows past the $400 million milestone. It'll already be the second highest grossing Pixar movie by the end of the weekend, and has an excellent chance of breaking into the all-time top 10 chart.

Ocean's 8 should hang on for one more week with significant earnings, with the caper film earning about $7 million on its way to becoming the second highest grossing film in the series. It's not gangbusters money, but it's definitely a spinoff/gender flip that's worked for the box office.