Weekend Box Office Forecast for June 15-17, 2018
By Reagen Sulewski
June 15, 2018
BoxOfficeProphets.com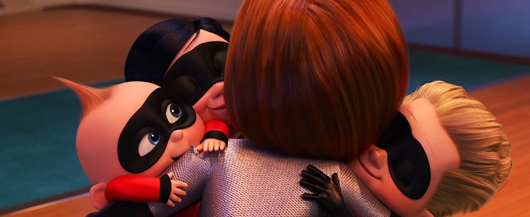 ---
One of the most long-awaited sequels in cinematic history anchors this weekend's slate of films as we dive right into the sweet spot of summer releases.

One of Pixar's first forays into being more than just a kid's story delivery mechanism, The Incredibles was a full on superhero/spy film that probably catered more towards adults than children and was just a solid movie, period, that happened to be animated. A Fantastic Four/James Bond hybrid, it did a bit of retro-futurism, placing its heroes in an early 1960s USA with some juiced up tech – and superheros, with the Superman-ish Mr. Incredible, a stretching everywhere Elastigirl, the shrinking violet of ... Violet, able to disappear and project force fields and the lightning fast Dash – each serving as a handy metaphor for their role in a family. Despite its natural sequelability, and popularity, for years, Pixar resisted, insisting they weren't a sequel kind of company... then made two more Toy Storys, Finding Dory, Monsters U and a bunch of Cars films. *cough*

Picking up shortly where it left off, The Incredibles 2 still sees a world where superheros are illegal, but are maybe easing back into respectability? A wink wink nudge attitude from police sees some of them get back into action, and Elastigirl starts travelling the world as an advocate for their rehabilitation thanks to a couple of billionaire media moguls (hmm), leaving Mr Incredible a.k.a Bob Parr to manage the family – how modern. Meanwhile, baby Jack Jack has finally started manifesting powers, which is to say, all of the powers, which should send shivers up the spine of anyone who's ever managed an infant. Meanwhile, a brand new villain named Screenslaver (so, which era are we in again?) has arrived and threatens to hypnotize the entire world, forcing the Incredible family (along with Frozone) into action to save the world yet again.

All of the principal voices return for the sequel (excepting Dash' voice, who has aged out and who you never learned the name of anyway), with some key additions from Bob Odenkirk, Catherine Keener, Sophia Bush and Isabella Rossellini. Reviews are almost as ecstatic as for the first film, which is hopefully missing the creepy Randian-overtones of the first one (though if you think Brad "Ratatouille" Bird is a Rand devote, you're wildly missing the point).

Pixar movies were among the last holdout genres to get mega opening weekends, even as other animated films blew past them in that respect. They'd always gotten by on legs (with the odd misstep – Good Dinosaur, we are looking at you and your oddly photo-realistic scenery) instead of blasting away at openings. Their sequels, however, have some of their most successful films with Finding Dory blasting through all of their previous records (save worldwide box office). Incredibles 2 has a high amount of WANT! attached to it, built up from the 14 years since the original appeared (fun fact: two less years than the gap between Return of the Jedi and The Phantom Menace. Another fun fact: you are old). Combine it with Father's Day and the fact that it's the most adult friendly of their properties and we should be looking at a record opening for Pixar of around $145 million.

Jock-comedy Tag goes after the grown-up kid market, telling the sort of true story about a group of friends that spend one whole month a year playing a no-holds-barred game of tag that's been going on since they were kids. It's the kind of game that involves elaborate disguises, weeks spent undercover, cross-country plane trips and sacrificing their sanity to preparation, all in the name of not being "it". And yes, there's a real bunch of people that actually have done this.

Serving as the world's largest metaphor for male relationships, Tag stars Jon Hamm, Ed Helms, Jake Johnson, Hannibal Burress (it is important to note here that this group of people is in no way the same age) and the never-been-tagged, other-worldly evasive Jeremy Renner (who notably spent the entire shoot with two broken arms, CGIed out). Tag seems to embrace the "boys will be boys" ethos, though notably allows the girls (Isla Fisher, Leslie Bibb) to play along too, even if they're not officially part of the game. Fisher in particular brings her A-game insanity as an encouraging spirit for the game.

This feels like something in the vein of 2009's I Love You, Man, which explored male relationships as they develop into maturity, kicking and screaming, though the ads feel a bit weak on the comedy aspect. It's a fun looking film but insubstantial (and Hamm seems to be total box office poison at this point – it's frankly unexplainable) and should open to around $16 million this weekend.

The 70s blaxploitation reboot wave currently in progress (there is yet another Shaft movie coming this year) gets its latest entry with a remake of SuperFly. Trevor Jackson (best known from black-ish) stars as an underground kingpin in Atlanta (a city enjoying its moment as the center of Black culture) whose empire is upended by a new, more violent gang with Mexican cartel connections. After a deadly encounter, he decides to make one last stand to reclaim what's his and protect a city that he sort of, I guess, cares about.

Also starring Michael Kenneth Williams and Esai Morales, it looks a bit like a Saints Row video game (one of the early ones, before aliens and dubstep guns got into it), and comes from a music video background, helmed by the somehow-not-anonymous Director X. Opening on Wednesday to $1.3 million, it should branch out on the weekend to around $8 million.

Ocean's 8 was a solid inheritor of the Ocean's franchise, opening to $41 million and generally good word of mouth, surviving the transition to an all-female cast. Sequel potential is solid from that start, though you'd definitely like to see a nice holdover weekend or two in order to seal the deal. I'd look for $27 million this frame.

The bleeding stopped a little for Solo this past weekend after its enormous second weekend drop but we're still in "mild disaster" territory considering its insane $200 million plus budget. It's the first dent in the Star Wars armor, but I don't forsee much of a change in strategy for Disney on these movies – maybe a mild pivot at best. This should pull in about $9 million this weekend.

Another franchise that took a bit of a dive, Deadpool 2 looks solid for $300 million domestic now after its fourth weekend and just a modest drop of 40 per cent. I don't think these films will ever quite capture the same lightning in a bottle again, but could settle into a nice mid-tier franchise. Give about $9 million as well.

Hereditary seems headed for an insane drop, as the highly acclaimed horror film was a thud with fans, earning an OK $13 million but a D+ Cinemascore, which is basically impossible. Challenging and arty, it was not the kind of thing horror fans wanted despite the hype, and should crash to around $5 million this weekend.