Weekend Wrap-Up
by Tim Briody
June 10, 2018
BoxOfficeProphets.com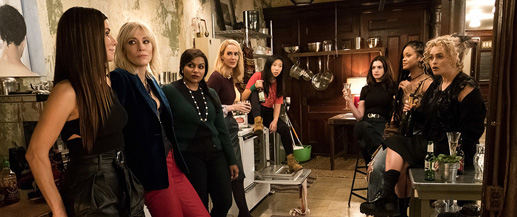 ---
We're mostly back to a normal summer release schedule this weekend with a rebooted franchise and a critically acclaimed horror movie as we quickly put the stunning disappointment of Solo behind us.

Easily the #1 film for the weekend is Ocean's 8, taking in a solid $41.5 million. An all-female reboot of the George Clooney Ocean's Eleven franchise (which ended with Ocean's Thirteen, released on the exact same day in 2007) was risky on paper but with a $15.8 million Friday, any worries quickly went away.

The opening weekend for the film is actually the best in the franchise (which were pretty consistent openers, from $39.1 million to $36.1 million), though the first two were December openers and we also have 11 years of ticket inflation since Ocean's Thirteen. Plus with positive but not glowing reviews (67% Fresh at Rotten Tomatoes), Ocean's 8 was far from a sure thing at the box office. The great news here is Ocean's 8 is positioned to hold well in the face of some big releases in the next couple weekends. I expect it to play well with female and older audiences. Should it follow the same path as Ocean's Thirteen (which opened to $36.1 million and finished with $117.1 million), Ocean's 8 ends up with $134.5 million. A lot has changed in box office since then, though, but I expect it to cross $100 million fairly easily. The budget was also only $70 million, so I think Warner Bros. has another winner on their hands by the time Ocean's 8 is finished.

Solo: A Star Wars Story dips to second place, adding $15.1 million (down 48%) to give it $176.1 million in three weekends. So, it's getting to $200 million after all, and that's a weird as hell thing to say about a Star Wars movie. Its final landing point is likely somewhere around $215 million, which is what we all thought it would open to just a month ago. The stunning rejection by the audience is still unfathomable.

Deadpool 2 continues to creep towards $300 million with $13.6 million this weekend, down 41% from last weekend. it's got $278.6 million in the bank after four weekends. At this same point Deadpool had $311.4 million so it's a pretty sizable step back, but no cause for alarm or anything. I'm still saying to take some time if you want to make a third or the result won't be that pretty.

Fourth place goes to another opener, as horror film Hereditary earns $13 million. This is the widest release and biggest opening weekend for distributor A24 as they clearly knew they had something special on their hands here, in more ways than one. Not only did it earn huge acclaim with a 93% Fresh rating at Rotten Tomatoes, but audiences were apparently really confused by it as it earned an impressive D+ CinemaScore, which is pretty hard to do. That said, there is some very early awards buzz for Toni Collette, so store that one away for a few months from now. Despite the rave reviews, mainstream audiences were apparently turned off by this one, so I don't think it'll show Get Out/A Quiet Place type legs and will fall off quickly from here.

Avengers: Infinity War drops 35% to $6.8 million and now has $654.7 million after seven weekends. With the weekend, it crosses Jurassic World for fifth place all-time and is just $5 million behind Titanic to take over fourth place (did you ever think Titanic would lose two spots in the all time domestic box office list in the same year?)

Adrift takes a big hit in its second weekend, losing 56% from its opening to $5 million and $21.7 million after two weekends. Costing $35 million, that's looking like where the romantic thriller will end up.

Book Club adds $4.2 million in its fourth weekend and has earned $56.8 million, not bad for something that cost $10 million. The old people comedy is headed to $65 million.

A third opener flops into eighth place as Hotel Artemis crashes with just $3.1 million. Released by Global Road, they've had a pretty lackluster 2018 (they were also behind Show Dogs and Midnight Sun, two films you've certainly already forgotten about ), and while this is the sort of movie that could find a cult audience on video, it's a big flop here despite only costing $15 million.

Upgrade drops 52% from last weekend to $2.2 million and has $9.2 million in two weekends. The BH Tilt release (they're like the anti-Global Road) only cost $5 million since Jason Blum has some sort of weird magical power that keeps his film budgets incredibly low.

Life of the Party wraps up the top ten this weekend as the Melissa McCarthy comedy earns $2.1 million and crosses the $50 million mark in its fifth weekend. McCarthy returns later this summer with The Happytime Murders, which could either be spectacular or one of the worst films of the year.

The top 12 films this weekend totaled $109.2 million in box office, again down from last year's $138.9 million when the second weekend of Wonder Woman took in $58.5 million and the top opener was The Mummy reboot with $31.6 million.

Next weekend Pixar returns with the long awaited sequel to The Incredibles and the better looking than it has any right to be comedy Tag.