Weekend Forecast for June 1-3, 2018
By Reagen Sulewski
June 1, 2018
BoxOfficeProphets.com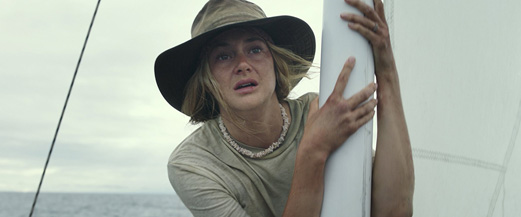 ---
The feast or famine summer season continues for the start of June with a trio of films that could barely headline a September weekend, let alone a major summer weekend. Everyone ran scared from Avengers and Star Wars this month, and see where that got them!

Likely in line to be the top new film this weekend is Action Point, a film that seems designed to either kill off Johnny Knoxville once and for all, or at the minimum, to give him a chance to put his natural proclivities for destroying his body into a narrative structure.

Something of a throwback to '70s and '80s goofball comedy, it stars Knoxville as the owner of a ramshackle "theme park" (I'm presuming the theme is "Tetanus") which was renowned for its barely patched together and ridiculously unsafe rides, not to mention its poorly trained workers and non-existent safety standards. When modern theme parks with their "properly built rides" and "regular maintenance" and "cleaning staffs" come in, it's time to pull out all the stops to make the biggest, baddest, least regulated rides they've ever done before to keep the park open. Of note, this was a real place (where at least six people are known to have died). Hey, it was the '80s.

It's a bit of a throwback to the slobs vs snobs type comedies like Caddyshack and Porky's, only with more contusions. It's a bit of a shift from Knoxville's normal prank/stunt movies, with it being five years since the unlikely success of Bad Grandpa (this film breaks out the old-age makeup one more time for a wrap-around segment, though it's becoming less and less necessary to get the desired effect). Jackass fans likely have less interest in watching some weak comedy around a lesser amount of stunts than they're used to. Reviews are ... well, unknown, as they haven't submitted it for critics. You might say it's not the kind of film to get good reviews, but R-rated comedies are exactly the kind of film that can get championed to success. I'm looking for a modest weekend of $13 million for its debut.

Another real-life story arrives in the form of Adrift, starring Shailene Woodley and Sam Claflin as a couple who set out on a ocean voyage from Tahiti to San Diego, only to cross paths with a ridiculously destructive hurricane (This kills the boat). From then on, it's a tale of survival as they struggle to make it to the nearest port with no supplies, little equipment and some varying degrees of injury. It feels quite similar to last year's The Mountain Between Us, though Woodley is no Kate Winslet and, whoever Claflin is, he is no Idris Elba. It's the weekend's widest opener, but it's tough to find compelling reasons for people to see it – it's all been done before, and with more popular actors. I'd expect around $9 million here.

Lastly, we have the grindhouse-type feature Upgrade, from horror/indie studio Blumhouse. Directed by Leigh Whannel of the Saw series, it's set in a sci-fi future where you can have parts of you upgraded with sophisticated tech and/or weapons. After a technophobe loses his family to gang violence, he then gets himself merged with the machines in order to seek his revenge like a murderous Alexa. Come for the weird as hell premise, stay for the forearm mounted shotguns. This screams midnight movie to me, and it's premiering on just 1,400 or so screens, which should lead to about $4 million this weekend.

Panic buttons were fully depressed as Solo won the weekend with a mere $84 in three days, and $104 million over the four-day holiday period. This was barely more than half of Rogue One's opening weekend, and a tremendous drop from the main series films' openings. This likely doesn't mean an end for the standalone films project, but it does represent the film's calamitous production process and the straight-up miscasting of its lead. Alden Ehrenreich simply is not Harrison Ford, and no level of makeup and acting lessons can cover that up. That the film has generally gotten good word-of-mouth may be cold comfort, but it's ultimately going down as a missed opportunity. With the weak competition it's going against, it'll take top spot again, with around $55 million.

Deadpool 2 did not match the moderately impressive legs of the first film, dropping by nearly two-thirds after its slight fall in the opening weekend compared to the original. It's still over the $200 million mark after just two weekends, but failing to get any traction over the holiday weekend is a terrible sign for its future prospects. I fear we're in Austin Powers territory here, and this should fall to $18 million this weekend as it heads towards $275 million as a final domestic figure.

Avengers: Infinity War continues to cruise on, though with a couple of weak showings in the last few frames, it looks like it may fall short of Marvel's other hit of the year, Black Panther. That film's inching up on $700 million, while Infinity War looks like it may top out at around $675 million. It'll just have to be satisfied with its $2 billion plus worldwide box office. Give it $8 million this weekend.

Lastly, Book Club showed the legs we all expected thanks to its older audience. It should see another $7 million this weekend.