Weekend Forecast for May 18-20, 2018
By Reagen Sulewski
May 17, 2018
BoxOfficeProphets.com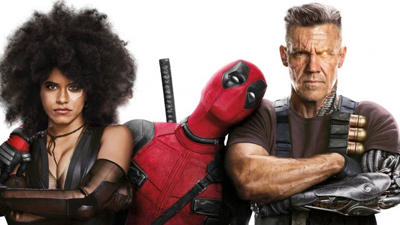 ---
After ruining May for everyone else, Marvel's reign of terror over the box office returns, albeit with a different studio, followed by a whole bunch of "Oh no. Oh no no no no."

Two years ago, amidst what was then (and is still!) a glut of ultra self-serious super hero movies, Deadpool arrived like a 100 minute Whoopee Cushion noise, puncturing the typical script with a barrage of profanity, explicit content, fourth-wall-breaking and just utter contempt for norms in the genre. This turned out to just what everyone was looking for, and it snowballed with its spectacular reviews to a then unfathomable $132 million opening weekend and $800 million world wide. So naturally, we're back for more.

With Deadpool, the only worthwhile thing Rob Liefeld ever produced (fight me), having been established as balls-to-the-wall, Deadpool 2 has to become balls-to-the-waller, with Ryan Reynolds' shtick being amped up, ever more irreverent takes on the superhero genre getting thrown in and an amplification of all those R-rated elements that made it stand out (even the film score gained a parental advisory, but listen, if a 14-year-old is rocking out to orchestral Tyler Bates, he's likely heard a few swears before).

James Brolin enters the series as Than...Cable, a longtime nemesis/partner/sidekick/sidekickee/whatever they want him to be in the comics, a soldier from the future who's hunting down a kid in the current timeline because he turns out to be Mutant Hitler in the future (in typical bonkers Deadpool fashion, because he's chubby and there's no chubby superheroes for him to look up to). This just won't stand and Deadpool forms a gender and racially diverse task force of D-List superheros (Zazie Beets, Terry Crews, Bill Skarsgard) and, in what might be the film's master stroke of humor, some random guy with no powers who just answered the ad (Rob Delaney). In some ways it's the Airplane! of superhero movies, with enough jokes coming along that if one in particular doesn't hit, there's another one coming along, not to mention a brutally graphic dismemberment scene at the same time.

While the promotional efforts have been typically inventive and nonstop (Ryan Reynolds' frequent flyer mileage balance must be enormous), there's been a noticeably cooler response to the film. While reviews are actually in some ways better and the effects looking a little more polished (thanks to a nice injection of money from the first film's take) – but not *too* polished. It sort of reminds me a little of the way that everyone loved Jim Carrey or Mike Myers... until they didn't. I don't think we're in any sort of danger area yet for the franchise, but there's maybe a bit of fatigue of the concept, especially with the MCU leaning in to the concept of "fun" with Guardians of the Galaxy and Thor: Ragnarok. Deadpool ain't the only game in town anymore.

For now, though, Deadpool is still a top flight property that justifies its promotion to the pre-Memorial Day weekend. Opening in an appropriately massive 4,300 venues, it should open to around $121 million, or just under the original.

Fifty Shades of Grey may be done as a film trilogy, but it lives on in the form of a film Deadpool the character would probably want to watch (albeit with a little recasting going on – maybe Betty White?). Book Club stars Diane Keaton, Jane Fonda, Candice Bergen and Mary Steenburgen as members of said club who have their world shook by the BDSM-lite book series. Thankfully, it doesn't dwell too much on that, but uses it as a jumping off point for the four actresses to explore the idea that old people like to be sexy too. And that's basically it, making it one of the more tightly focused films on a demographic in some time, despite the popular movie/book tie-in. The golden days of Nancy Meyers films are definitely gone, and this plays like a very light version of that. I'd expect around $12 million this weekend.

We will likely never be rid of the idea of talking animal movies, as each generation seems to need one made just for them. And thus we get Show Dogs, directed by hack-extraordinare Raja Gosnell, about a Rottweiler police dog that goes undercover at a dog show in order to avert an animal theft ring. Yes, it's Miss Congeniality, but with dogs. Can we move on? No? Dammit.

Ludacris, who I sincerely hope saved his money from the Fast and Furious films, plays the dog-tective, with other voices coming from Alan Cumming, Stanley Tucci, Gabriel Iglesias, RuPaul and Shaquille O'Neal(!) along with live-action performances by Will Arnett and Natasha Lyonne, who I hope get the help they need. There's not much that I can say to really hurt this film since it's aimed at an audience who can barely read my columns, though I can at least appreciate that this looks less heinous than Beverly Hills Chihuahua. This should pull in about $8 million this weekend.

After three weeks at the top, Avengers: Infinity War will yield the top spot, but does so having earned close to $570 million domestically (and an insane $1.7 billion internationally so far. It's already fourth all-time worldwide). It's just a hunch, but I think they might make another one of these. With around $38 million this weekend, it'll blow past $600 million, with about $750 million as a target for its final domestic gross.

Melissa McCarthy's Life of the Party opened to $17 million, as befits her lesser output in collaboration with her husband as director, and the Back to School-lite film isn't likely to inspire a lot of strong word-of-mouth. I'd look for this to drop to around $9 million this frame.

It was nearly matched by the woman-in-peril film Breaking In, which was yet another demonstration that there's a significant audience for Black Women Kicking Ass films, especially in family situations. I think we'll see some fairly heavy dropoffs as with other films in this genre, but it's still a strong result from that opening weekend. Look for $7 million here.

Overboard actually managed a decent hold in its second weekend, after gender and race flipping the Goldie Hawn/Kurt Russell "classic", and should get about $7 million this weekend. Wrapping up the significant films, A Quiet Place should have one more weekend at $5 million, heading towards $200 million domestically (although that's a bit of an outside shot).