Weekend Forecast for May 4-6, 2018
By Reagen Sulewski
May 4, 2018
BoxOfficeProphets.com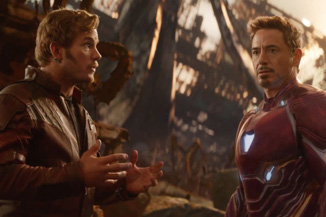 ---
The hole left by Disney's next-to-last-minute swerve has not been filled, leaving the "traditional" weekend that serves as the start of the Summer Movie Season the weakest it's been in ages, at least in terms of brand new films.

Of course, the idea of the first weekend of May kicking off summer dates back to the hoary old days of ...1996 and Twister, with Memorial Day having been the kick off before that from the days of Star Wars (and then before that, summer was kind of a wasteland. How things change). Of course, with the year round strategy a lot of studios are working with (Disney/Marvel in particular) the idea of movie seasons seems a tad quaint anyway. However, this one kicks off with three quite minor releases, each getting just barely a wide release.

Overboard is the gender and race flipped remake of the Goldie Hawn/Kurt Russell comedy from 1987 where she played a wealthy socialite who fell of a boat and got amnesia, leading blue-collar Russell to kidnap her for revenge to convince she's his wife and take care of his kids. Since that all reads as monstrous in 2018, someone decided, hey, let's get Anna Faris to play the blue collar worker with Mexico's biggest comedy star Eugenio Derbez to play the jerk billionaire. That's ... slightly better, right?

I mean, maybe. But it's still sort of an ugly premise even if there's good reasons to look down on jerk billionaires of late. The film takes great joy in turning Derbez from a soft yacht owning playboy to a construction working family man – which to be fair is not a million miles away from his biggest crossover hit, Instructions Not Included. Faris seems to be included for star power and to make it not solely a Latino film, though it's kind of an iffy prospect when you realize she's barely appeared in any live action roles in the last seven years other than her TV series. This remains mostly a bad idea for a remake and on 1,600 venues should see an opening weekend of around $6 million.

In an epic case of trying to make Fetch happen, Tully is being presented as something of a "motherhood trilogy" from director Jason Reitman and writer Diablo Cody. Charlize Theron stars as a harried mother of three, including a newborn, who hires a free-spirited night nanny played by Mackenzie Davis to try and give her some sense of normalcy, but who also serves to show her What's Really Important. So it's the Manic Pixie Dream Caretaker.

Billing itself as an unsentimental look at parenthood and middle age, it's at the very least garnered strong reviews, and features another self-effacing performance from Theron. It's tough to shake that "film about kids" label, which is definitely a tough sell outside of Oscar bait, which I don't think this quite reaches (but then, who saw Juno coming?). Reitman's lost a bit of his buzz as a director following the twin bombs of Labor Day and Men, Women & Children, but this is being hailed as the stereotypical "return to form" and at 1,300 or so venues should be good for about $5 million.

It's a bad week for crazy rich people at the movies, as Bad Samaritan asked the question – what if you found some rich dude's sex and torture murder dungeon? A question I know we've all wondered of ourselves, but then what if you only found it because you were breaking into his house to steal stuff? After failing to rescue a woman held there (Kerry Condon), a pair of burglars attempt to report this to the police only to be stonewalled and then stalked in turn by the billionaire (David Tennant) who has a bevy of tech gadgets at his disposal.

It's really your standard cat-and-mouse thriller with a tiny bit of an ethical question built into it, and what appears to be at least a bit of skill in the direction from Dean Devlin, who's getting away from his typical "blow up ze world" filmmaking. However, with little star power and not a lot of studio support, this is looking like a bit of a lost film in the market, and should open to about $4 million.

Meanwhile, things are still ruled by Avengers: Infinity War, which cracked the all-time opening weekend record held by The Force Awakens, bringing in $257.7 million, though coming up short for the all-time day record, with $106 million on "Friday". It held strongly over the weekend though, and its Saturday and Sunday were the biggest ever on those particular days of the week. Releasing outside of summer proper has stolen a bit of its weekday business away, but with even a little bit of legs could threaten $750 million domestic. The floor would likely be an Ultron-like multipler, which would place it at $625 million or so. This weekend though we should see it carry the day again, with about $135 million.

We then dip way down for anything else earning significant dollars, as A Quiet Place crosses the $150 million milestone. The innovative horror film is hanging on for at least one more weekend and should earn about $6 million, making it one of the best performers this year relative to budget.