Weekend Forecast for April 20-22, 2018
By Reagen Sulewski
April 19, 2018
BoxOfficeProphets.com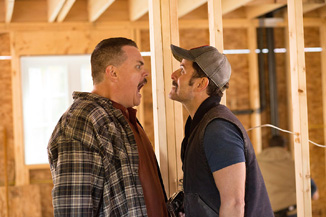 ---
After Disney pulled an audible on its big summer tentpole film, moving it up a week, studios were left to scramble to rearrange April in order to duck it. Thus, we get this weekend's lineup of cast offs and low budget affairs.

Leading the way is Amy Schumer's I Feel Pretty, a comedy that leans in hard to Schumer's natural persona. In the film, she plays, well, Amy Schumer, but hits her head during a spin class and wakes up believing that she's in one of those wacky body swap comedies, magically transplanted into the body of a goddess. Of course, she's still... Amy Schumer, just with ridiculous levels of self-confidence. In a way, it's the opposite of Shallow Hal – instead of not seeing what's there, she sees what everyone doesn't.

This "act like you're supposed to be there" attitude actually proves to be pretty successful, landing her a new boyfriend and a high profile job behind the scenes as a modelling agency. She thinks it's because of her expertise as one of the Beautiful People, but it's really so she can be a sounding board about the plebians. Michelle Williams plays her near opposite at the agency – a beautiful woman plagued by crippling self-doubt. Oh, the theme has arrived!

After a strong start to her feature career with Trainwreck, Schumer hit a bit of a speed bump last year with Snatched, which also arrived with some backlash to her career in general. Some of it felt weirdly personal and out of place and not of the kind of reaction, say, Seth Rogen gets. Still, it's a thing you have to contend with for her movies, and she's likely going to need to knock one out of the park to get past it, though that's kind of not her style. It's also not a description of the reception to this film, though the premise is rather genius and could move people off the fence just on that. I'd look for a modest opening weekend of around $14 million.

One of the more successful Kickstarter campaigns of all time is behind the release of Super Troopers 2, the 17-years-later (wait, that can't be right, let me check the math here, and that's ... ugh) sequel to the first Broken Lizard movie, which became one of the cult hits of the early part of the millennium. In the original film, the five members of the comedy troupe, along with a game Brian Cox, played Vermont state troopers who spend more of their time playing pranks and abusing their position than actually enforcing the law. Then, they stumble across a cross-border pot trafficking operation that saves their on-the-verge-of-being-contracted jobs. But really it was a thin thread in service of some surrealistic/drug fueled humor.

The sequel sees the five members of the troop out of work again, until a border dispute between Canada and the U.S. sees a town in Quebec ceded over to Vermont, and the Broken Lizard crew hired on as the new local police force. From there, it's more of the same, but Canadian.

Of course, the big question with these way later sequels, especially comedies, is whether they can remain fresh and relevant, or if they just represent going through the motions. The risk of it becoming a "greatest hits" movie is pretty high, and reviews certainly point to that. This has a lot more going for it in the name recognition department than some of Broken Lizard's other films, of which only Beerfest and Club Dread made much of an impact. There's kind of a reason studios weren't beating down their down to have them make this sequel. Releasing on 4/20 (because of course it does – oh I get jokes), it should open to around $9 million.

National release Traffik is our other new film this weekend. Starring Omar Epps and Paula Patton, they play a couple getting away for the weekend, only to stumble into a backwoods meth operation, and running afoul of its kingpin. While in the process of trying to save a woman who seemed trapped by the biker gang running it, they end up in a siege situation in their getaway house. It's a bit of a racially-tinged and modernized Deliverance, but in just 1,000 or so venues, it is likely limited to about $5 million this weekend.

Rampage eked out a win in its debut with $35 million and some ... odd looking splits across the weekend, but the video game based film starring Dwayne Johnson isn't likely to keep that up for this weekend, as its word-of-mouth is only so-so. Action movies have long struggled with legs and I don't see a difference here, as it should drop to about $18 million.

That likely puts it behind the third weekend of A Quiet Place, which has managed to leverage strong reviews into some staying power. The nearly silent horror film, directed by John Krasinski and starring him and his wife Emily Blunt, has become the buzz film of 2018, horror division. It dropped just 34 percent from its massive opening weekend – the highest ever for a non-sequel original horror film – and could see a similar showing this weekend, grossing about $20 million.

Truth or Dare had a massive Friday the 13th take but fizzled through the rest of the weekend, but its $18 million is still more than enough to ensure massive profit on its single digit millions budget. Even with a huge drop – enhanced by the loss of that Friday boost, it's a gigantic success for Blumhouse. I'd expect about $7 million here in weekend two.

Ready Player One had a rough third weekend, as its pop culture heavy plot attracted a lot of people early but had little staying power. Spielberg's paean to nerd culture should see around $6 million this weekend on its way to around $140 million domestic.