Weekend Wrap-Up
by Tim Briody
April 15, 2017
BoxOfficeProphets.com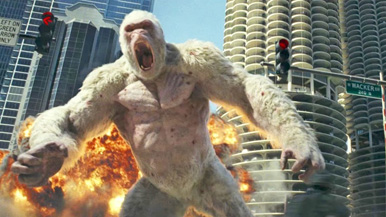 ---
For the first time in a while, we have a photo finish at the top as new release Rampage tries to punch the surprising A Quiet Place out of the top spot.

With Friday's box office making it look like A Quiet Place would hang on for a second weekend at the top of the box office, Rampage, based on the original '80s arcade game and starring The Rock (okay, okay, Dwayne Johnson to most of us) held strong and wins the weekend with an estimated $34.5 million. After a Friday take of $11.5 million (with $2.4 million of that coming Thursday night) which just beat out A Quiet Place's $10.5 million, it looked likely that A Quiet Place would overtake Rampage on Saturday and Sunday to hang on for a second weekend at the top. Rampage, however, had other ideas and managed to pull out a 3.0 multiplier for the weekend. With mainly atrocious reviews, I attribute this opening to the ongoing popularity of The Rock, arguably the biggest movie star in the world right now, coming off the $400 million Jumanji: Welcome to the Jungle.

While it's got an okay opening, Rampage has a couple of problems, the biggest of which is its reported $120 million production budget (apparently, big CGI animals are expensive). Here is your now standard "the international box office will save it" line, and yes, it has already crossed that total when you add in the worldwide grosses from this weekend. However, bigger budget usually means bigger marketing costs, and yes, it's got a long way to go before Warner Bros. can consider it profitable, and it's not likely to cross $100 million domestically, so that won't help matters.

A Quiet Place drops to second place for the weekend with a great hold for the genre, even in a weekend with a direct competitor. It added $32.6 million in its second weekend, down just 35% from last weekend. That gives it $99.6 million to date, all on just a reported budget of $17 million. I'm honestly surprised Paramount couldn't come up with another $400,000 in their estimate to have it cross $100 million for the weekend. Still, I have a feeling there was some creative math done by Warner Bros. to get Rampage on top, so perhaps there's a chance A Quiet Place was slightly underestimated for the weekend. Last year we had Jordan Peele, now John Krasinski. I look forward to a future film from a comedic actor who wants to direct a horror movie.

Third place goes to the other main new release on the weekend, Truth or Dare from Blumhouse Productions. It earns a solid $19 million on the weekend, which makes A Quiet Place's hold all that much more remarkable. As is typical of Blumhouse horror entries, it was made for some loose change found in couch cushions ($3.5 million) so it's already profitable. It's a very similar performance to last fall's Happy Death Day, which opened with $26 million. What also helped Truth or Dare was a Friday the 13th release date (Happy Death Day used the same tactic), as it launched with an impressive $8.2 million before the wheels fell off on the rest of the weekend, giving it a terrible 2.3 multiplier. It's going to trail off swiftly from here, but nobody at Universal will complain about this performance, as Blumhouse works their magic yet again.

Ready Player One adds $11.2 million in fourth place this weekend (off 55% from last weekend) to give it a total of $114.6 million. Crossing $100 million midweek (the fourth film of 2018 to do so, and on the weekend it passes Peter Rabbit to become, briefly, the year's #2 movie behind Black Panther). After a better hold last weekend, the Steven Spielberg film snaps back to reality a little bit this weekend, and reduces concerns that someone will decide to make a movie out of Armada. Still, that will probably happen anyway, even though it already happened and was called The Last Starfighter.

Dropping 50% from last weekend to fifth place, Blockers takes a step forward to becoming a cult classic as it adds $10.2 million on the weekend and $36.9 million in two weekends. I expected a strongly reviewed comedy to hold a little better, but you can argue that it was the great reviews that boosted the opening weekend to the $20 million mark anyway. The John Cena/Leslie Mann comedy only cost $21 million to make and is probably headed to $65 million, so it's a nice win for Universal.

Black Panther takes a weekend off from making history, adding $5.3 million in its ninth weekend of release (down 39%) and now stands at $673.7 million. Next weekend is probably the last hurrah for it, as I would imagine the bulk of its screens (still in 2,180 theaters) go to Infinity War after next weekend. $700 million is still a possibility, and at this point I wouldn't rule out the possibility of a re-release later on in the year to get it there.

Isle of Dogs expands from limited release and things go terribly wrong as it jumps from 554 theaters to 1,939 screens and earns $5 million, up 10% from last weekend. Wes Anderson's films tend to have a pretty limited, if dedicated audience, as seen by its $1.6 million gross in 27 theaters a few weeks ago, followed by $2.9 million in 165 theaters and $4.5 million in 554 theaters last weekend. The minuscule increase, despite nearly quadrupling its screen count, is probably due to the stop-motion animated film's limited appeal to mainstream audiences, and even strong reviews (91% Fresh at Rotten Tomatoes) couldn't help it. Isle of Dogs (which it turns out was not a sequel to the Diane Lane/John Cusack romantic comedy Must Love Dogs), has also been accused of cultural appropriation of Japanese culture and has led to some criticism. To be fair, Anderson's films have never been big moneymakers, with his most successful film domestically being his last film before this one, 2014's The Grand Budapest Hotel with $59 million (which was also wildly successful internationally). Isle of Dogs only has $18.4 million after four weekends in theaters, and this disappointing expansion doesn't indicate much long term success.

The wheels finally fall off of I Can Only Imagine in its fifth weekend, as after multiple weeks of 20% drops, it declines 51% from last weekend, adding $3.8 million to its total which now stands at $74.9 million. $100 million probably isn't in play anymore, but with a reported budget of just $7 million, it's easily going to be one of the most profitable films of the year.

Wrapping up this weekend's top ten with the lightning round, Tyler Perry's Acrimony earns $3.7 million in its third weekend, (down 56%) and has $37.8 million in three weekends, while Chappaquiddick lands in tenth place, with $3 million, off 48% from opening weekend and has $11 million in two weekends. That's still one of Perry's better non-Madea performances in a while, and I'm still not quite sure who the audience for Chappaquiddick was.

Your top 12 films this weekend earned $132.8 million, well behind last year's $160.3 million when The Fate of the Furious opened to $98.7 million. Next weekend we have one more quiet weekend before Infinity War arrives. New in theaters will be Amy Schumer comedy I Feel Pretty and the crowdfunded sequel 17 years in the making, Super Troopers 2.