Weekend Forecast for March 23-25, 2018
By Reagen Sulewski
March 22, 2018
BoxOfficeProphets.com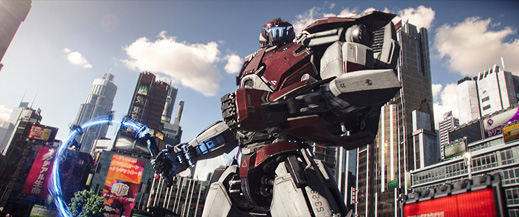 ---
One week before Black Panther drops out of first place for sure (I mean, I'm pretty sure), it takes one more run at the title against a cornucopia of five new wide releases, each firing away at a disparate niche audience. Divide and conquer or divide and surrender?

The film with probably the best chance at taking the overall crown is one that arrives as something of damaged goods. Pacific Rim: Uprising follows the 2013 giant-robots-vs-kaiju film that represented one of Guillermo del Toro's many labors of love. He was too busy winning an accidental Oscar, so he rides the producer's chair on this one, handing the directorial duties over to a generally anonymous TV dude. The idea is mostly the same though – giant sea dwelling monsters rise up to attack cities around the Pacific Ocean, and humanity builds giant mechas (named jaegers), piloted by a pair of neural uplinks, to defeat them. Or at least we thought the first time. The apocalypse is no longer cancelled, just temporarily postponed.

Charlie Hunnam is traded off for Alex Boyega, playing the son of Idris Elba's character the first time. As Jake Pentecost (showing that del Toro is slightly improving in understanding what human names sound like), he's the new hot-shot pilot, along with Scott Eastwood and a returning Rinko Kichuch (she and Charlie Day are the major links to the first film, impressing basically no one).

While the original film had its faults, special effects and world building were not among them, and it deeply considered the consequences of a world besieged from the ocean by monsters. This film just goes for the razzle dazzle and avoids any of that messy "investing in characters" business that just weighs down a film. So you get your mechas fighting monsters action jumping around CGI city models with all the weight of a mid-budget animated film. Reviews are pretty miserable, and the general sense of the franchise isn't one of great quality. It's a bit of a mystery that it's been made at all, and the shift from July to March is a bit of a clue to the studio's idea of its prospects. While the first film opened to $37 million, this sequel should wind up with less than half of that, at around $16 million.

Family audiences are taken care of with Sherlock Gnomes, a solution to the problem we were all wondering about, which is, how on earth do you franchise a gnome-based film that follows the plot of Romeo & Juliet, because we're all soulless marketing executives. In fact, it's a tie-in film, as James McAvoy and Emily Blunt return as their characters from G&J (as all the hip kids call it), hiring the title character (voiced by Johnny Depp, curiously hidden from the promo material) to investigate the disappearance of other garden ornaments. And oh how the hilarity springs from that set up! Also starring Chiwetel Ejiofor, Mary J. Blige, Michael Caine, Maggie Smith, Stephen Merchant and Ozzy Osbourne because of course it does, it's a film that dares to test out the limits of garden puns in the service of drama. The rare children's film that hasn't been screened for critics, this is a film that is very definitely not trusted by its studio, and should debut at a middling $12 million.

Hot off the surprise of I Can Only Imagine, we have another film going after the Christian market, Paul, Apostle of Christ. Telling the story of the apostle who went on to be the most influential and established the Christian faith in Rome, it's a fairly straightly played historical drama, with apostle Luke (Jim Caviezel) going to Rome to rescue him from Roman captivity and to record his deeds.

The film is mostly about the moral conflict among early Christians, about whether to stay and preach their gospel, or to flee and try and save themselves and fight back militarily. This makes for a slightly better film thematically, but at the same time makes for kind of dull drama, particularly for non-converts. Produced by the same studio that's made Risen and Mom's Night Out, it's another attempt to broaden the base of Christian-themed films in mass market venues. They've probably missed the mark here to some degree, though an opening weekend of $9 million wouldn't be out of place.

YA viewers get another film sent their way with Midnight Sun. Bella Thorne stars as a teen that's deathly allergic to sunlight, in the grand tradition of doomed teen romances. Then, she meets .. a boy! Played by Patrick Schwarzenegger (son of Arnold, in his first significant lead) who's been watching her secretly but doesn't know about her condition. Can these poor star-crossed lovers find true happiness? Directed by Scott Speer, who up to now has mostly hitched his wagon to Ashley Tisdale's star, it's a bit of a two-hanky weepie, this feels a lot like a lesser version of Everything, Everything, last year's film about a girl with an auto-immune disorder. Another film not screened for critics, it's a little bit laughable, and likely to open to around $7 million.

The best reviewed new film of the week is its strangest and toughest sell. Unsane stars Claire Foy as a woman who checks into an institution as a well to escape her stalker, only to find out that she's now not allowed to leave, and her sanity falls into question. Were the events leading to her committal real, or is it all just a product of some unravelling delusion? Is she being somehow trapped by her stalker?

Directed by Steven Soderbergh, it's notable for being another experimental film by him, shot entirely with an iPhone (it's not the first such film, but it's significant that such a major director is embracing the tech). After you master directing like he has, apparently you have to test yourself. It's also kept the budget rock-bottom, so any kind of return is a win on this film, and it ultimately doesn't matter now that it's gotten into wide release. It's probably a bit too weird for the mass market, and doesn't have a major star to fall back on, so a weekend of $5 million seems about right here.

Black Panther has it's last real shot at the number one spot after five straight and over $600 million domestic. It's fallen by an average of only 40 per cent each following weekend, to help it become (eventually) the most successful Marvel movie, despite being based on a character most non-comic fans were probably not even aware of six months ago. I think for one last week, this can top the charts with $17 million.

Tomb Raider debuted to an acceptable $23 million, though this represents a huge fall off in the franchise's value from its start in the 90s. As an action-adventure film based on a video game, there should be a pretty significant drop off in weekend two, to around $11 million.

I Can Only Imagine was a significant surprise last weekend with a $17 million debut. Based on the story of a Christian country band, it faces pretty direct competition in the Christian film market this weekend. These films generally aren't leggy unless they become event films or break through to mainstream audiences, I don't think that's happened here, so it should find about $9 million in its second frame.

A Wrinkle in Time took a tumble in its second weekend, although the youth targeted fantasy film passing the $60 million mark domestically. It definitely has the potential to become something of a touchstone in its later reputation, but as a box office earner, it's likely to top out at about $90 million.

Teen drama Love, Simon had a solid opening at $11 million, with the gay-themed story resonating strongly across a number of youth audiences. It's rare for a teen film to have any legs at all, so a drop to $5 million shouldn't be a surprise here.