Top Chef Colorado Recap
By Jason Lee
March 13, 2018
BoxOfficeProphets.com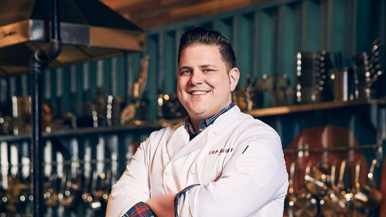 ---
Fifteen. That's how many chefs Adrienne or Joe Flamm will need to have beaten this season in order to win the title of Top Chef. That's also how many Top Chef winners there will be after today's episode.

The challenge, as always, is simple: cook the best food of your life. There's no surprises and no last minute switch-ups. Adrienne and Joe will need to cook a four course progressive menu to show the judges why they deserve to be Top Chef. For Adrienne, it would be the culmination of a season-long journey of growth and self-discovery. She cooks southern food in a fine dining style and she's damn proud of it. For Joe, winning the title would be a moment of affirmation—as the Executive Chef of the acclaimed Spiaggia in Chicago, he's always cooked Spiaggia's food. It's now his time to cook his version of modern Italian cuisine.

It may take a village to raise a child but it takes a team to win Top Chef. Adrienne and Joe draw knives to see who'll be able to pick their sous chefs among the full cast of chefs this season, with Adrienne drawing the lucky knife. She picks Chris, a smart pick given that he specialized in soul food—a good match for her southern style. Joe picks Moustache Joe, another smart pick given his strong background in Italian food. Adrienne rounds out her team with Carrie for her creativity and implacably positive energy in the kitchen, and Joe picks Fatima, who he not only has a great personal rapport with, but also has some history with Italian cooking (not that she showed any of that this season, but hey, who's counting?).

The two finalists get 30 minutes to menu plan with their team, and it's immediately clear that they already have the substance of their dishes fleshed out. It's more about description and buy-in, as opposed to discussion and feedback.

From there, it's a mad rush through Whole Foods to get all the ingredients needed for their eight-person dinner. As the chefs lug their foodstuffs to the checkout line, we have a moment that pretty much encapsulates a theme that will run all through this episode. While Joe Flamm comes out around $50 under budget, Adrienne is over. Without a second thought, Joe uses his remaining funds to purchase the last few items that Adrienne needs.

It's a reminder of how different this cast is from prior casts. Apart from some tensions that multiple chefs had with a particular chef from Mexico (on multiple occasions), there's no personal animosity between these chefs—no beefs, no grudges, and no resentment (well, Moustache Joe seems to really hate Carrie's fancy toasts, but we'll let that slide for now). They all get along and, more importantly, they all respect one another. It's refreshing and it's incredibly welcome.

Back into the kitchen for two hours of prep and both chefs are having issues. Adrienne is trying to make a tuile that they used to make at Chef Eric Ripert's restaurant Le Bernadin, but it's just not coming out right. Also, the octopus she's using for her second course is too chewy. Meanwhile, Joe is really struggling with his dessert. He's trying to do a version of an Italian brown butter cake but it's coming out too bitter. Also, with less than 90 seconds left in the prep, his team realizes that they haven't yet pressed out their ricotta, which leads to a sudden explosion of frantic energy—alarming Adrienne's team on the other side of the kitchen—as they dump out their ricotta and sandwich it between two cooking pans.

Mission accomplished. Barely.

Our finalists slouch back to their gorgeous and excessively large suite, only to find Judges Graham Elliot and Tom Colicchio at work in the kitchen, aprons adorned, cooking up some fish and meat for them. A relatively intimate four-person dinner follows, which gives the finalists an opportunity to talk, one-on-one with the seemingly intimidating judges and bridge the apparent divide. As so often happens, the youngsters are surprised to learn that our esteemed judges were up-and-coming chefs once, too, struggling to find success and putting in the time and effort to make that a reality.

It's a humbling and likely perspective-inducing experience for our finalists. Hopefully it serves them well.

After some last minute tweaks—Fatima manages to pull together Joe's cake recipe and, with a little help from Eric Ripert, Adrienne figures out her tuiles . . . just in time for the first course. She serves spoonbread with sea urchin, buttermilk dashi, and her tuiles. Joe offers raw tuna with a veal aioli, smoked wagyu powder, and capers. The diners find both dishes stunning—Joe's is simplistic and clean, though the diners have seen this sort of thing before. Adrienne's dish, though, is provocative and sensual. She's introduced flavor combos that the diners have never experienced, and the tuiles are a huge hit.

Next up, Joe serves grano arso tortellini made from pine green flour that gets its color from the farmers having burned the wheat plants before harvesting. With the pasta are pig's head, black truffle, and braising liquid broth. Against that, Adrienne has a play on fish and grits using blackened octopus with squid ink grits and fennel chow chow.

Tom is blown away by the spread so far, declaring it to be, so far, the best food they've ever had in a finale. The broth in Joe's pasta dish is mind-blowingly good. And while Adrienne's dish is extremely clever and tasty, the octopus is dry from having been blackened, thus requiring more fat somewhere in the dish, whether in the form of a vinaigrette or more grits.

For the third course, Adrienne is using a southern, cherry-flavored soda—cheerwine—in her braised shortribs, black eyed peas with ham hock, and bone marrow bordelaise. Joe puts up a roasted beef ribeye with roasted asparagus and smoked bone marrow sauce.

Here's where the dinner starts to come apart, leading Tom to make no more pronouncements about how this is the best finale food ever. Though Joe's asparagus are a revelation in flavor, his ribeye is overrested and dry. So are Adrienne's black eyed peas. In an attempt to mimic the way in which fully cooked black eyed peas fall apart in the cooking process, Adrienne mashed half of them, which dried them out. So while both dishes are both delicious, there are flaws on display.

We finish with dessert. Joe has his brown sugar cake atop a pile of whipped ricotta with a blueberry thyme sauce and chocolate shards. Adrienne has a gorgeous looking banana pudding with yuzu, banana spears, and vanilla wafers. Joe's cake is good, but the ricotta really weighs the whole dish down. Meanwhile, Adrienne's dessert is creative, but there's not much banana flavor to be found. The diners appear to wish that it tasted as good as it looked.

When called before the judges, Tom declares the finale to have been the best food of the season (note the downgrade from "best finale food ever"). Adrienne pretty clearly won round one. Joe presented a really balanced and playful first course, but Padma heaps on the praise for Adrienne's dish, saying it was the single best thing she ate all season from anyone. "It should go on some menu immediately, please don't touch it," she entreats Adrienne. Gail agrees, saying that her dish would have been mentioned in any restaurant review and would become that restaurant's signature dish. "You're never getting rid of that dish," she tells Adrienne.

If it's clear that Adrienne won round one, it's equally clear that Joe won round two. Adrienne had a great concept that reinterprets what southern food can be, but the dryness of the octopus required more fat somewhere in the dish. As for Joe's tortellini, it was, Gail declares, something that she'll never forget. She says there's something about his broth that made her think about it long after she ate it. Tom agrees, saying it was rich in texture and flavor.

Adrienne also comes up short in the third course. The judges appreciate her intention in mashing half her black eyed peas, but Tom calls her out—she's a better chef than most southern cooks and she knows how to prepare black eyed peas without them falling apart. Thus, there's no need for her to have tried to mimic a food outcome that Adrienne is skilled enough to avoid. Joe's ribeye was quite chewy and thus not perfect either, but his asparagus and bone marrow sauce were both fantastic.

Finally, the desserts appear to be a wash. Joe's cake was quite successful, but the ricotta weighed it down. As for Adrienne's banana pudding, the yuzu flavor (though delicious) dominated the banana.

As the judges parse over the menu, it becomes apparent that Adrienne just made a few more flaws than her counterpart. Though her first course was amazing, she simply got beat by a better dish in the second course, and there were mistakes made in the third and dessert courses.

Which means that this season's winner is Joe Flamm, making him the third chef to come back from Last Chance Kitchen and win the whole damn thing. Adrienne is understandably disappointed. She fully recognizes how far she's come and how much she's grown over the course of the season, but no ambitious chef with big dreams is ever going to be happy with second place, and Adrienne is no different.

As for Joe, he brings one home for Chicago and for the bears. One senses he's ready to step away from Spiaggia and blaze his own path.

And so ends Top Chef: Denver. Though the chefs never left the state, they had a memorable and, for some, life altering experience nonetheless. Tom raises a glass of champagne. "Here's to season 15," he toasts.

Here, here. Cheers to the entire cast.