Friday Box Office Analysis
By Kim Hollis
March 10, 2018
BoxOfficeProphets.com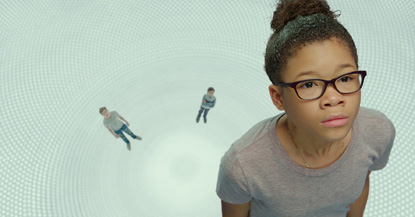 ---
Disney is dominant, as it holds the top two positions in the top ten. For yesterday, the sci-fi YA adaptation A Wrinkle in Time owned the #1 spot, but the weekend will once again belong to Black Panther. And there's still much to discuss with regard to that superhero film.

But for now, we'll begin with A Wrinkle in Time, the well-intended film featuring a wonderfully diverse cast and directed by Selma's Ava DuVernay. Despite a pretty solid fan base (the books have continued to entrance young readers over the years), much of this film's success was going to be determined by its quality. Alas, its Rotten Tomatoes score is just 42%, which is a pretty big swing and miss. Even the Cinemascore was just a B, which means it wasn't overly exciting for the people most likely to give it a good grade.

So, a Friday debut of $10.2 million has to be considered a disappointment considering the $100 million budget and the marketing onslaught Disney has been inundating us with. It will not wind up winning the weekend, as once again Black Panther will take that top spot (so it's not all bad news for the House of Mouse). It does have the benefit of being a family film, which means more people will come out to see it over the rest of the weekend. It may also be able to take advantage of Spring Break these next couple of weeks as well. Look for a three-day total of $31.6 million. It might even be estimated as much as $35 million, but Disney tends to be much more conservative than competing distributors.

With the preliminaries out of the way, let's talk about the awesomeness that is Black Panther. Another $10 million in the bank means it was down just 39% from last Friday. The big news, though, is that it has already crossed the $1 billion mark worldwide. At some point today, it will pass The Dark Knight to become the second biggest domestic superhero movie of all-time. Now, the fun will be in watching just how high it can soar. The weekend total should be right around $46 million. What a crazy, fun story this one has been.

There were some other new releases in theaters this weekend, but only one of them is even worth talking about. That movie is Strangers: Prey at Night, a far too late crappy sequel to an original film that had good reviews and a solid box office performance. It was able to ride that name recognition somewhat to a $4 million Friday. Its weekend total will be around $10.5 million. Most of its revenue will come from home video.

Both Gringo and The Hurricane Heist made less than $1 million yesterday. Gringo, a dark comedy with Charlize Theron, Joel Edgerton and David Oyelowo, had the ever so slightly better performance. It made $977,000 and will likely finish the weekend with $2.9 million. As for The Hurricane Heist, the absolutely ridiculous movie directed by The Fast and the Furious's Rob Cohen, it earned just $950,000 and will hope for $2.8 million before completely falling off the face of the earth. It only had a $35 million budget, but even at that, it's a pretty big failure.