Weekend Forecast for March 9-11, 2018
By Reagen Sulewski
March 9, 2018
BoxOfficeProphets.com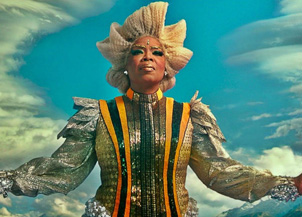 ---
After three weeks at the top, the first serious challenger to Black Panther has arrived, in the form of a classic of sci-fi literature with some of the strongest name recognition you could imagine. It's probably still not enough.

A Wrinkle in Time is the adaptation of Madeleine L'Engle's award winning young adult novel of the same name, about a young girl who is transported, along with a group of her friends, into an interdimensional battle after her scientist father goes missing. The fantastical adventure involves supernatural, eternal beings, exotic planets and creatures and a fight against the very concept of evil itself. It's quite the ambitious piece.

Although it's previously been seen as a TV movie, this is the first big screen adaptation and has been given to Ava DuVernay of Selma fame, along with a massive budget to properly render the giant scope of the novel's settings. What's really backing it, though, is Disney's production weight and the presence of producer and star Oprah Winfrey. While she's rarely meant gigantic box office, she's created a massive awareness around this film just by being in it, and has given it an air of legitimacy and seriousness. Will she perhaps be a little controversial? Maybe, but not to the audience that was going to see this film anyway.

Also starring Reese Witherspoon, Mindy Kaling, Chris Pine, Gugu Mbatha-Raw and Zach Galifianakis, along with a cast of talented child actors, it's an event picture for the under 15 set, and possibly something that adults won't mind seeing with kids, which is always a plus. There's only so many terrible, super-young kids films that can be tolerated, and an action-adventure fantasy at least offers a change of pace from the typical family fare, along with an unambiguously positive message. Reviews are just middling, though, and it may be a bit overstuffed as a film. Comparisons to Race to Witch Mountain are probably relevant here, albeit with a bit more of a legacy in this case. I'll be looking for a solid opening weekend of around $38 million.

Home invasion horror film The Strangers gets a sequel this weekend with Prey at Night, which continues the "burlap bag wearing psychos go after a house" plot. Only this time instead of a young couple, it's a whole family, husband and wife Martin Henderson and Christina Hendricks, along with their two kids. The original film, semi-based on real events, had a surprisingly strong following, but the sequel seems to just go for the slasher elements, hoping we'll accept the loose connection to the first film. Hey, there have been dumber attempts at franchization in horror (Jeepers Creepers anyone?) than a weird mask.

Reviews are fairly mediocre for this, though, and the ad campaign lacks both the intensity and frequency of the first film. Without the freshness of the idea, we're left relying on the presumed affinity for a ten-year-old film. With horror franchises being measured in months these days, it's unlikely for this to have any kind of breakout. I'd look for about $10 million this weekend.

The utterly ridiculous Hurricane Heist opens in 2,400 venues this weekend, with director Rob Cohen once again inflicting insanity on us. Looking more like a SyFy film that's escaped the trappings of budget and sensibility, it follows a group of thieves attempting to rob the U.S. Treasury department during a Category 5 hurricane. It's an awkward attempt to graft a thriller onto a disaster film, and it's not helped by its rock bottom budget.

Maggie Grace, as a Treasury official last in line to stop the robbery, is the highest profile name, which is not confidence inspiring. Truly amateurish acting rounds out the rest of the cast, which hides behind southern accents as a way to inspire "authenticity." They're banking on people being impressed by the storm FX to put up with this, but it's nothing we haven't seen in a dozen or more movies before, and those had more competent plotting and acting. This will be lucky to clear $4 million this weekend.

Black comedy Gringo rounds out the offerings this weekend. David Oyelowo stars as a businessman sent to Mexico by a medical marijuana company to deliver a new formula to create a new pill form of the drug. Kidnapped by the cartels, since they don't like what he represents, he falls into a web of intrigue and danger with barely anything but his wits to keep him alive.

Directed by Australian Nash Edgerton and also starring Joel Edgerton, Charlize Theron, Thandie Newton, Sharlto Copley and Amanda Seyfried, this is a bit of a half-baked farce and has only limited ad support. There's a possibility that it's got some cult status in it, but it feels a lot like last year's Free Fire, another low-budget action-comedy that had more bullets than brains. I'd expect about $4 million here as well.

Now well clear of $500 million, Black Panther may be able to hold onto the top spot at the box office, particularly if Wrinkle in Time fades a little over the weekend. Marvel's second most successful film, and Disney's fifth highest (they now own seven out of the top 11), it's nowhere close to being finished. Just based on standard fall off, it is likely to hit third overall, passing Titanic. Of course, it's doing a little better than that, even. It's a truly remarkable set of circumstances, having caught lightning in a bottle and matched it with quality. This should spend one more weekend at the top with $41 million.

The pair of action films from last weekend, Red Sparrow and Death Wish, both underwhelmed, earning $16 and $13 million respectively. In the case of the former, that's a significant blow to Jennifer Lawrence establishing herself as a draw outside of a franchise, or absent awards support. Reviews likely hurt it, but that's just another way of saying it wasn't all that good. The rather cynical Death Wish reboot has less to feel bad about in the box office, but that's just because we already knew it was going to be bad. These two should earn $9 and $6 million respectively this frame.

Game Night and Peter Rabbit were in a virtual tie with $10 million each, and both showed something in the way of legs. The family film may fare a little better, even in the wake of this weekend's new release, and bring in about $7 million, while the twisty Game Night drops to about $6 million.