Weekend Forecast for March 2-4, 2018
By Reagen Sulewski
March 1, 2018
BoxOfficeProphets.com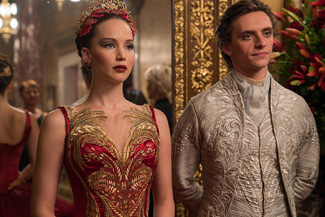 ---
Star power arrives for a couple of movies on Oscar weekend, but it's still all about Black Panther for at least one more week. In another year, these would be some notable March releases, but this year, they're barely noise in the signal.

Although not technically the same thing, Red Sparrow benefits from Marvel dragging its heels on creating a Black Widow movie. Jennifer Lawrence plays the title role here, a ballet dancer drafter into the "sparrow" program of seductress spies for Mother Russia where she's trained to lure men into giving up their secrets, or just to be assassinated by whatever passes for the KGB these days. With her life, and the life of her family at stake, she's a motivated but not particularly willing participant in these schemes. Basically, she's one of the more complex Bond femme fatales, one with a surprisingly large back story.

Enter a CIA agent played by Joel Edgerton, who she's sent after to turn. He's not quite as dumb as he looks and sees her for what she is, trying to break her out of the program. But is that something she even wants at this point? After her horrific and torturous training program that basically took all the humanity out of her, is there even something to save?

Directed by Francis Lawrence, most recently of the last three Hunger Games movies, it's less action and more thriller, albeit fairly topical at this point in time with world tensions with Russia at recent highs. Of course, that has to be balanced with the slightly ugly gender politics of the thing, though it's not too dissimilar from Atomic Blonde in that way. Reviews are mediocre, but the Jennifer Lawrence charm offensive is in full swing for this one, and it's never a bad play for a movie to promote its lead's attractiveness. Her drawing power outside a franchise isn't all that great – then again, whose is these days – but the ads here are solid and I'd expect a take of around $24 million.

Topical but for all the wrong reasons is Death Wish, a remake of the Charles Bronson classic, this time starring Bruce Willis. A paean to vigilante justice, Willis plays a man (a doctor this time, not an architect), whose wife is killed in a home invasion. After getting nowhere with an ineffective police investigation, he decides to take the law into his own hands, going all, well, Charles Bronson on some punks.

This being 2018, his deeds of course gain him publicity, even if he is trying to keep himself hidden and out of sight. Everyone's got a video camera these days, so he becomes a bit of a folk hero, with debates on whether what he's doing is right or just vigilantism (*coughcough*). And then of course, the criminal underworld is going to come after him once he's found out.

It's difficult to imagine a more tone deaf movie at this exact moment in time, and it doesn't help that Willis seems to be playing the role with his trademark smirk, as opposed to the truly pained man he's supposed to be. And as directed by Eli Roth, who's turning his horror porn sensibilities to crime film, it's likely to be needlessly over the top and sadistic. This is Willis' first major release in almost four years, and even before that he'd been slowing down a lot. The last film that you could really say was a success off his name was Red, and that's nearly a decade old now. This looks more like opportunism than anything, and should open at just $9 million.

After its massive debut, the question for Black Panther was just how much staying power it had. Turns out, it's a fair bit as it managed the second biggest second weekend in history with $111 million, falling 45 percent, which is practically Titanic for a mega-opener. A repeat of that performance would give it the third biggest third weekend (it's starting to run into Avatar), but would also put it very near the $500 million mark, making it a top 10 all time film in just three weekends. If it can keep this up, it'll threaten everything except Avatar and The Force Awakens in the all time domestic standings. Internationally it's no slouch either, and has a solid chance at third place there too, behind Avatar and Titanic. It's an incredible feat and one that I don't think anyone could have conceive of even a few short months ago. I'd expect about $61 million this weekend.

Game Night opened with a solid $17 million, off its David-Fincher-lite comedy premise. I see this as a decent performer in the coming weeks thanks to its slightly older demographic and decent word of mouth, and it should earn another $10 million this weekend.

Peter Rabbit held better in its third weekend after a surprising slide in its follow-up frame, and it does appear like it'll earn $100 million domestic now. I'd look for about $9 million here. Annihilation was a moderate disappointment at $11 million for its environmental horror/sci-fi take, and it appears to just be too strange to really catch on. Word-of-mouth on it is mixed, which is basically the same as "bad", and it should drop to about $6 million this weekend.