If I Were an Academy Member: J. Don Birnam
By J. Don Birnam
February 27, 2018
BoxOfficeProphets.com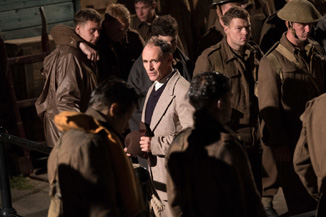 ---
A tried and true tradition at Box Office Prophets is that we like to put our humble caps on and act like an Academy member – just for one day! In the five years I've been writing about the Oscars in this space, it has become a fun and interesting exercise to see what the staff would pick as their own personal favorites (we have enough with what we think is going to win). You can see some of our past musings here, also here, and here as well.

As you can see, I have the perhaps dubious but proud distinction of never having had my favorite film of the nominees (let alone of the year) picked for Best Picture. The last time I can say my absolute favorite film of the year won was probably Chicago or maybe Return of the King. But, hey, I'm not sure I want to have the same taste as "they" do. And, honestly, if you do, I would be worried.

So, I will rank them like an Academy Member would, but in reverse order. This is a solid slate and all nine of these movies are at the very least good films. That I personally did not connect with some as much as others should not be taken as a knock.

9. Phantom Thread. I'm not Paul Thomas Anderson's biggest fan, and that alone explains this ranking. His movies always end up annoying me. One can say a lot of great things about this film, of course. The acting is superb, especially with out-of-nowhere newcomer Vicky Krieps really holding her own against two titans. Each of the movie's Oscar nominations, particularly for Score and Costumes, is on point and well deserved. But the third act just devolves into the somewhat typical meandering mess that PTA likes to infuse his films with, leaving no real discernible purpose behind the strange happenings that occupy the closing scenes. It is a memorable movie but not one I would shower with an award as lasting as Best Picture.

8. Call Me by Your Name. This was close for me, because I found myself annoyed at this Luca Guadagnino film as much as I was in love with it. Again, this is a solid to great film in so many respects. The music by Sufjan Stevens is my favorite in the awards race this year. The settings are gorgeous, the screenplay much better than the book, and the performance by newcomer Chalamet very refreshing and moving. Moreover, the closing scenes, the one with Stuhlbarg as the dad giving Elio a life lesson, and then Elio staring into the fireplace - my God. Those two are some of the most moving scenes of the year. You really see flashes of absolute brilliance in this film.

But there are some problems around the edges that do not diminish the movie, just make it less worthy in my little estimation. For example, Armie Hammer, overacts every scene, in particular the volleyball scene, and the scene in the water puddle where he gets wet, and the scene where he is dancing to that song by himself with the drunk tourist, and the scene…I could go on and on and on. He takes the spotlight away from Elio in unwelcome and repeated ways, because he annoys you. Never a good thing. In the end, it is hard to admire the entire movie as an exercise with such a weak central link, not to mention the fact that, until the end scenes, it was hard to connect too much with the experiences of these two young men. Although a gay man myself, and someone who has had summer trysts, the two were too self-involved to make it easy to commune with the emotional experience they went through.

7. Get Out. Get Out is the one of these nine movies that I did not see before everyone else had, so the hype was a huge thing by the time I got around to it. I am not sure that Get Out lives up to that hype. The good: it is suspenseful, well-acted, very clever, and interesting and innovative in terms of telling a familiar story from a new and fresh perspective. But, as director Jordan Peele himself admits, the Stepford Wives influence is strong, and I do not see the movie as transcendental on racial issues as others do. And, to be fair, I have a horror/suspense bias when constructing these kinds of lists, perhaps as other Academy members do, but perhaps not.

Still, there is much to like about Get Out, most notably the tightness with which Peele runs the ship. Nothing is left to chance and everyone in the cast is superb. This is your dark horse winner in any case.

6. Three Billboards Outside Ebbing, Missouri. I'd rank the likely eventual Best Picture winner solidly in the middle of my ballot. I must admit that Three Billboards is a very well made movie. The acting, particularly by Sam Rockwell, is undeniable, but the supporting cast, including Lucas Hedges and Peter Dinklage, and, yes, McDormand, is good too. The script is the movie's best asset - mixing in genuinely funny and irreverent material with clever invective about the state of the world. The movie is also unconventional in that good and bad characters do not remain such for the entirety of the movie. It has a crisp and interesting score to boot. I cannot completely trash it.

But trash a bit I will. My biggest problem with Three Billboards is how easy it is all set up. It is just so easy, and completely fictional, that a character as vile as Rockwell's deputy would have that epiphany. Mildred herself turns evil too easily, with director McDonagh more interested in moving along his plot than having fidelity to his characters. But the movie of course sticks with you and makes you think. It is memorable, relevant, and topical (really, the winning combination for Best Picture, but not on my ballot)

5. Lady Bird. Greta Gerwig's love poem to her hometown was one of my surprise favorite movies at the Telluride Film Festival. Gerwig, like so many of the people on this list, is infinitely clever, funny, and insightful. She creates rich characters that are somehow believable even if they are caricatures on the surface. But in Lady Bird, Gerwig created a movie that features wonderful acting all around, and easily-relatable teens. Some old grouches may complain that Lady Bird herself is a brat (she is), but Gerwig takes the view that we should celebrate and remember our youth, not resent it.

If you want to say something "bad" about this film I guess you can say that it is not transcendental, and that is fine. Surely that is as valid a reason not to rank it #1 as any other, but I really can find little else to fault with this film outside this. This movie most likely suffered from too much hype before it was widely seen, such that its chances with the Academy and most people took a hit. That is fine, too. The movie will stand on its own in the future as a modern movie about being a young girl and a mother, by a talented young director I hope we get much more from.

4. The Shape of Water. Guillermo del Toro's award winning masterpiece is one of my favorite movies of the year and very near the top of an already-crowded ballot. Like my favorite movie last year (Arrival), The Shape of Water is great because it is made with such precision, such care, such love. The movie has a soaring and touching score, meticulous camera and lighting work and set design, and a heartbreaking, beautiful performance by Sally Hawkins. Richard Jenkins also plays a very sympathetic and relatable character. When Michael Shannon and Octavia Spencer are the "weaker" acting links, simply because they're playing their typecast roles, you know you've done something right.

Like Arrival, this movie is subtly topical. It looks back at the 1950s with nostalgia but not offering the idea that things were better or "great" back then. The movie features a mute woman who is sexually harassed, an older gay man, and a struggling but inspiring black woman. Guillermo del Toro knows exactly what he is doing and he knows his audience, but the movie does not suffer from the preachiness you could expect. It is such a perfectly rendered movie, so touching and emotional and yet so real, that it would certainly be a worthy winner.

Why not at #1? Simple. The movie is and is not Pan's Labyrinth. For all Del Toro's creativity, the narrative arc of the movie is very similar to his 2006 masterpiece, and also does not quite reach those heights. There are several elements that are plucked straight from there, including the closing scene, and the opening narrator, the shot of the bad guy through the mouth, and the three trials/chapters. I still love the film, but when you like so many this much, you look for little things to help you rank.

3. Darkest Hour. Much maligned amongst the nominees for a single scene in the London underground, Joe Wright's second venture into the world of Dunkirk after Atonement 11 years ago is nonetheless one of my favorite movies this year. Talk about having it all. Topicality, great acting, inspiring craft work that spans a fast-paced and thrilling score, gorgeous cinematography, spotless set decoration, and great costumes. Like The Shape of Water, this movie has it all, and is also lifted by one of those bravura, for the ages performances by Gary Oldman as Winston Churchill.

This is no small feat, as the character is so familiar and so physically different than Oldman. But Oldman portrays him well, with the help of makeup prosthetics, because he embodies Churchill's ticks and manias, his doubts and quirks. He is Daniel Day-Lewis' Lincoln to the Prime Minister. And it is topical because it deals with the importance of leadership and the ability to channel the spoken word to inspire, rally, and construct. A far cry from today.

2. The Post. Steven Spielberg did it again and while many take him for granted or find him boring, not me. This is Spielberg's third in a trilogy of American history movies, from Lincoln to Bridge of Spies and now this. In Spielberg's world, America has also been great in the past, but for the moments in which improbably heroes made improbably correct choices. He celebrates, law, history, and American values. His movies are quieter and more staid than his midlife epics or his early life adventures, but they are not less a part of American life and culture.

The Post is also even more topical than the last two movies (sense a theme yet?). The importance of the press as a check on government power could not be more relevant. And Meryl Streep's infinitely nuanced role is one of her best, something that is hard to believe until you see it before your eyes. Moreover, Spielberg has not lost his meticulous, careful touch. The music for the film is great, the editing by longtime collaborator Michael Kahn is crisp and accelerates when it needs to, the silver hue a mainstay now in Spielberg's Americana trilogy.

The Post is not a movie with a great screaming match, a super revelatory scene, or an explosion or murder in the end. It is a movie with an argument before the U.S. Supreme Court, not a helpful position for any film wishing to win industry prizes, but helpful for one that, for whatever reason, may want my vote!

1. Dunkirk. But my favorite movie this year is without a doubt Christopher Nolan's latest masterpiece (it sounds redundant to use that word for anything he does). He is such a creative, bold genius, I really cannot get enough. Every choice he makes is purposeful and works.

Consider, for example, the tripartite structure of the movie. Unnecessary but effective to keep the audience guessing and interested. It works. Consider the decision to not name most of the characters, particularly in the land segment, at times even confusing you with the different soldiers. Also unnecessary and indeed, lesser filmmakers would have fallen easily into the temptation to create emotionally manipulative characters. Consider the decision to have less than the usual dialogue, and instead to make you immerse yourself in the different experiences. The movie screen is his canvas and he draws meticulously and without care on it.

And of course, Dunkirk is a technical masterpiece, like most of the films I'm drawn to. The cinematography evokes Hoyt Von Hoytema's brilliant work in Nolan's prior film, Interstellar. The soundtrack is also by his collaborator on that film, Hans Zimmer, and builds on the themes of time and anxiety. You will find few people that argue that Dunkirk is not among the top three or two put together movies of the year. And, at the end of the day, the movie does have that emotional gut punch. How does it do it when you have had little connection to the characters? It inspires you without realizing it, and reminds us of the moments in which our better nature took over and obtained great results.

Pretty amazing.